Sutton Court Hotel Residences in New York offers upscale, luxury extended stays- September 2016
Written by Forrest Graef
Sutton Court Hotel Residences (417 East 57 th Street, New York, NY 10022; ph: (877) 531-3707,
www.suttoncourt.com ) boasts great reviews from travelers setting high expectations. You will not be
disappointed. Sutton Court offers extended stays in Midtown East with exceptional views of the East
River, Empire State Building and the Chrysler Building. The doorman and staff are extremely
professional and make you feel at home. All of this and more with reasonable prices relative to its
surroundings.
Recently renovated, the rooms are spacious and apartment-like. The kitchen has modern appliances
with all the cookware, glassware and utensils you can possibly need. The decor is tasteful and not
overstated. There are televisions in both the living room area and bedroom with plenty of premium
channels. The sofa in the living room folds out to a bed allowing for an extra guest. The laundry room
on the street level is well maintained and convenient. There is a comfortable lobby area to sit around,
read the paper, sip on coffee and check out the news. In case walking around Manhattan isn't enough
exercise for you, then you can take advantage of the fitness room on the ground floor below street
level.
Sutton Court is conveniently near Whole Foods, coffee shops and plenty of great restaurants. You can
walk to the United Nations, Times Square, Central Park and Central Station. The friendly staff is also
very knowledgeable about the area and can make recommendations and give you maps and directions.
Sutton Court is home to many professionals from all walks of life and has successfully established the
ideal extended stay experience in Manhattan with its top notch service, great location, friendly staff and
spacious, comfortable, home-like rooms.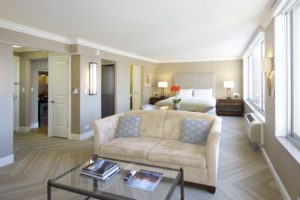 Facts about the hotel:
OVERVIEW
Sutton Court Hotel Residences are spacious, luxuriously furnished and fully renovated suites in a
chic enclave of one of New York City's most desirable Midtown neighborhoods, convenient to the
city's major attractions. Available for a minimum 30-night stay, they offer all the amenities of an
upscale hotel with the comforts and appeal of a fine residential apartment home. Guests are
provided with a full range of services and amenities, ensuring that, whatever their reason for
visiting New York, their stay will be stylish and stress-free.
LOCATION
Sutton Court is located one block from New York's East River on 57th Street, with convenient
access to transportation, including the N, R, W, 4, 5, and 6 subway lines, Fifth Avenue and
crosstown bus routes, as well as the FDR Drive. Some of the city's best hospitals, museums,
restaurants, shopping, and the United Nations are close by, making the residences' location in
Midtown Manhattan ideally suited for guests traveling for business or pleasure.
BACKGROUND
Since the mid-19th century, the Sutton Place neighborhood has evolved into one of Manhattan's
"Uncommon Communities" where rowhouses for local working Americans evolved into elegant
residences and luxury rental buildings. A favorite among dignitaries and diplomats from around
the world as well as affluent New Yorkers who appreciate its quiet refinement only minutes from
the excitement and energy of the city, this cosmopolitan ambiance offers the best of all worlds.
Sutton Court Hotel Residences attract a wide range of guests, from tasteful tourists to business
executives and other professionals seeking convenient extended stay accommodations to visitors
seeking medical treatment at outstanding nearby hospitals.
RESIDENCES
The major features of the Sutton Court Hotel Residences include:
• Studio and one-bedroom suites
• Luxuriously styled bathrooms
• Ample sized living area
• Dining area for two
• Fully –outfitted kitchens with stone counter tops and stainless steel appliances
• Four large closets
• Dressing area
• Entry foyer
• Utilities, cable TV, telephone and internet services included in rental
AMENITIES
• Panoramic views of the East River and city skyline
• Beautifully appointed lobby
• Landscaped courtyard
• State-of-the-art fitness room
• Full selection of culinary utensils and equipment, cookware and dinnerware
• Plush king-sized bed with European shams, king pillows and 300-thread count bed linens
• 42" HDTV with 66 channels
• Bath amenity kit by Gilchrist & Soames
• In-room broadband internet
• Wireless telephone with unlimited local and long distance calling
• iHome docking station
• Maid and laundry service upon request
• 24-hour doorman and concierge
GENERAL MANAGER
Born and trained in the hospitality industry in Berlin, general manager Dieter Seelig has been a
neighborhood resident for more than 40 years despite having traveled throughout the world for
professional reasons. Calling New York "the best city in the world," he brings a true spirit of
hospitality, knowledge and a tireless work ethic to his position, dedicated to ensuring that Sutton
Court residents enjoy incomparable service.
For more information on Sutton Court Hotel Residences please visit: www.suttoncourt.com or call
(212) 935-3300