Kinzie Luxury Boutique Hotel in Chicago offers great amenities in the fantastic location- September 2016
Kinzie Hotel in Chicago written by Forrest Graef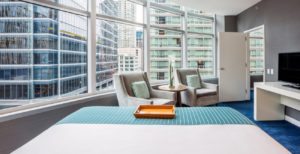 The Kinzie Hotel (20 W. Kinzie St. Chicago, IL 60654, ph: 312-395- 9000, www.kinziehotel.com),
a Chicago favorite, is located in Chicago's desirable River North district near the Magnificent Mile and
theater district. This hotel provides top notch service the moment you walk in the lobby for check-in.
Representatives are seated at office desks as opposed to the ever so common bank teller counters we're
accustomed to at your typical chain hotels. Kinzie is unique, perfectly located, carefully staffed and will
earn your business in the future – it only takes one night.
Upon check-in, guests are given drink tokens to cash during the manager's evening reception that boasts
great hors d'oeuvres such as pulled pork sandwiches, deli meats & cheese, guacamole and chips and
fruit and vegetables. There is also a well-stocked continental breakfast offered daily on each floor for
convenience.
Kinzie Hotel is also pet-friendly so you can bring your dog along for some luxury treatment that includes
a dog bed, dog bowls, dog spa, in-room doggie delights menu and nearby dog parks. If walking your
dog isn't enough exercise, then you can take advantage of the hotel's 24-hour gym with modern
equipment and classes. Come see how Kinzie Hotel can enhance your Chicago experience and win you
over as a loyal return guest.
Facts and Press Release:
GUESTS ARE INVITED ON AN URBAN EXPLORATION AT THE NEW KINZIE
HOTEL OPENED FEBRUARY 2014
Popular River North hotel to change its name and establish a new
beginning rooted in historical Chicago significance
Kinzie Hotel King Guestroom
(CHICAGO, IL; November X, 2013)— The Kinzie Hotel (20 West Kinzie Street) recently
announced details pertaining to their February 2014 opening in the space currently
housing the Amalfi Hotel. The five story, 215-room, upscale boutique hotel's multi-
million dollar renovation will boast a timeless contemporary look and new image that
pays tribute to John Kinzie, an untamed man who made a historical stamp on Chicago
throughout the 19 th century.
Situated in the heart of River North, this freshly updated property is just steps away from
the hustle and bustle of Michigan Avenue and the city's top restaurants, theaters, and
nightlife. The whimsical ambiance thoughtfully blends relaxation and personalization with
adventure and an authenticity that can only be found at this Chicago-inspired hotel.
Featuring a thoroughly renovated property including all guestrooms, corridors, common
areas, lobby, and meeting spaces, the Kinzie Hotel invites both business and leisure
travelers to experience the various ways in which "Chicago Starts Here."
"Our focus was to create a concept that truly spoke to the history of Chicago and we
found exactly that in John Kinzie," says General Manager Dennis Igoe. "Incorporating
elements of his story throughout the hotel's design, amenities, packages, and
promotions has established a platform on which to build a truly authentic Chicago
experience for our guests.
John Kinzie: A Man of Chicago Firsts
Those familiar with the distinctive statues embedded on each pillar of the Michigan
Avenue bridge might already recognize the man behind the Kinzie Hotel's namesake.
Prominently recognized as "Chicago's first civilian," John Kinzie lived a provocative life
as a silversmith, merchant trader, and banker to Fort Dearborn. After having fathered the
city's first child of European descent, born in 1805, Kinzie was involved in Chicago's first
controversial murder (later acquitted) and quickly fled the Battle at Fort Dearborn in
1813. Following his escape to Detroit, Kinzie's son later returned to Chicago and
established the city's first hotel and restaurant. The new Kinzie Hotel sits just blocks
from the site where John Kinzie's original mansion once stood. Now, in its place, rests a
plaque authenticated by the Chicago Historical Society in commemoration of his
significant contributions to the city.
Renovation Navigation
The Kinzie Hotel hosts a total of 210 chic, renovated standard guestrooms, five suites,
and over 1500 square feet of meeting space featuring décor and artwork that speaks to
the local Chicago landscape, blended with a contemporary twist. Designed by
Gettys Design Group Chicago, each guestroom pays homage to the hotel's exploratory
history with a wall treatment subtly displaying a street map of historic Chicago.
Additionally, guestrooms and common areas display various painted interpretations of
the local Chicago landscape, created exclusively for the Kinzie Hotel.
In addition to the contemporary design elements, each room features complimentary
Wi-Fi, a 42-inch HDTV television with an extensive cable selection, honor bar, plush
robe, a variety of Aveda luxury spa products, lighted vanity mirror, and an in-room safety
deposit box. Guests can also enjoy in-room spa services including massages, facials,
and manicure and pedicure treatments provided by Windy City Massage. In providing
business guests with a remote office, each guestroom is outfitted with a large work
station and complimentary, lightning-fast WiFi delivered through the latest fiber optic
technology at 100 megabits per second. For guests that didn't pack their laptop, the
hotel also features a 24-hour Business Center, recently enhanced to include PC
workstations, a Mac computer, and printer.
Feeling 'Double Crossed'
The Kinzie Hotel gives new meaning to the term "double crossed" with its new lounge,
located on the sixth floor. Aptly named the Double Cross Lounge, its inspiration was
derived from both a silver piece designed by John Kinzie in the shape of a double-barred
cross, as well as his mercurial reputation. The newly updated libation locale, open from
5-8pm, provides guests with a generous assortment of complimentary small bites and a
cocktail to kick-off the evening.
The new Kinzie Hotel also features one of the Amalfi Hotel's most popular guest
amenities. Each guestroom floor features an extended complimentary continental
breakfast, allowing guests to walk just steps from their door to grab fresh fruit, pastries,
cereal, juices, coffee and more each morning. This convenient selection of morning fare
allows guests to enjoy a bite from the comfort of their bed, or take it on-the- go as they
head out for business or to explore the Windy City.
Explore, Discover, and Experience
Perhaps the most distinctive element to the Kinzie Hotel is its dedication in taking guests
on an urban exploration, discovering what makes the Windy City one of the most
traveled destinations in the U.S. Whether seeking a furtive underground gathering,
hidden restaurant gem, lively neighborhood festival, or locally renowned treat, the hotel's
knowledgeable staff will provide little known tidbits of information to make every visitor's
experience unique and memorable. Scheduled to be announced in the coming months,
guest packages and promotions at Kinzie Hotel will reflect the property's historical name
and commitment to providing travelers with a genuine Chicago experience.
Visitors at the Kinzie Hotel will also have the opportunity to take advantage of the
property's new "We Get It ® " customer service program. Designed to create a more
tailored guest experience, the program invites those securing a reservation to make any
type of demand that will enhance their stay – from a dozen roses to a personalized
birthday cake or a jar of gummy worms. The hotel will happily accommodate each
request upon check-in to ensure an unmatched hospitality experience.
About Kinzie Hotel
The Kinzie Hotel, managed by Portfolio Hotels & Resorts, will open in the first quarter of
2014.. The Kinzie Hotel is currently taking reservations for its February launch via the
Amalfi Hotel website at www.amalfihotelchicago.com or by phone on their toll-free
reservation line at 877.262.5341.   Also visit
About Portfolio Hotels & Resorts
Headquartered in Westmont, IL, Portfolio Hotels & Resorts is a hospitality management
company experienced in managing unique, boutique-style hotels, destination resorts and
significant branded urban hotels in major domestic and destination markets. The
company was established in 2005 by former Chicago-based Coastal Hotels founders
Helmut Horn and Graham Hershman, industry veterans whose past experience includes
development of the Hawthorne Suites brand, the Highlands Inn in Carmel, CA, and
Cheeca Lodge in the Florida Keys. For more information about the company, visit