Café Sevilla in downtown Long Beach serves authentic Spanish Cuisine- December 2016
Cafe Sevilla in downtown Long Beach brings authentic Spanish Cuisine and atmosphere with delicious food, drinks and entertainment. Check their schedule for live music and flamenco shows to enhance your dining experience.  We got to listen to some flamenco guitar before we left.  Enjoy and array of tapas, drink specialties and of course some Paella.  Start off with some tapas such as the unbelievable grilled lamb chops,  flash fried calamari or potato tart  All the tapas are to be shared and suggested 2-3 per person.  The short ribs were a big hit with my daughters as they were very tender and tasty.
The home run though is their famous paella made several ways. They have it vegetarian style and marinara but the 2 most recommend are the Black squid ink with seafood and the traditional Valencia style with seafood, saffron, chicken and sausage. You cannot go wrong and the flavors are wonderful but I chose the Black squid ink seafood paella.  .  Get a side order of the sautéed brussel sprouts as they were incredible.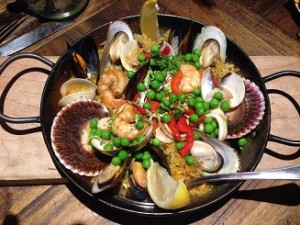 Finish your meal with some dessert and an after dinner drink or specialty coffee with liquor. Don't miss the apple tart paired with their sherry liquor or Spanish coffee with brandy.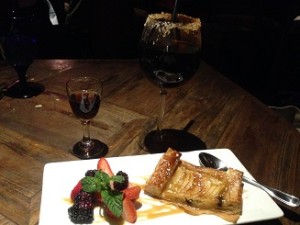 The atmosphere and décor is romantic and fun with dim lights and plush booths around the outer part of the restaurant with tables on the inner portion. The manager Gus was very hospitable. Enhance your meal with one of their signature martinis, mojitos or sangria. Full bar and wine list also available. The restaurant does have space for private events so check it out on your next visit to Long Beach.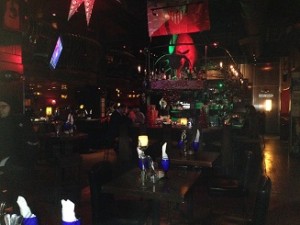 Cafe Sevilla is located at Address: 140 Pine Ave, Long Beach, CA 90802