New Sundance Network Titles for March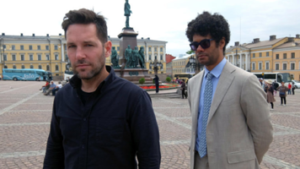 Sundance is excited to share British series TRAVEL MAN: 48 HOURS IN…, which is available for the first time ever to viewers in US and Canada beginning March 16 only on Sundance Now. Seasons 1-3 features comedian Richard Ayoade spending 48 hours traveling around cities like Copenhagen, Moscow, and Marrakesh with celebrity guests.
Below is the list of Sundance Now exclusives and Sundance Now titles only available on the streaming service. For a full list, you can view them here.
March 1
Donnie Brasco (1997) – US ONLY – ONLY ON SUNDANCE NOW
An FBI undercover agent infiltrates the mob and finds himself identifying more with the mafia life, at the expense of his regular one.
Director: Mike Newell
Cast: Al Pacino, Johnny Depp, Michael Madsen
March 2
Reset (2015) – US ONLY – A SUNDANCE NOW EXCLUSIVE
RESET documents the creation of Benjamin Millepied's first ballet as Artistic Director of the Paris Opera Ballet, the oldest national ballet company in the world, and one of the most prestigious. The appointment of Millepied, best-known for his choreography for the film BLACK SWAN, was an untraditional choice and his first ballet was eagerly anticipated. The film shows a work of love and the creation of beauty.
Director: Thierry Demaiziere, Alban Teurlai
Cast: Benjamin Millepied
March 13
American Dreamer (1971) – US & CANADA – ONLY ON SUNDANCE NOW
A documentary about actor/director Dennis Hopper, showing him at his home and studio putting together his film THE LAST MOVIE.
Director: L.M. Kit Carson, Lawrence Schiller
Cast: Dennis Hopper, L.M. Kit Carson, Lois Ursone
Funny Ha Ha (2002) – US & CANADA – ONLY ON SUNDANCE NOW
Marnie just graduated from college, drinks likes she's still in school, and is looking for a temporary job but a permanent boyfriend. She loves a guy who doesn't love her, ping-pongs between awkward romantic alternatives and even less suitable jobs.
Director: Andrew Bujalski
Cast: Kate Dollenmayer, Mark Herlehy, Christian Rudder
March 16
Travel Man: 48 Hours In… (Seasons 1-3) (2015-2016) – US & CANADA – ONLY ON SUNDANCE NOW
Richard Ayoade and a celebrity guest spend 48 hours in a popular city to discover the must see tourist attractions.
Director: Leo McCrea
Cast: Richard Ayoade, Noel Fielding, Chris O'Dowd, Paul Rudd, Katherine Ryan, Rebel Wilson
March 29
Harry Price: Ghost Hunter (2015) – US & CANADA – ONLY ON SUNDANCE NOW
A film following Britain's real-life ghost hunter and skeptic Harry Price, who investigated tales of the paranormal and supernatural throughout the 1920's and 1930's.
Director: Alex Pillai
Cast: Rafe Spall, Cara Theobold, Richie Campbell, Lewis Reeves, Sophie Stanton
Secret State (Mini-Series) (2012) – US & CANADA – ONLY ON SUNDANCE NOW
SECRET STATE explores the relationship between a democratically elected government, big business and the banks.
Director: Ed Fraiman
Cast: Gabriel Byrne, Ralph Ineson, Charles Dance, Jamie Sives, Gina McKee
Undeniable (Mini-Series) (2014) – US & CANADA –  ONLY ON SUNDANCE NOW
25 years ago, Jane saw a man killing her mother. Today, she's a well adjusted wife and mother herself. While having a physical, she notices a doctor who looks like the killer and reports him. No one believes her – except one cop.
Director: John Strickland
Cast: Claire Goose, Alisha Kelly, Felix Scott, Robert Pugh, Peter Firth, Pippa Haywood
March 30
Gaza Surf Club (2016) – US & CANADA – A SUNDANCE NOW EXCLUSIVE
In a country locked between Egypt and Israel, Gaza's youth are drawn to their beaches. Weary of the daily 'state of emergency' they seek meaning and perspective to their lives through surfing.
Director: Philip Gnadt, Mickey Yamine
Cast: Ibrahim Arafat, Mohammed Abu Jayab, Sabah Abu Ghanem