Ramen Roll newly opened up in Culver City is a Big Hit so far- March 2017
We just went to Ramen Roll and was quite the pleasant surprise. Its located right next to the post office near downtown Culver City and the word has been spreading as they were quite crowded. By 6:30 all the tables were full. The concept and menu are simplistic and affordable. They serve seafood hand rolls from spicy tuna, to baked salmon, scallops, crab, clam and craw fish. Our favorites were the spicy tuna crab and salmon. They also have vegan hand rolls. All are individual hand rolls and are not to share or cut easily.
The other main dish they serve is Ramen. They have a small or large bowl and then you had pick your broth. We chose the RnR signature Chicken and fish broth and the onion broth. All broths come with Jidori chicken and different vegetables. They also have combination dinners side dishes and extras.
The big selling point is that the Ramen is quite filling the seafood had rolls were quite tasty. There total meal will come to around $20.00 for two to three hand rolls and a small bowl of Ramen. You will leave full and satisfied. Try one of there beers, glasses of wine or sake to enhance your meal. End with there delicious gelato with there variety of flavors we tried the vanilla berry and Matcha green tea with a hint of chocolate.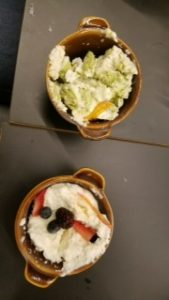 The atmosphere is very casual and the restaurant is quite spacious with glass windows. We recommend getting a booth as that was comfortable when dining. Everything is house made and overall it was a nice dining experience. They don't use heavy fats, excessive salt or added MSG. Ramen Roll is located at 9900 Culver Blvd in Culver City 310 426-8926