Jeremiah Tower: THE Last Magnificent Film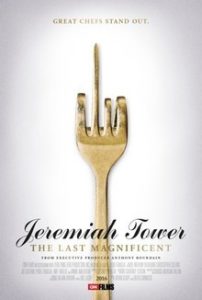 (Gerry Furth-Sides) Conflict is the key to a good film, and the handsome, urbane yet enigmatic and challenging persona of "Star" chef, Jeremiah Tower, the subject of Jeremiah Tower: The Last Magnificent provides more of it than necessary to fill the big screen.  Chef Tower in every way deserves this tribute, especially being a food legend from a pre celebrity-saturated era.  Directed by food documentary veteran, Lydia Tenaglia and executive-produced by long-time fan, Anthony Bourdain provokes a dash to the internet and a read of the books he wrote as well. More footage of the chef at work, please!
The names Stars and Chez Panisse were legendary in the early 80's whether you were a foodie or not, and the term was just catching on at the time. Chez Panisse literally made famous the concept of an open kitchen and farm-to-table fresh ingredients that were listed on the menu. When Jeremiah Towers opened Stars in San Francisco, he elevated the concept and realized his own dream of creating the atmosphere he found on the luxury liner ships he traveled alone, or feeling, alone as a child. He was both a front-of-the house and back-of-the house master. What he didn't have was a Barbara Lazaroff to his Wolfgang Puck to handle the financial end of things, much to his later demise.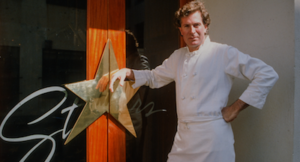 Yet where Wolfgang Puck would be just as happy cooking over a stove as doing anything else in a restaurant,  Jeremiah was the consummate happy host.  As Mario Batali underscores Chef Tower's mastery of restaurants, "No one understands the relationship between chef and diner like Tower."
The restaurant held up as at least the equivalent of brash Studio 54, glittering up New York decades earlier — socialites giddily mixing it up with rock stars –  but this time with piano playing softly in the Stars background and the best food in the world.   When we couldn't get a last-minute table on a Friday night visit, we were ushered in with pleasure, front row seats at the kitchen pass- through and the priceless opportunity to eat a ($10) hot dog while we watching the chefs at work!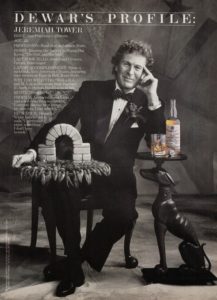 At the time, Chef Tower was at the height of his fame (A full-page Dewar's scotch profile of the glamourous chef in all the slick magazines possibly made him the first mainstream culinary celebrity).  And when I phoned him at Stars the next week with an invite to our national seafood competition, he memorably came to the phone himself right away to carefully explain to me his conflict of schedules.
Towers' remarkable talent, expertise and education as an architecture enabled him to realize his ambitious vision. He earned a master's degree in Architecture at Harvard – where he prepared sumptuous meals for just about anyone around from the scores of his beloved menus he had collected and read as anyone else would read novels – and also dined at most of the world's most famous restaurants before beginning his own culinary career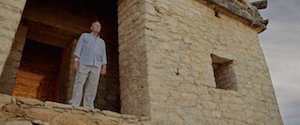 Jeremiah Tower: The Last Magnificent film instead portrays him as sort of dabbling at architecture. The film only begins, (begins!) at having him describe his astonishing creative process as he renews very old homes in Mexico, and in one quote speaks about how they "talk to him." It also completely leaves out his lifelong fascination with the lost Atlantis, which in a way propels him into a culinary career after he was rebuffed for an underwater construction project revolving around the concept. Instead the film make his habits of traveling to Mexico and snorkeling into a  murky mystery, which it is not at all.
Perhaps a comparison of his architecture and culinary careers would have been a better hook to the film than the "ill-defined, lonely man" shown in stilted dramatization of his boyhood. With the slightly crazy mind of an architect using both left and right brain, he was meticulous and patrician, yet retained a youthful energy both artistic and visionary. The film paints him as just plain weird.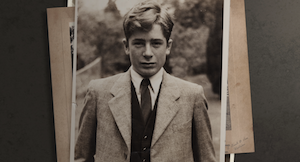 .
Instead, Chef Tower was totally approachable. He has the grace and gift of the upper class to make people feel comfortable — though his upper middle class family traveled the world not on an inheritance but because of Jeremiah's father being in the film business.  And apparently he did not learn  from them judging from the extraneous dramatizations of their brittle, alcohol-driven cocktail parties. Tellingly the opening scene is of a native at night somewhere in the dimly-lit wilds of night preparing a bizarre dish for Jeremiah as a kid, and making him feel welcome.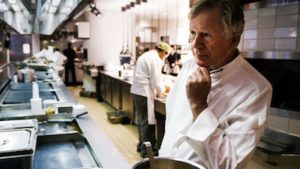 In fact the reason for his fame was that Tower personifies both hospitality elegance and elevated dining with his French interpretation of dishes prepared with California ingredients he singled out with pride on his menus for the first time in a cosmopolitan restaurant.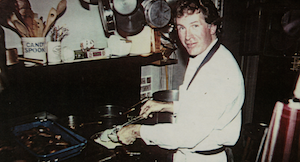 It was a practice he developed working at Chez Panisse in Berkeley with Alice Waters, where they served as each other's muses and the romanticist Waters chased the then close-to-beautiful (gay) Tower successfully around the kitchen and not so much so in the bedroom –which may or may not have led to a petulant Waters leaving Towers out of the Chez Panisse cookbook and him leaving in 1978. Chef Towers quiet, sincere explanation of the situation is worth the price of admission.
Jeremiah Tower: The Last Magnificent answers more important questions as it winds up in more linear fashion about the demise of STARS and the illusiveness of the chef after that — namely "the stars" being in all the wrong places for Tower at once with the San Francisco earthquake that demolished the restaurant and its neighborhood near city hall from which the restaurant drew its clientele; a misunderstood law suit that painted Tower as anti-gay when in fact he was gay himself and a supporter of gay rights.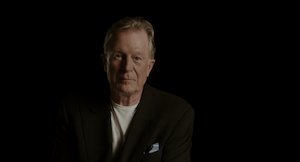 It concludes with marvelous footage of Chef Jeremiah Tower coming out of seclusion to head up the Tavern on the Green Restaurant in New York — which Anthony Bourdain describes as a "chef killer" that also  pretty much describes the outcome.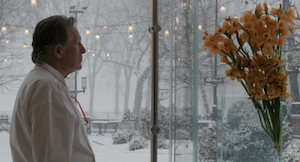 It is beautifully filmed in a wintery, snowy hush of Central Park.  Here we see firsthand the detailed vision of a brilliantly talented, successful and competent chef disintegrate before our eyes in a corporate world where the object is to feed high-end, walk-in customers on a daily basis.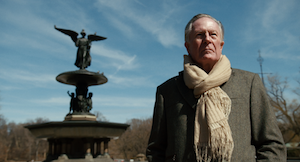 Perhaps the sequel to the film will be, in fact, architect Jeremiah Tower's underwater project realized after all.  We salute him and wish him the best.
"Jeremiah Tower: The Last Magnificent"
Rating: R for language.
Running time: 1 hour, 42 minutes.
Playing Landmark, West Los Angeles.