Fine and Casual Dining suggestions Santa Barbara, Solvang- April 2017
Fine and Casual Dining in Santa Barbara.   Written by Todd Elliot, Nolan Mayer and Cari Ann Potts
Chucks Waterfront Grill and Endless Summer Bar are located in the same location right near the entrance of the harbor in Santa Barbara   The hard to find abalone is not to miss as was the seared ahi.

The halibut soft tacos and seafood cioppino were our entree choices for lunch and very tasty.

The other delicious choice was the poke bowl.    Beautiful views, great casual atmosphere and excellent service made our lunch wonderful.   http://www.chuckswaterfrontgrill.com/home

Mesa Burger is a new hot place by celeb chef Cat Cora offering a variety of taffy burgers, chicken, veggie options.

The yellowtail fish over the kale salad was fantastic.  Of course you have to try one of their signature burgers or sub their delicious turkey burger.  Regular or Sweet potato fries are a great addition.   http://www.mesaburger.com/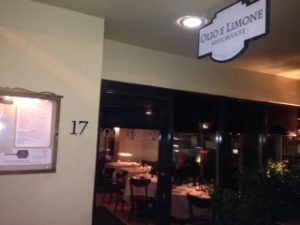 Olio E Limone Ristorante is the perfect little date spot tucked into downtown Santa Barbara. Except we weren't there for a date or family dinner.  The brasserie-like spot specializing in Sicilian cuisine has a small dining room and it was packed to the gills.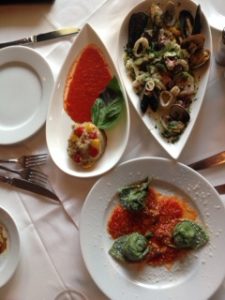 The minute we were seated, we searched the menu for spaghetti and meatballs for the kids. However, our server came to the rescue by suggesting we order spaghetti with butter.  We did, along with the Tortelloni di Spinachi al Burro e Salvia (spinach and ricotta tortelloni with sage butter sauce). We adults then scanned the menu for our drink, appetizer and entrée selections while we waited for the kid's pasta to come out. We settled on starting with the Timballo di Melanzane (eggplant and goat cheese soufflé) and
The kids' plates came out quickly, and we served them up and sipped on our drinks (We highly recommend the Epiphany Mourvedre blend on the menu).   But the pasta we selected for the girls to split was anything but off the kids' menu. The pasta was perfectly al dente, and adults and children alike swooned over the spinach and ricotta tortelloni. Our appetizers soon followed, with the eggplant soufflé stealing the show.
And our entrees certainly did not disappoint. One entrée was the Loup de Mer Sea Bass, which was flakey and delicately seasoned. The entire table, including the girls, raved over the beef tenderloin, juicy, extremely tender and perfectly elevated by its parmesan cheese and truffle oil finishes.  All main courses were great including the sausage cavatelli, with its handmade, al dente pasta in an incredibly tomato-rich sauce.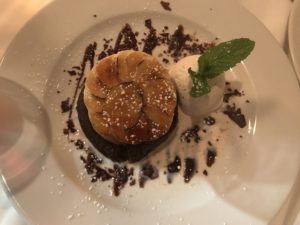 We finished the meal with a pear tarte, banana bread pudding and vanilla ice cream served with espresso. All good, but the ice cream and espresso, in all its simplicity, takes the tarte – er, cake.
What stood out for us throughout the meal was the level of service. Our glasses were never empty, our table quickly filled with food, and our special requests met with no eye rolls or annoyance. We asked our server to describe the differences between four or five of the white wines during the dining room's busiest time, we thought we had worn out our welcome. Yet, our server handled the situation expertly, bringing samples of the various wines so we could make an educated decision. Well-played.  http://www.olioelimone.com/
The meal was so good, we wanted to come back and try their other more casual pizzeria around the corner.  Wow, that was a big hit especially with the kids.   We dined a separate night at their pizzeria was more casual but the food was amazing.
The pizza is a must and even try the gluten free crust. Whatever you do, order the black squid ink fried calamari -some of the best you will ever have. The salads were tasty and desserts again were amazing – gelato, dessert crepe, panna cotta and carmeized peaches with white cocolate ice cream. Amazing dinner.
Convivo restaurant  is located on the ground floor of the Santa Barbara Inn on Cabrillo blvd on the water in Santa Barbara California. The indoor portion of the restaurant  is beautifully decorated with a full bar where you can have drinks prior to your meal. We were brought to our table located on the large patio facing the ocean. It was a beautiful day so we could see miles and miles of ocean and watch the boats and even dolphins swim by. On cooler nights there are built in heat lamps to keep you toasty. The lighting is keeping with the style of restaurant and hotel with antique old world lanterns.
The libation menu has a large selection of cocktails ranging from  a Pisco Sour with fresh lime to the La Paloma with tequila and agave nectar. The wine and beer menu is also impressive. We sampled the large selection of appetizers including fresh grilled asparagus, lamb meatballs, seared ahi tuna and even octopus.
The Burrata cheese and baba ganoush was our favorite They have a large selection of gourmet pizzas including fennel sausage but decided to try them on our next visit as there were many more entrees we wanted to try this time.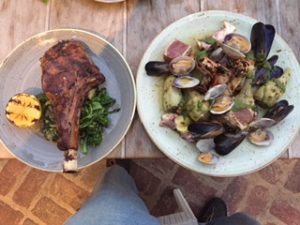 For our main courses, we had the pesce misto with mixed grill of ahi, white fish, sea bass, clams and mussels and all were cooked to perfection. Finally out came the Vitellone, which was one massive oak grilled veal chop with broccoli and bagna cauda. It was so  large we were unable to finish it.  Our waiter who was very professional and catered to our every need while helping with suggestions.  It included lemon tart, strawberry shortcake, panna cotta, various gelatos and fruit. Unfortunately we were so full and satisfied we could not eat another bite but next time we would save room for the Dolce treats that we missed out on this time.
We got up and said goodbye to Convivo, but only temporarily as we would definitely be back again soon to try other selections of their large and varied menu.   https://www.convivorestaurant.com/
Take a drive up north for beautiful wine country and tasting.  Make sure to stop in Solvang and do not miss the Solvang Restaurant serving up some of the most delicious Danish breakfast you will get.
They offer their famous aebleskiver (kind of half pancake and half donut along with thin Danish pancakes, eggs, hashbrowns and more.    www.solvangrestaurant.com