PANIQUE in a new digital restoration by TF1, at Laemmle's Royal Theatre i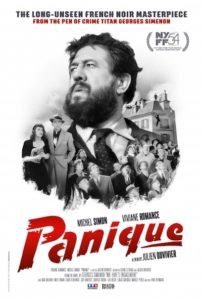 (Gerry Furth-Sides) Rialto Pictures' presents Julien Duvivier's long unseen crime masterpiece, PANIQUE in a new digital restoration by TF1, at Laemmle's Royal Theatre in West Los Angeles for one week only, May 5 to 11.  This "must-see, heart-wrenching film noir" has been on every film critics top list for decades.
"If I were an architect and I had to build a monument to the cinema," wrote Jean Renoir, "I would place a statue of Julien Duvivier above the entrance."
Duvivier made 70 films between 1919 and 1967, many of them landmarks of French cinema. His first postwar project, a noir adaptation of Georges Simenon's Mr. Hire's Engagement (aka Les Fiançailles de M. Hire), stars Michel Simon ( Boudo Saved From Drowning) as a reviled voyeur framed for a murder by the girl he adores (Vivian Romance).
Now widely considered the finest Simenon adaptation, the long-unseen PANIQUE has finally been given the vivid restoration it deserves.  Film historian Lenny Borger, who created a brand new translation and subtitles for the restoration, has proclaimed that "after decades of being ignored, belittled and neglected, Duvivier has at last come into his own as one of France's truly great filmmakers.
Panique was disparaged by the French press on its release.  Today it is today hailed as one of his masterpieces, a cornerstone work of French Film Noir."
Julien Duvivier (1896-1967) was admired by artists as diverse as Graham Greene, Orson Welles, Ingmar Bergman, and Jean Renoir. He made some of his most famous films in the 1930s, including La Bandera, La Belle Équipe, Pépé le Moko, and Un Carnet de Bal.Panique, one of his darkest and most personal works, was his first film made in Europe after the war.
Belgian writer Georges Simenon (1903-1989) was best known for the 75 novels and 28 short stories featuring fictional detective Jules Maigret —but he composed in total nearly 500 novels, making him a significant figure in French literature as a whole, the most translated French author of the 20th century, and the 17th most-translated writer of all time (UNESCO). He was given the Mystery Writers of America's greatest honor, its Grand Master Award, in 1966. His work has been adapted for approximately 300 movies and television shows.
Swiss-born Michel Simon (1895-1975), one of the most recognizable faces of world cinema, worked frequently with some of the cinema's greatest auteurs. A lifelong friend of Jean Renoir, he appeared in many of the director's films, including iconic roles in La Chienne and Boudu Saved from Drowning. Simon also appeared memorably in films by Jean Vigo ( L'Atalante), Marcel Carné ( Port of Shadows), René Clair ( Beauty and the Devil), and many others.