Emporium Thai in Westwood delivers fresh, delicious authentic food- September 2017
Emporium Thai Restaurant is located at 1275 Westwood Blvd in West LA.   310-478-2838

The settings and general atmosphere of the establishment may be a bit more upscale than one could expect of a Thai food restaurant.
The ease of communication between staff and customer allows for an easier decision making off the menu. Our server was Honey Bee and she was helpful with great suggestions and of course, sweet.
This is a family run business as we met John, the owner, and youngest of 12 children.  Being related to the cooks in the kitchen, the staff can objectively and proudly recommend dishes.  With an open mind, one can trust to order a certain dish alongside another because of their complementing flavors.  Once served, it is undeniable that every food item is prepared fresh on the spot.
For starters, go for the chicken dumplings and Tom Ka Kai soup it's tanginess here will not disappoint!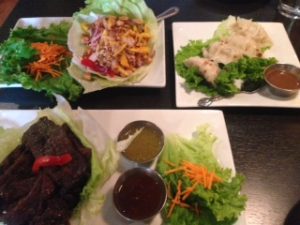 And though red meats and chicken are our default order, the Coco Mango Salad comprised of shrimp, mango and nuts in a special sauce and the Crying Beef Tiger appetizer were fantastic.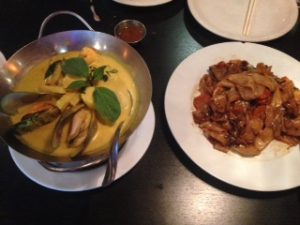 For main courses, the drunken noodles with your choice of protein was super tasty as was the spice eggplant. They have so many curry dishes to choose from with seafood, chicken or veggie, that you have plenty of options. Everything is cooked fresh and to order as you will taste the difference.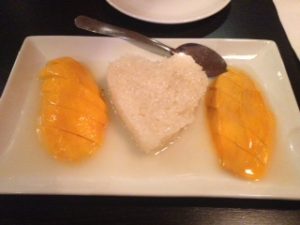 For dessert, the sticky rice with fresh mango was a great way to end this feast.
Written by David Frison and Todd Elliot