Jean Renoir's Restored "The Crime of Monsieur Lange" in LA, November 22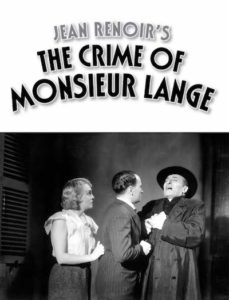 The new 4K restoration of Jean Renoir's charming comedy/drama THE CRIME OF MONSIEUR LANGE, starring René Lefèvre, Florelle, and Jules Berry, and written by Jacques Prévert ( Port of Shadows, Children of Paradise, etc.), will have its Los Angeles premiere at Laemmle's Royal Theatre in Los Angeles starting Wednesday, November 22.
After Amedée Lange's (Lefèvre) maliciously charming boss Batala (Berry) is presumed dead following his flight from debt collectors, Lange, with the assistance of his lover Valentine (Florelle), helps organize a community of workers into a cooperative publishing house for his hit Western serial "Arizona Jim." But when Batala returns from the dead, Lange must commit a grave crime to protect what they've built.
If ever there was a classic film ready made for today's political climate, Jean Renoir's new digitally restored, "Monsieur Lange," is the one. The villain who is as abusive to women (among others) gets his comeuppance and it is because the working class neighborhood underdogs banded together to defeat him.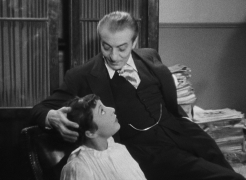 The original from 1935 was rightfully Renoir's first critically acclaimed film just before the legendary, "Rules of the Game." The workers cooperative in the film is key when they, in the boss's absence, of a workers' cooperative, and the film itself was made by a cooperative, the "October" group of film artists of Communist orientation.
It is a celebration of French Popular Front sentiment when leftists and liberals banded together to take a stand against European fascism. In fact, Renoir collaborated on the story with First Groupe Octobre, the agitprop Left Bank theater troupe
The good-humored tale that comes to a dramatic climax with the title revolutionary crime against an unscrupulous, bully of a boss the likes of which we are now witnessing in this country, reflects the country's ill-fated political change of heart.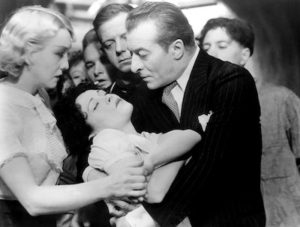 The couple on the run are nattily-dressed (and smoking) as only a French couple could be even as they are about cross the border.
They are successful writer,anti-hero, Amédée Lange (René Lefèvre) and his lover, an irrepressible laundress, Valentine (Moulin Rouge star, Florelle).
In their lodgings for the evening, guests at the bar recognize the fugitives and are about to turn them in. So Valentine states their case by telling
The story of why he shot his publisher employer, the monstrous Batala (Jules Berry, the blustery and yet enticing schoundrel who improvised most of his lines, much to the admiration of Renoir and the crew) for them to judge.

In a neighborhood teeming with life and good spirit, Womanizer and publisher, Batala (pJule Berry, who adlibbed many of this lines) is always one step ahead of his creditors, and sometimes not even that. He is not above swindling business vendors or women in his office and pimping them out for business deals as well.
Gentle Lange lives through his creation of the American western pulp fiction hero Arizona Jim. After Batala convinces an investor that Lange's cowboy creation is the next hot thing, Lange gets his chance to bring Arizona Jim to life. Though it becomes a success, Lange is appalled that Batala would do what amounts to "product placement" in the magazine. Much worse is to come.
Batala absconds with the company money to avoid his creditors with the pretense of being killed in a train wreck and living as a priest.  Faced with those same creditors, and riding high on the popularity of Arizona Jim, Lange and his associates turn the press into a self-governing workers' cooperative,
Once he sees the success of the magazine, Batala returns, reclaiming ownership of the magazine and its profits that he insists is rightfully his. His vengeful demands come on the very night that Lange and his friends celebrate a potential film deal.
And this is when Lange takes action, in his own name and in the name of the workers and the community. It is a compelling case indeed to make in front of the lodgers, his peers.
The 4K restoration from nitrate and safety elements, the internegative and a 35mm print, under the supervision of Studiocanal, with the support of the CNC. A Rialto Pictures release.
The master, François Truffaut, said:  "Of all Renoir's films, Monsieur Lange is the most spontaneous, the richest in miracles of camera work, the most full of pure beauty and truth. In short, it is a film touched by divine grace." –
Film Website: http://www.rialtopictures.com/catalogue/the-crime-of-monsieur-lange
THE CRIME OF MONSIEUR LANGE is not rated; the running time is 83 minutes. In French; fully subtitled in English. Digital photos and press resources are at