Lendary Angie Dickinson at Laemmle Screening of "Point Blank"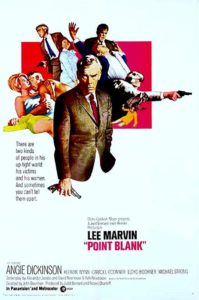 I've seen
Point Blank
so many times I know the lines.  It is film noir stripped bare of anything but the essence – and it is done in brilliant color.   Point Blank never gets old and it is all the proof anyone needs to show why
Angie Dickinson, Lee Marvin,  Keenan Wynn, Carrol O'Connor
and director
John Boorman
made film history in every film they did.
Laemmle Theatres and the Anniversary Classics Series present a screening of the influential and imaginative 1967 thriller, John Boorman's 'Point Blank.'  Later critics described the film as a blend of the style of classic film noir and the technical innovations of the French New Wave.
Oscar winner Lee Marvin stars as a man seeking revenge against a former business partner who double crossed him, stole his wife and left him for dead during a robbery at the deserted prison of Alcatraz. Marvin's Walker (no first name) tracks them both to Los Angeles.
The stark, modernistic view of Los Angeles, done almost all in primary colors, has been brilliantly photographed by Boorman and cinematographer Philip H. Lathrop. The screenplay was written by Alexander Jacobs, David and Rafe Newhouse, from a novel by Richard Stark (Donald E. Westlake).
Jacobs and Boorman were both British filmmakers who were stimulated by Los Angeles in the 1960s and they made the most of archetypal settings like a hilltop house, a sprawling car lot, a frenetic disco, and the eerie storm drains along the L.A. River. The film crew was also the first ever to be allowed to film at Alcatraz, which had closed in 1963.
Although the film scored at the box office, it was critically underrated at the time. As Leonard Maltin wrote years later, 'Point Blank' is a "taut thriller, ignored in 1967, but now regarded as a top film of the decade." Indeed it was selected for preservation by the National Film Registry in 2016 and had a strong influence on later filmmakers, including Steven Soderbergh and Michael Mann. Philip French, writing in the London Observer, called it "a landmark in the history of the crime movie." Angie Dickinson, John Vernon, Carroll O'Connor, and Keenan Wynn co-star. The haunting music was composed by Johnny Mandel.
Angie Dickinson was the very first guest at the launch of the  Anniversary Classics series four years ago. She appeared at a screening of her 1963 hit, 'Captain Newman, M.D.,' in which she starred with Gregory Peck and Tony Curtis.
You can still see her allure on the Tonight Show reruns, flirting with Johnny Carson.
And she is one of the glamorous film stars that was even a more extraordinary mom than actress, taking good care of her daughter she had with Burt Bacharach.
Her many other memorable films include Howard Hawks' 'Rio Bravo;' the original 'Ocean's Eleven' with the Rat Pack; Don Siegel's 'The Killers,' in which she also co-starred with Marvin, along with John Cassavetes and future President Ronald Reagan in his last feature film; Arthur Penn's 'The Chase,' in which she played opposite Marlon Brando; and Brian De Palma's 'Dressed to Kill.' Dickinson also starred in the immensely popular TV series 'Police Woman' during the 1970s and was one of Johnny Carson's favorite guests on his nightly talk show.
Ahrya Fine Arts Theatre
8556 Wilshire Blvd.
Beverly Hills CA 90211
310-478-3836