Dining in Orlando at Maggianos and Tapa Toro- January 2018
On your next visit to Orlando, here are 2 not to miss places to dine at. Maggianos Italian cuisine and Tapa Toro Spanish cuisine. Both places are very close to the theme parks including the closest one Sea World.

Let's start with Maggianos. This family friendly restaurant caters to everyone's needs and has all the popular dishes including spaghetti and meatballs for my little kids. The fried calamari was delicious for an appetizer to start along with any of their fresh soups of the day or salads. For dinner, the crab cakes were a huge hit along as well as the shrimp fra diavolo in a spicy tomato sauce.
From appetizing antipasto dishes to Chef-prepared cakes and cookies, we believe that the essence of Italian cooking is simplicity. Our chefs work with only the freshest, seasonal ingredients to bring out the full-bodied, natural flavors at the heart of our authentic recipes. With vegan, gluten-free, vegetarian, and classic Italian options, Maggiano's has a plate for every taste. Order a wholesome salad, generous portion of pasta, crisp flatbread, or tasty soup and get ready for an Italian-American treat!
Here at Maggiano's, we think there's more to "eating Italian style" than simply eating. It's about savoring each bite, visiting with family and friends, and relaxing after a busy day. It's never hurried and it's forever delicious. At our restaurants, your next meal can be memorable, but so can your next event. With magnificently decorated event spaces and private banquet rooms, plus a well-dressed, attentive staff to match, Maggiano's is the best Orlando party venue for any sized group. Whether you're throwing an engagement party, rehearsal dinner, or just want a bigger space for a business meeting or birthday party, let our Private Dining Managers make your next get-together easy, stress-free, and above all—mouthwateringly delicious!
The service was fantastic and the atmosphere was great. The place is huge with a few different dining areas including the bar area. Enhance your meal with a glass of wine or one of their signature drinks.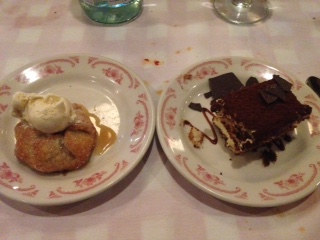 End your meal with the apple tort and tiramisu and you will be completely satisfied.
www.locations.maggianos.com/florida/orlando
Tapa Toro will make you feel like you are in Spain. The décor and flamenco dancing/music each hour adds ambiance to the wonderful meal. The tender octopus is a must starter. My kids split the tasty fresh salmon but the main reason to come here is the incredible Paella.  If you love seafood, this is one of the best seafood paellas I have ever had. It was loaded with shrimp, calamari, clams and we added a lobster tail. Many Americans don't realize that the true way to make the paella with the special spanish rice and saffron is by cooking it till it is a little burnt. As you scrape the bottom, enjoy it as they do in Spain and have some Sangria or a glass of Spanish wine to accompany your meal.
At Tapa Toro, they combine contemporary, Spanish cuisine with a vibrant, energetic atmosphere – bringing a fresh dining experience to International Drive. Their unique paella pit, vibrant tapas menu, and extensive selection of imported wines will guide you through a culinary journey of Spanish flavors and culture in the heart of Central Florida.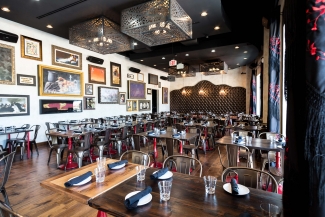 What a meal and take home the leftovers of the paella as it tastes as good the next day. There are not many places around that are like this that feature a specialty dish this good. This is a definite must visit.