Long Day's Journey into Night at Wallis Annenberg
(Photographer: Hugo-Glendinning)  The Wallis Annenberg Center for the Performing Arts presents the exclusive engagement of the Bristol Old Vic and Fiery Angel production of LONG DAY'S JOURNEY INTO NIGHT, considered one of the most powerful American plays of the 20th century.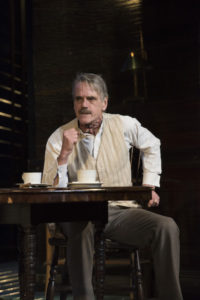 Eugene O' Neill's  play could not be more timely today in terms of the theme or the renewed fascination with all things English.  Haunted by the past but unable to face the truth of the present, James and Mary Tyrone and their two sons test the bonds of a family caught in a cycle of love and resentment. As day turns to night and each member of the family indulges in their vices, the truth unravels leaving behind a quartet of ruined lives.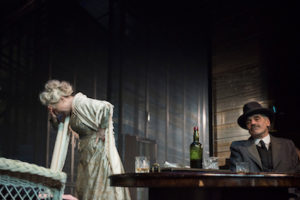 It also comes at a time when drugs, family dysfunction and depression are being shown in a new light publicly.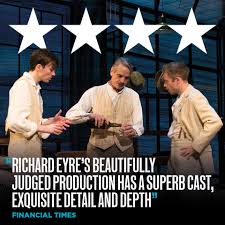 The production stars Academy Award winner Jeremy Irons and Olivier Award winner Lesley Manville.  Eugene O'Neill's iconic play also features Matthew Beard, Rory Keenan and Jessica Regan at The Wallis a limited three-week engagement from Friday, June 8 through Sunday, July 1. from June 8 – July 1
Eugene O'Neill's Pulitzer Prize-winning masterpiece Long Day's Journey Into Night Richard Eyre's acclaimed production stars household names made internationally famous on the screen.  The ensemble features Jeremy Irons; Lesley Manville (so recently superb in Phantom Thread); Matthew Beard (The Imitation Game); Rory Keenan (BBC's "War & Peace") and Jessica Regan, reprising her role as Cathleen from the 2016 Bristol Old Vic production).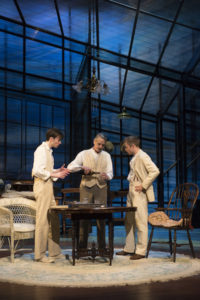 "I couldn't be more honored to bring this production to Los Angeles," said The Wallis' Artistic Director Paul Crewes. "Sir Richard Eyre is one of the greatest living directors in the world. To present Jeremy Irons and Lesley Manville on our stage is a great endorsement of The Wallis' growing reputation. This is a production that should not be missed!" We agree.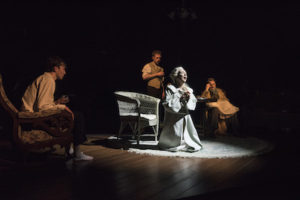 Single tickets are now available for $35 – $125. For more information or to purchase tickets, visit TheWallis.org/LongDays, call 310.746.4000, or stop by in person at the Wallis Annenberg Center for the Performing Arts Ticket Services located at 9390 N. Santa Monica Blvd., Beverly Hills, CA 90210. Ticket prices subject to change.
Learn more athttp://TheWallis.org/Subscribe.
Jeremy Irons plays James Tyrone. A Bristol Old Vic Theatre School graduate, he began his professional career on the Bristol Old Vic stage in 1969. After years of success in the West End, Irons made his Broadway debut in 1984 opposite Glenn Close in The Real Thing, which won him a Tony Award. An internationally renowned actor, he is well known not only for films such as The French Lieutenant's Woman, The Mission, Being Julia, Lolita and Reversal of Fortune for which he won an Oscar, but also for the variety of his work – everything from The Lion King to "The Borgias." He is a rare actor to have won an Oscar, a Tony and an Emmy for his body of work.
Lesley Manville plays Mary Tyrone. An award-winning actress, she is a frequent collaborator with director Mike Leigh, winning the London Film Critics' Circle Award for British Actress of the Year for her work in both his 2002 film All or Nothing and his 2010 film Another Year, for which she also won the National Board of Review Award for Best Actress. Manville's extensive stage career includes roles in Top Girls (Royal Court 1990), Les Liaisons Dangereuses (RSC 1986), His Dark Materials (National Theatre 2005), Pillars of the Community (National Theatre 2005) and Six Degrees of Separation (Old Vic 2010). In 2012, she was nominated for an Olivier Award for her role in Leigh's play Grief (National Primeval," "Birdsong
Director Richard Eyre is widely considered to be the UK's greatest living director. Eyre was director of the National Theatre between 1987 and 1997.His most noted theater productions includeHamlet(twice), with Jonathan Pryce at the Royal Court in 1980 and Daniel Day-Lewis in 1989; Richard III with Ian McKellen; King Lear with Ian Holm; Henrik Ibsen's John Gabriel Borkman with Paul Scofield, Vanessa Redgrave and Eileen Atkins; and numerous new plays by David Hare, Tom Stoppard, Trevor Griffiths, Howard Brenton, Alan Bennett, Christopher Hampton and Nicholas Wright. He also directed the musical Mary Poppins in London and on Broadway. He has been the recipient of numerous directing awards including five Olivier Awards, including an Olivier Lifetime Achievement Award, and awards from The Directors' Guild of Great Britain, the South Bank Show, the Evening Standard and the Critics' Circle. In November 2013, he once again won the Evening Standard Award for Best Director for Ibsen's Ghostsstarring Lesley Manvilleat the Almeida Theatre.This production transferred to the West End and to Broadway.