Destination San Diego- Lodging, Dining, Attractions with stops in between from LA- August 2018
Travel Destination – San Diego with stops along the way and back to Los Angeles
Lodging at the Marriott Townhome Suites in downtown San Diego.  The hotel was modern with great service.  Valet parking if you cannot find a place right on the street.
Free internet access, exercise room and breakfast included.  The rooms were very comfortable and clean.   The location was great and convenient to get to anywhere around.   This urban hotel is walking distance of San Diego's historic Gaslamp Quarter and Balboa Park.  It is also within two miles of San Diego Zoo, Little Italy, Star of India, Petco Park, Seaport Village and the San Diego Convention Center. Taking inspiration from the urban area, they have designed their lobby lounge, sundries store and fitness center with their schedule in mind. Wake up to a free hot breakfast of all your favorites: eggs, sausage, waffles and more. For lunch, dinner or apps and cocktails, stop in the Fourteen45 Bar and Grill restaurant for San Diego cuisine you may enjoy indoors or outdoors by the fire pit. Stretch out in your downtown studio-inspired suite, where open floor plans include a full size kitchen, ample work space, an elfa closet designed by The Container Store® and Paul Mitchell® bath products. Whether on business or family time, come stay for a few nights or an extended stay in San Diego.
Address: 1445 Sixth Ave, San Diego, CA 92101
https://www.marriott.com/hotels/travel/santd-towneplace-suites-san-diego-downtown/
The Sheraton Marina was a nice visit and beautiful views of the harbor located near the airport.  There are plenty of amenities including 3 swimming pools, tennis courts and a workout room.  The location is close to all the major attractions, downtown and the Gaslamp district.
The room was very nice and the bed was comfortable.   If you need assistance, they have an onsite concierge to help with directions and ideas.   More at http://www.sheratonsandiegohotel.com/
Oggis Restaurant was a nice first stop on the way down South.   We had to try their famous pizza and it was delicious along with the homemade Calzone.  With a variety of sandwiches, salads, appetizers and wraps, we chose the chicken wrap to get some protein.  All was fabulous and a great place to dine for the casual food, drinks and sports on TV.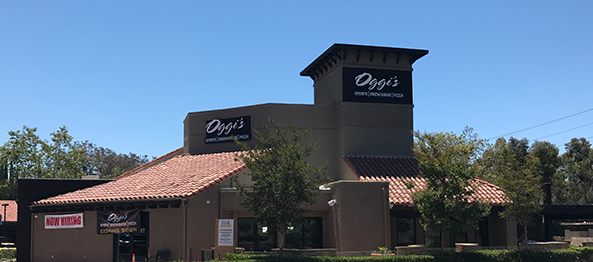 About Oggi's Sports | Brewhouse | Pizza
For 27 years, Oggi's Sports | Brewhouse | Pizza has continued to define craft brewing, fresh pizza and brewpub favorites in Southern California and Arizona. Oggi's has 15 full-service locations and one Oggi's Pizza Express location, all with sports-themed atmospheres. The menu features signature pizzas, pasta entrees and desserts alongside their original beer pairings. Each location has 10 original brews on tap at a time, including one seasonal and one barrel-aged. Oggi's boasts award-winning brews, which have over 60 medals in international, national and regional beer competitions. Oggi's is the exclusive pizza sold at the Angels Stadium in Anaheim. For more information, including franchising, visit  https://missionviejo.oggis.com/
From there we headed to LA Jolla to check out the Bike and Kayak and what a beautiful day we had.  We got down there for the kayak tour in the popular caves.  I brought my daughters (ages 6 and 9) and we all fit into one kayak as a triple which made it fun.  The tour ran about 90 min and then it was time to get some snorkeling gear and jump in the warm ocean water.
What a treat. www.bikeandkayaktours.com/
After changing back in the changing room/bathroom at the store, it was time for a great dinner at the incredible Harbor House in San Diego.  What fabulous views they had while we had some delicious food and fresh fish.   Our server Miguel was super hospitable.  Start with their clam chowder or one of their nice salads.  I am not an oyster fan but they have a nice selection.
Dishes not to miss are Ken's Nantucket Bucket -New Zealand cockles and eastern mussels steamed in a rich broth of butter, olive oil, herbs and white wine is spooned over a bed of fettuccine and the Scallop and Shrimp fettuccine -Large shrimp and scallops tossed with pasta in a light sherry cream sauce with sun-dried tomatoes, roasted garlic, and asparagus tips
The next day we had breakfast at the popular Breakfast Republic.   They are famous for their French Toast dishes so we tried the sampler and it was huge and tasty.  They have a variety of other breakfast items too as I had the veggie omelet with potatoes .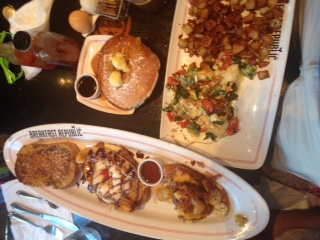 http://www.breakfastrepublic.com/
We then headed to the New Children's Museum and it was very fun and family oriented.  There are 2 levels of fun, hands on experiences including creative learning for kids of different ages.  More at https://thinkplaycreate.org/
Lunch was at Rei do Gado Brazilian streakhouse where it was basically all you can eat food at the impressive salad and entrée station while servers continually come around with a variety of meats carving at your table.  They have a few options to choose from that come with more selections at a higher price.  If you are in the mood for a feast for red meat, this is your place as you will not leave hungry.  Some of my favorite dishes were the filet, tri tip and ribs.
So many choices with side dishes, salads and cheese bread not to miss.   We went for lunch which was fantastic but next time we have to come back for dinner as they have a seafood bar after 4pm.  This restaurant is popular and what a feast.   http://www.reidogado.net/
It was off to check out a San Diego Padres game as they played the SF Giants for a rare mid-week day game but what a nice day it was for baseball.  The Giants won in 10 innings but Petco Park is worth visiting on your next trip to take in a game.    https://www.mlb.com/padres
We stopped in at Asti for a post-game bite in the Gaslamp district.  This fine dining yet casual Italian restaurant has a variety of dishes and nice outdoor seating area to eat while watching people pass by.
Do not miss the outstanding fried calamari among their variety of pasta, meat and seafood entrees.   https://www.astisandiego.com/
In the morning, we drove to get some breakfast at Duck Dive- Very cool, hip place in Pacific Beach.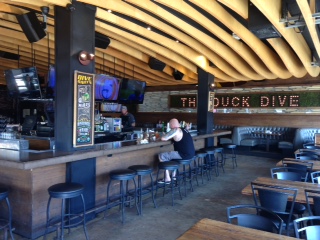 They have a very nice selection of breakfast and brunch items with a neat open vibe.   Try the pancakes or stuffed French toast.  If you want to go lighter, they have eggs or even their egg white omelet.  http://www.theduckdive.com/home/
When heading to San Diego, you cannot miss Sea World, especially if you have kids.  The most popular amusement park attraction in the city features a wide variety of animal shows (dolphins, whales, sea lions and more) and rides and rollercoasters with water themes.  Best to go on a weekday when it is less crowded but what a fabulous, magical place to spend a day for the whole family.  Night time light shows and fireworks enhance your visit.  Just outstanding!  https://seaworld.com/san-diego/
It was time for dinner and we headed to Café Sevilla in the Gaslamp district.  Everything is so close by in San Diego and easy to get to.  This Spanish restaurant serves a nice selection of tapas, salads,  flatbreads and meats.  However, the main reason to come here is to enjoy some of the best Paella around.
The traditional seafood paella is what we ordered and enough for 2-3 people in their large skillet.  Many nights they have live music and/or flamenco shows but we had to leave early with my kids as it had been a long day.    http://www.cafesevilla.com/san-diego/
The following day we decided to check out some of their cool museums.  They have passes that allow you to see many of the cities museums (approx. 40 of them) but we stuck by the water and checked out the Marytime museum and Star of India ship museum before heading to take a one hour harbor cruise on the Hornblower and seeing the enormous aircraft carrier Midway ship adjacent to the Hornblower.  That was impressive.  https://www.midway.org/
We drove to Coronado to go to one of the most popular and beautiful beaches around swimming in the ocean again.  It was then time for dinner.  We made reservations at the Edgewater Grill back over the bridge in Seaport Village with many shops and stores.  We sat out on the outdoor patio over-looking the ocean while enjoying a great dinner with nice service by Kristi, who has been there for close to 40 yrs.  The fish is fresh and outstanding.  Start with the New England clam chowder and for appetizers, try the seared ahi over the seaweed salad and one of their pizzas or flatbreads.
My daughters split the filet with mashed potatoes and veggies but the highlight is the fresh fish. I go the local grilled swordfish with cilantro lime butter.  Enjoy a glass of wine or one of their signature drinks while you take in the beautiful sunset and ocean view.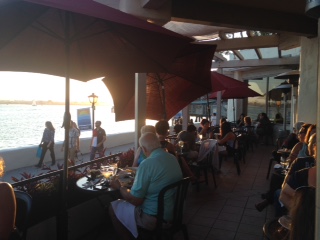 http://www.edgewatergrill.com/
Our last day, we got up and headed over the Fig Tree Café in Pacific Beach.  A nice healthy atmosphere where you can enjoy an egg white omelet with potatoes while sampling a trio of their antioxidant shots from goji berry to immune boosters.   They have a full menu for lunch and a bar with cocktails.   We also tried the turkey sandwich and black bean burger to round out the meal and take some to go.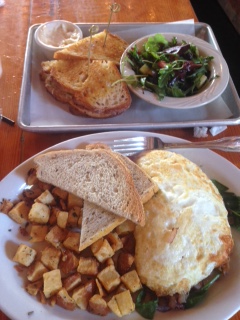 This is a great place to start the day.   http://figtreeeatery.com/locations/pacific-beach/
It was time to head back to LA but we had one one more destination which was Legoland in Carlsbad.  It was a fabulous way to end a great trip with many rides and plenty of themed lego entertainment.  Plus, since it was such a hot day, we had the park hopper so after enjoying half the day in legoland, we changed into our bathing suits and popped over to their waterpark.  Very refreshing and they had a great water ride where you got drenched along with a lazy river, wave pool and plenty of slides to check out.  This is great for all ages as they have stuff for little ones and bigger ones.  The waterpark is seasonal so check the schedule for hours.  https://www.legoland.com/california/
After the great long day, we had to get an early dinner before the drive back so we headed to Kings Fish House a few minutes away.    They had a great assortment of the best and freshest fish.  We started with their clam chowder which was off the charts.
The menu is so extensive as you can order stuff you usually cannot find other places like soft shell crab.  There is a variety of sushi, raw bar and salads to choose from for appetizers.  The wild salmon was incredible and not to miss.
The fresh lobster adding the clam bake is another way to indulge as your great seafood experience.  Add a glass of wine or cocktail and you will be in heaven with the best fish around.   The service was very good and the enjoy casual atmosphere while you eat on the patio unless you want to be indoors.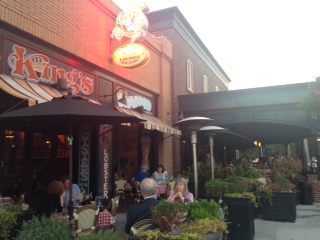 https://www.kingsfishhouse.com/carlsbad
A big thanks to Robert Arends of the San Diego Tourism Authority for assistance with our trip.   You can find all the info and contacts at www.sandiego.org/