Ate 9, LA's "Hottest" Dance Company Performs May 9 and 10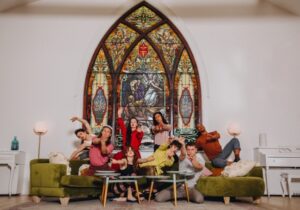 (Gerry Furth-Sides, photos courtesy of Ate 9 Dance company)  Ate9 Dance Company Artistic Director Danielle Agami has announced a partnership with the historic The Ruby Street in Highland Park to take high quality, contemporary dance off the proscenium stage and into an accessible and casual salon setting.
The new performance series at The Ruby Streetcalled "1 to 3" deepens relationships with Northeast Los Angeles residents by partnering with local organizations, performing in the neighborhood, and encouraging the exchange of ideas between audiences and performers."  Tickets are now available at www.ate9dancecompany.com.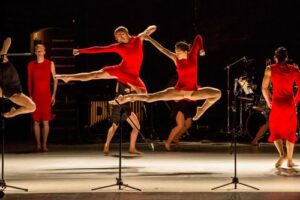 "1 to 3" features a revolving lineup of solos, duets, and trios within the structure of a Q & A session with acclaimed choreographer Danielle Agami and the Ate9 dancers. This series offers a rare opportunity to witness an inside look into Ate9's creative process and to celebrate dance in an intimate, up-close setting.
Originally built in 1908 as a community church, The Ruby Street provides the perfect setting for Ate9's work by marrying historic architecture with contemporary design.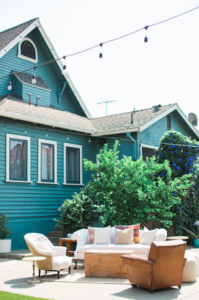 The May engagement closes the company's season, following its national tour presenting five new critically acclaimed full-length works.
Thursday, May 9     Doors Open: 7:30 p.m. | Show: 8 p.m.
Thursday, May 16   Doors Open: 7:30 p.m. | Show: 8 p.m.
Thursday, May 23   Door: 7:30 p.m. | Show: 8 p.m.
Thursday, May 30   Door: 7 p.m. | Show: 7:30 p.m. with a closing performance reception Following
The Ruby Street: 6408Ruby Street, Los Angeles (Highland Park), CA
 ABOUT ATE9
Founded in 2012 by dancer-choreographer Danielle Agami, Ate9 Dance Company creates experimental works that re-imagine the role of dance in the community, while tapping into its power to unite people across diverse social and cultural borders. Valuing the vibrancy and diversity of its Los Angeles home base, the company invests in and cares about the unique qualities and potential each individual brings to the company.