Cloak and Petal in San Diego unique, delicious dining experience- May 2019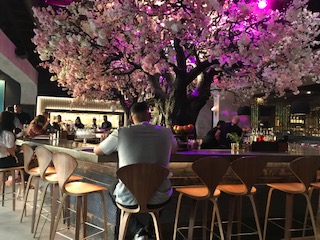 The remarkable cherry blossom tree in the middle of this unique establishment took my breath away as we walked into a food experience like no other that is now officially in my top 5 dining experiences of ALL TIME!
We started with the sweet corn soup and it was fantastic The Hillcrest roll was next on this delightful menu for me; the tuna, salmon and yellow fish combined with the avocado made this an amazing experience for my taste buds.
The yellowtail collar was a first time for us and it was cooked to perfection.  As we finished this part of the meal, the soft shell crabs arrived and again they aimed to please and we can still taste their succulent buttery goodness.
The grand finale was their famous JAPANESE HOT ROCK steak that was like NOTHING we have ever experienced in our life hands down!  We honestly can say that we will miss this experience every time we have steak now because nothing will ever top this MASTERPIECE!  They bring this wondwrful wagyu beef over to your table and you have the wonderful job of turning over these babies every few minutes until they are cooked to perfection!  This beef LITERALLY melted in our mouth! I know people say this all the time but this time it was 1,000 real!  The most tender and juiciest beef we have ever had the pleasure of experiencing. WOW our taste buds were blown away!  We are  planning our next trip to San Diego JUST to have this dining experience again…and again…
For dessert be sure to order the MOCHI! We got black sesame and mango…what an experience!
6 out of 5 stars!  Go and experience this incredible place…your taste buds will thank me later.
Check them out at 1953 India St in San Diego and you will be in for a treat.
Written and Photos by Todd Elliot and Michael Hennessey.