Wallis Annenberg Presents Jacob Jonas The Company May 10,11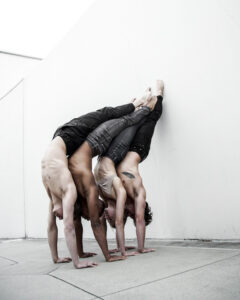 (Gerry Furth-Sides, Barbara Furth-Kline, photos by Matthew Brush) The Los Angeles-based Jacob Jonas The Company returns to the Wallis Annenberg Center for the Performing Arts, Friday, May 10 and Saturday, May 11, 2019, at 7:30 pm, in The Wallis' Bram Goldsmith Theater.
This performance completes their 2018/2019 Company-In-Residence. A Q and A will take place after the Friday performance, which is a wonderful part of the presentation.
Jonas presents two world premieres, viceversa and THERE'S BEEN A STUDY, as well as two highly acclaimed favorites, CRASHand TO THE DOLLAR. His choreography spans the abstract to the specific in subject matter and movement styles.
Viceversa, a choreographic collaboration with acclaimed director and choreographer Daniel Ezralow, will be performed by both as well. It's notable, comments Barbara Furth-Kline,  that the title of this work and their ages, Jonas now 26 and Ezralow 62, portends gentle humor along with tender moments as well as their observations and comments on aging what remains the same, what reverses with time. She adds, "Since no music composer is mentioned, I suspect this will be danced in silence, using the movement breath as their musical phrasing. This adds to the poignancy of the work.a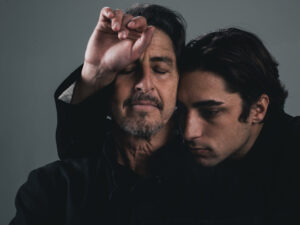 Influenced by educational thought leader Sir Ken Robinson, Jonas, with his new work There's Been a Study, reacts to Robinson's criticism and worry about the current education system's lack of creativity. Original music composed and performed by Art-rock vocalist/pianist Nicole Miglis, accompany's the work.
Jonas reprises his critically acclaimed Crash, music by Afro-pop singer-songwriter Okaidja Afroso, once again, performing his original score live. Jonas' hallmark, seamlessly merging contemporary ballet with breakdance, works especially well, creating the continual undulating movement of the ocean, sometimes calmer, sometimes swirling in responds to some disturbance below. The semi-darkness of the lighting adds to the vastness of these waters.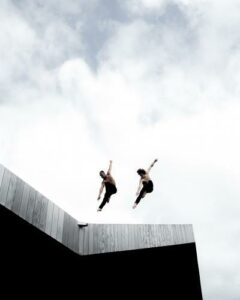 To the Dollar, Jonas' work to a recording of Elizabeth Warren, presents a clear, succinct visual of her speech on equal pay for women with this premiere. The work begins with three men equally spaced, standing in a line facing front. They leave to return one-by-one, each with a woman performing demanding movement in unison, making it perfectly clear that men and women can and do the same challenging work. Jonas choreographs to Warren's speech-making as he would to the cadences of a piece of music; aligning inventive movement phrases with the rhythm of her words or puncturing that rhythm in counter point movement. The piece ends with the three women left standing in a row facing front on stage.
Influenced by educational thought leader Sir Ken Robinson's ruing the dearth of creativity in the education system, Jonas' premieres his There's Been a Study, with Nicole Miglis, art-rock vocalist/pianist, lead singer of Hundred Waters, in live performance.
"How he translates these intellectual/political sphere's into movement that gets the message he wants to send across -is what makes him an artist for our times not to be ignored , according to Barbara Furth-Kline, who founded Peridance Company and sits on the board in New York."  He sees injustice, irrelevancy, failure in our society, commenting, responding in his language: dance. Think poetic imagery. Or, just take in the spatial and movement patterns that tell of relationships between/among the dancers, the visual patterns, the energy level, repetitions that go nowhere….or slyly evolve into something else. They all make visceral statements that get us in the gut. They are immediate. They should need no intellectual translation."
Single tickets are $29-$89 (subject to change). Visit TheWallis.org, call 310.746.4000, or stop by in person at the Wallis Annenberg Center for the Performing Arts Ticket Services Office located at 9390 N. Santa Monica Blvd., Beverly Hills, CA 90210.