Best Dining Places, Attractions in New Orleans May 2019
Dining & Attractions in New Orleans during Jazzfest May 2019.  Written by Todd Elliot & Kevin Rock
Commander's Palace-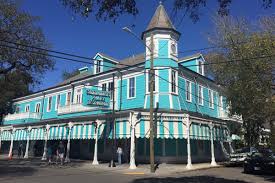 Commander's Palace is a premier restaurant destination. Happily, it's in New Orleans. Long known as a culinary touchstone of New Orleans and the world at large, this 5-star restaurant will impress the diner on every level.  Outstanding service!  Stellar wine selection and cocktails (more about that in a minute).  Whenever you visit you can expect seasonal fare that showcases the best of locally sourced ingredients.
This time around I visited twice.  Once for brunch, then for dinner the following week.  You'll notice a theme to my write-ups concerning New Orleans and that theme is FISH!  I'm west coast based so I always look for seafood different then my local choices.  New Orleans restaurants feature Crawfish, Red Fish, Drum and Grouper, mostly.  CP does wonderful things to "Gulf fish" and crawfish.  I had the Pecan Crusted Gulf Fish for brunch.
Dinner, on a Wednesday night, was Seared Bluefin Tuna (pictured) (Yes, I felt guilty but I don't eat it more than once a year.).
However, you have to get dessert!  The Creole Bread Pudding Souffle' is a MUST!  Order 20 min in advance.  Oh, and they pour Whiskey Sauce into it tableside.  Another highlight is the Strawberry Shortcake.
In the Land of Cocktails: Recipes and Adventures from the Cocktail Chicks, by Ti Adelaide Martin and Lally Brennan.  And, as they are co-propietors of CP, you're likely to see them there.  Among my favorite statements in the book is, "Never settle for a bad cocktail".  A life lesson, to be sure.
Superior Seafood & Oyster Bar-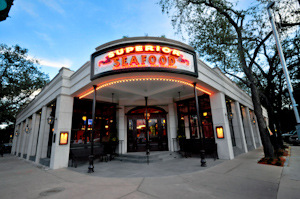 Uptown on the corner of St. Charles & Napoleon Avenue's sits Superior Seafood. It's a very lively boisterous restaurant especially in the main room. The menu covers everything from Steaks and Po-Boys to Salads along with the expected seafood. Oysters, Salmon, Redfish or Shrimp in many different configurations should provide everyone in your party a dish they'll enjoy.
It was packed the night we dined but our server was fun and never left us waiting long for anything. Cocktails to start & were well made. We enjoyed a conversation with the manager at the end of the evening about his curation of their bar's whiskey selection. As if there aren't enough excellent bar options in the area 😉
We mixed up the appetizers planning on sharing. All the portions were sized large enough to allow for that. The Fried Alligator bites, Crawfish Mac & Cheese and Pan Seared Scallops were all flavorful. Tough to choose between the scallops or mac & cheese which was my favorite.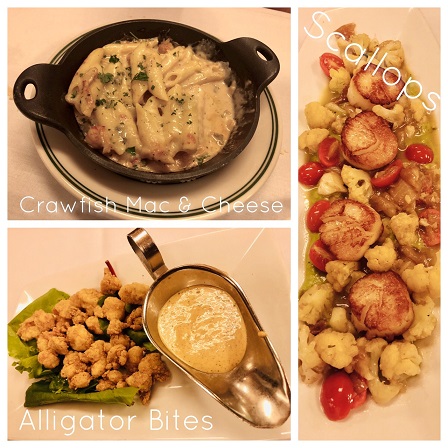 While the menu may offer a variety we all chose to focus on the Seafood section. I decided on the Blackened Catfish Napoleon. Even after all these years one isn't guaranteed their blackened fish will be correctly prepared but this to my delight was and included whipped potatoes and corn maque choux. My two mates went to the Shrimp department for their main course. Sautéed Shrimp Pesto Risotto with a tomato confit and Grilled Shrimp Pasta filled up the lads to the point we skipped dessert this night.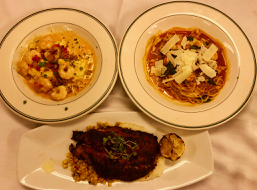 We'll keep this one on our list to return to in the future. Lots of other options on their menu we saw going to other tables that we'd like to try ourselves the next time.
Lunch at Antoine's
What a treat on so many different levels. A quick background to start with. This is the country's oldest family owned restaurant. It originally opened a block away in 1840. That means next year they'll be celebrating their 180th anniversary. Pretty amazing, they've been in the current location since 1868. Do yourself a favor and ask for a tour when you're through with your meal. There are multiple special rooms filled with historical artifacts and the wine cellar alone is worth a visit. How about some culinary history? Well they have that too of course. This is the birthplace of Oysters Rockefeller, although I'm more a fan of their chargrilled oysters with garlic, herbs and romano cheese personally.
Our group enjoyed our lunch in the company of Lisa Blount, wife of 5th generation owner Rick Blount. Charming and filled with interesting stories about the family and history of the restaurant she added another dimension to the food we thoroughly enjoyed.  What did we eat? Well the oysters mentioned above (or Ersters as Dr John calls them in his inimitable dialect) along with the Pommes de Terre to start with. These fried puffed potatoes are a must have when you visit. We also shared Crevettes Rémoulade (chilled shrimp) and the Crab Ravigote. Both were fresh and can be enjoyed without filling up too much before your entrée.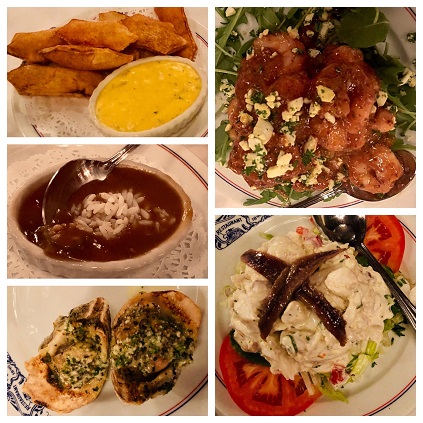 We stayed in the fish section on the menu for our main courses although Antoine's offers a variety of lamb, pork and beef dishes done in classic styles. I had the Poisson Amandine, a gulf fish with almonds and a meunière sauce. The rest of my mates had the Pompano Pontchartrain, grilled and covered in lump crab. Excellent for a lunch choice. For the big finish we chose the Baked Alaska. It's definitely sized for a group to enjoy and we all did.
Antoine's has a business casual dress code so come without shorts or flip flops. They offer vegetarian and gluten free options. I'd suggest checking out their website for any specials they may be offering. Rumors are lunches with .25 cent cocktails are available at certain times of the year ;). Presidents and Pope John Paul II have dined here. Keep it high on your list too when visiting New Orleans. 
Desire Oyster Bar is located in the Royal Sonesta Hotel in the heart of the French quarter on Bourbon Street.
Desire Oyster Bar offers a wide variety on their menu specializing in seafood  start with a bowl of boiled spicy crawfish and their oysters Rockefeller.
The crawfish etouffee was outstanding.  For entrees, we went for the bbq shrimp and grilled catfish.  The ambiance is casual and the service was very good. Our female server has been at her job over 40 yrs and was very attentive. The meal and experience was top notch.  Headed over to the adjacent jazz playhouse to check out Lena Prima.   Desire is a great overall dining experience.
Tujague's is one of the oldest restaurants in New Orleans going back 160 years.  We can see why with their delicious array of food, great service and fun atmosphere.
The gumbo and fresh seafood are the way to go here.  They have a nice variety of fish and shellfish dishes that will make your taste buds wet.   Finish with their bread pudding or berry crumble and you will be completely satisfied.   This place is iconic and not to miss on your next visit to New Orleans.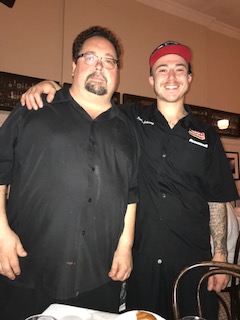 Chef Robey and his staff came out to visit us and we were honored and told them how great everything was.
SoBou (South of Bourbon Street) is a uniquely decorated Creole Southern restaurant in the French Quarter. They are part of the Commanders Palace family. Their varied menu provided each of our threesome for this weekday lunch delicious options to pick from.
One quick side note – their menu changes seasonally so you can count on differences in availability depending on when you go but expect the ingredients to be fresh and creatively presented. We began with the gumbo, crawfish boil beignets and oyster tacos; all tasty and sized right for starters. Their Sazerac received high marks from the two members of the party who drink them at every opportunity around town. Our service throughout was attentive but not intrusive.
Duck is one of my personal favorites to order when in New Orleans. Some of my best memories of various duck dishes over the years have now been joined by the Duck Leg Confit from SoBou. It was cooked perfectly and served over braised collard greens with a pepper jelly. My two mates enjoyed the fresh Gulf Fish topped with blue crab meat.
For dessert (pictured above) we shared the Bread Pudding Lollipop and Creole Cream Cheese Ice Cream Sunday. I added a glass of port for that perfect finish. Then we were off to Louisiana Music Factory to catch an in store performance. Well worth a visit the next time you find yourself South of Bourbon.
Cafe Gentilly – This family diner right outside downtown serves up some breakfast and po boy sandwiches.  Home cooked meals with choices of omelets, potatoes, bacon, eggs other ways with friendly service and hospitality from the owner Steve.  Stop by for a bite and you will be greeted nicely while enjoying the neighborhood cafe.
Eat Nola– located in the French Quarter has been around for many years.
This place is a staple and very consistent.  We went for brunch and had a wonderful meal with eggs, skillets, pastries, juices and more.
Parkway Tavern– An incredible popular place as we visited for lunch.  The line never slowed down as guests waited to order some of the best po boy sandwiches in New Orleans.
Do not miss this place on your next visit and you will understand why.  From meatball to other meats to the signature fish (shrimp, oyster or catfish) flash fried with a side of tasty French or sweet potato fries.
Two great attractions when visiting are – The World War 11 Museum. Full of informative videos, photos, exhibits, artifacts and volunteer workers providing insightful insights, you will learn no matter how much you know and can spend the whole day there. They have a movie you can get tickets for when you purchase your ticket that is about 48 min long and an interactive submarine exhibit.
Airboat Adventures is a must visit when in New Orleans.  They can arrange transportation for pickup at your hotel and take you to their launch spot in the swamp. There they organize which boat and driver you will be with as some boats are bigger than others.  You can upgrade to a smaller boat but that is not necessarily better.
Our guide T Earl was awesome and he had a surprise for everyone that I cannot divulge so you will have to check it out yourself. The tour is about 90 min and you will see a bunch of alligators in the wild.  They even come close to the boat being fed marshmallows by your guide so you will have plenty of opportunities for video and pictures.   It was a great bunch of fun and even though the airboat is loud, you have ear muff protectors.  The boat goes pretty fast at certain times.
The other attraction worth a visit is the aquarium as there are plenty of exhibits, variety of fish, hands on & feeding tours.  A fun way to spend a couple hours and don't miss out on the big screen movie.  I suggest the Hurricane Katrina film which showed what the city went through and how they came together to rebuild.