Wallis Annenberg Center for the Performing Arts Outdoes Itself for 2019-2020 Season
(Gerry Furth-Sides) How can The Wallis Annenberg Center for the Performing Arts top itself for the 2019/2020 season?  Our guest reviewer, New Yorker Barbara Furth Kline had this to say about this gem of a theatre.  "As for the theatre itself, I can't stop telling people about it. It's amazing. We have some good sight-line theatres in NYC, but they are not spacious, mostly tightly stacked.  Architect Zoltan Pali, who designed The Wallis Annenberg  Center theatre should be kept in the public's eye. Great experience."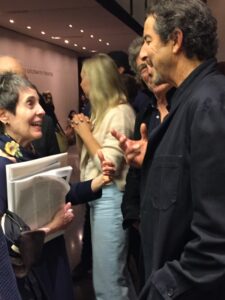 She continues, "Jacob Jonas, only 27 years old, has made an indelible mark on the dance scene in L.A. His five-year-old company Jacob Jones The Company completed his 2018-19 season as Artist-in-Residence at the Wallis' Bram Goldsmith Theater, a dancer's and audience's dream of a performance space, with a sold-out house. Unafraid to take on challenging subjects, he tackled inequality of pay for women in the workforce along with the downside of the one-style-fits-all education system, as well as aging. His collaborations with celebrated choreographer/dancer Daniel Ezralow and composers, musicians, lighting designer, as well as educational consultants are noteworthy as inspirational ingredients for his individual, signature style merging contemporary, breakdance and gymnastics."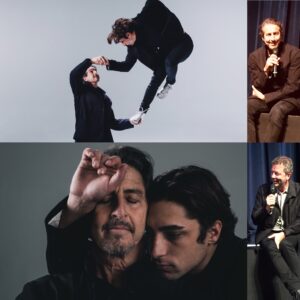 Yet, through Artistic Director, Paul Crewes, The Wallis Annenberg Center for the Performing Arts, 2019/2020 season did find a way to top itself by expanding its reach even more with a year of groundbreaking works in dance, music, theater, cinema, and contemporary circus from renowned artists and companies around Southern California, the country, and the world. The season begins September 17, 2019, marking the fourth year of programming under the leadership of Artistic Director Paul Crewes and Executive Director/CEO Rachel Fine, and the seventh for the institution.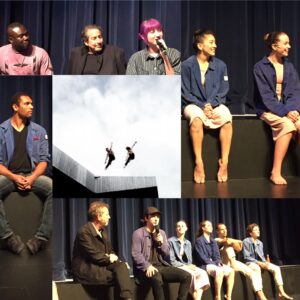 "With this new season we are continuing to celebrate the enormous pool of talented artists and companies here in L.A.," says The Wallis' Artistic Director Paul Crewes. "Our focus this year in particular is dance. Los Angeles is seeing a remarkable explosion of companies and performers who are being recognized nationally and internationally. We want to give some of those companies a home this year and show the great diversity of dance in our city, beginning with BODYTRAFFIC as our Company-In-Residence.  Unique theater productions tell a range of stories, from Ruth Bader Ginsburg and Sandra Day O' Connor and their time at the Supreme Court, to Frankenstein and presenting popular performers, such as Herb Alpert and Lani Hall.
For the full program and more information about The Wallis, please visit: TheWallis.org.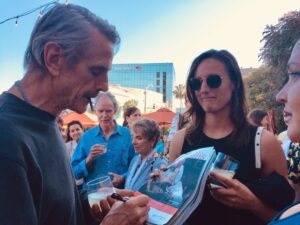 Dance @ The Wallis showcases the outstanding work of dance companies based in Los Angeles with BODYTRAFFIC returning to The Wallis as its 2019/2020 Company-In-Residence. One of BODYTRAFFIC's two programs, The Minghella Project, is produced by The Wallis as a world premiere collaboration with director/choreographer Jonathan Lunn and the late celebrated film director Anthony Minghella, featuring actors and artists who were close to both. Also representing L.A.'s dance landscape is Heidi Duckler Dance, whose The Chandelier leads audiences on an epic journey throughout The Wallis' grounds. Contra-Tiempo takes Afro-Latin dance to new heights infusing elements of Salsa, Afro-Cuban, and urban dance styles; Lula Washington Dance Theatre explores African-American history, culture, and life; Blue13 Dance Company offers its modern dance style inspired by art forms of the Indian subcontinent; and DIAVOLO combines contemporary dance with martial arts, acrobatics, gymnastics, and hip-hop.
Cutting edge Australian company Circa makes its debut as The Wallis' first foray into contemporary circus with its acclaimed production of Humans. Cinema presentations continues, as well as the Lovelace Studio Theater nightclub, Story Pirates and Debbie Allen & Friends with her highly popular Dance Sundays series beginning October 13, on The Wallis' Promenade Terrace.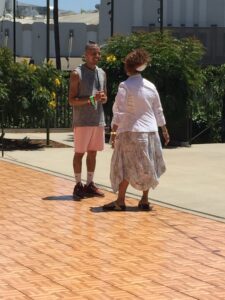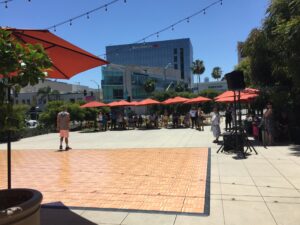 In addition to their public performances, the artists on The Wallis' stages also engage with and support the performing arts center's deep commitment to education through GRoW @ The Wallis. This includes welcoming school groups from across Los Angeles County for programs designed for the group; student matinee performances; master classes; the original musical theater development workshop with special support from Stephen Schwartz; The Wallis Student Arts Reporters;  The Miracle Project, and The Wallis Studio Ensemble led by Madeline Dahm.
The Wallis' Executive Director and CEO Rachel Fine described the mission of the program as "one to strengthen the soul of the community and serve as a catalyst for positive social change. The Wallis sees itself as a civic hub and gathering place for the open exchange of art, ideas and interests of our surrounding communities that mirror the diverse landscape of Los Angeles and take full advantage of our city as the entertainment capital of the world."