A Grand Grande Finale to Jacob Jonas' Residency at the Wallis Annenberg Center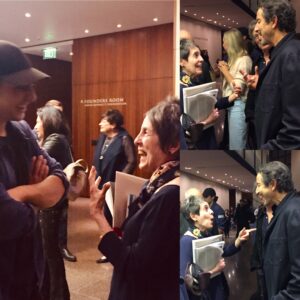 (Gerry Furth-Sides, Barbara Furth-Kline) Every opening performance with talk-back has extra special meaning but the final performance of Jacob Jonas' residency 2018-2019 at the Wallis Annenberg Center for the Performing Arts this month showcased the dynamic energy so unique to the center.  The affection, respect and generosity of Los Angeleno Jacob Jonas to his peers, and to Daniel Ezralow as they danced an original duet, culminated his residency in an almost combustible style reflecting the successful broad vision of this relatively new, small theatre.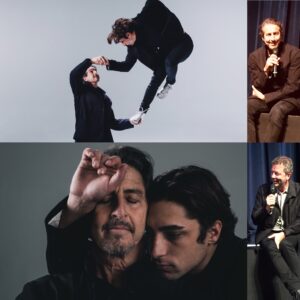 And I was able to share it share a moment at the post-performance party with New Yorker, Barbara Furth-Kline, was able to attend and review with me.  Barbara,  a former dancer mentored by Donald McKayle, and founding artistic director of Colorado Springs Dance, has added presenter, promoter and reviewer to her roles.
In her words, "Critically acclaimed Crash opened the program to a soundscape of waves crashing to the shore and murky lighting by William Adashek, emulating the ocean depths or the ocean under a night sky. Dancers, flat on their backs, unseen in the darkness, indicated whitecaps as they began shooting their arms straight up, caught in bright white light. Seamlessly merging contemporary ballet with breakdance, works especially well, emulating the continual undulating movement of the ocean, sometimes calm, sometimes swirling in response to a disturbance below. The semi-darkness of the lighting throughout most of the piece added to the vast feeling of these waters. Okaidja Afroso emerged center stage behind a scrim adding his guitar, drum and voice, performing his original score live. Two dancers moving as one body in slow, continuous summersaults, conveyed continuous energy deep within the ocean as the piece came to an end.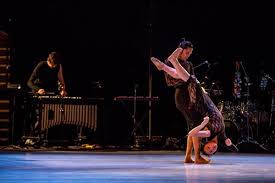 "To the Dollar, JONAS' work to a recorded speech by Elizabeth Warren, presented a clear, succinct visual of her insistence on the right of equal pay for women. The work began with three men standing mid stage in a line facing front. They left to return one-by-one, each with a woman to perform demanding movement in unison, making it perfectly clear that men and women can and do the same challenging work. Jonas choreographed to Warren's speech-making as he would to the cadences of a piece of music; aligning inventive movement phrases with the rhythm of her words or puncturing that rhythm in counter point movement. The piece ended with the three strong women making their unequivocal statement by standing side-by-side downstage facing front."
Barbara described the Vice Versa duet which opened the second half of the program as "notable in the title of this work and their ages, portending  gentle humor along with tender moments, as well as their observations and comments on aging what remains the same, what reverses with time." She explained, " Noting the title and learning that during the collaborative process of choreographing this piece Ezralow was 62 and Jonas 26, it felt safe to assume a gentle, wry sense of humor in their choreography. The two men performed their duet and indeed along with that humor, a bit of sparring, experimentation, triumphs and tender moments were evident.  Each in his own spotlight as the piece began, it ended with them together in one.  And, hopefully this duet will remain in the rep for years to come as their observations and comments on aging; what remains the same, what challenges appear, what reverses with time are danced with loving care.
"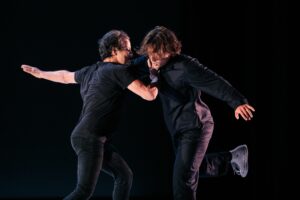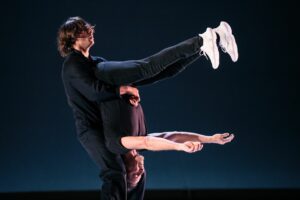 Influenced by educational thought leader Sir Ken Robinson's ruing the dearth of creativity in the education system, Jonas' presented his second premiere of the evening, There's Been a Study, with Nicole Miglis, art-rock vocalist/pianist, lead singer of Hundred Waters, in live performance. The opening states Jonas' point clearly. Dancers seated at school desks, raise hands in sync, move their desks in sync in prescribed patterns; education for all without consideration for individual learning styles or needs. Hopefully, Jonas will return to this work to edit and add the second part of his message: recognition of learning styles releases unbound creativity. Individuality not seen in the first half of the piece, can occur with possibility and support. It would be a fantastic opportunity for movement improvisation, leaning toward contemporary dance as opposed to gymnastics. Jonas, as he explained in the talk-back following the performance, is the poster-child for that possibility.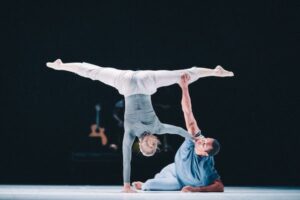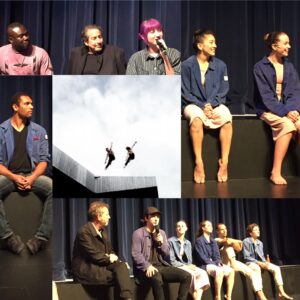 "How Jacobs translates these intellectual/political sphere's into movement that gets the message he wants to send across -is what makes him an artist for our times not to be ignored," Kline commented.  "He sees injustice, irrelevancy, failure in our society, commenting, responding in his language: dance. Think poetic imagry. Or, just take in the spatial and movement patterns that tell of relationships between/among the dancers, the visual patterns, the energy level, repetitions that go nowhere, or slyly evolve into something else. They all make visceral statements that get us in the gut. They are immediate. They should need no intellectual translation."