Visiting Concord, Ca.- North of San Francisco- Dining, Music, Activities-June 2019
The way to go from the LA area was jet suitex- a private jet airline ( codeshare partnership of jet blue) as we flew out of Burbank right into Concord.  The earliest and most convenient flight you can imagine as you show up 15-20 minutes before and no security to go through. The fares were super affordable too.  www.jetsuitex.com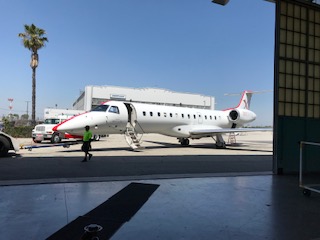 LOCATION
Concord, California is a thriving regional suburban East Bay center located just 29 miles (47 kilometers) northeast of San Francisco. Known for iconic landmarks such as Mount Diablo, Concord Pavilion and Todos Santos Plaza, Concord can be reached off of Hwy 680, two Concord stops along BART (Bay Area Rapid Transit) or via Oakland and San Francisco International airports as well as the small craft, public-use Buchanan Field Airport.
Being in the heart of the Bay Area allows visitors to stay in Concord and easily travel to popular nearby locations. For wine enthusiasts, Concord is 32 miles away from Napa and 40 miles from Sonoma. Take BART to see the Oakland A's, Golden State Warriors or Oakland Raiders play at the Oakland Coliseum or Arena, just 26 miles from Concord. Or head 29 miles west to San Francisco for a Giants game or a day in the city.
The city of Concord is a secret gem.  Located east of San Francisco about 40 minutes and about 30 minutes from Napa, the location is quite convenient.  The twin is filled with plenty of activities, good food and music.  This year marks the 50th anniversary of the Concord Jazz Festival.  I visited during the kickoff week of live music for the Thursday night concert series at the Todas Santos Plaza.  The local high school band was the headliner and they were great.  The huge percussion/brass Blue Devils drum and bugle corp started the second set with a fantastic approx 10-15 minute set.   Quite the scene.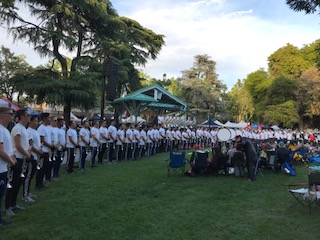 MUSIC, Celebs & ALL THAT JAZZ
Concord is the home of the Concord Jazz Festival. 2019 will mark the 50th anniversary of the festival.
Concord Records, a jazz label created by Carl Jefferson in 1973, operated in Concord until it was bought in 1999.
Jazz musicianDave Brubeck was born in Concord. In 2006 a park adjacent to Concord High School on Concord Boulevard was renamed in his honor.
In May 1976, Boz Scaggs was the first performer to completely sell out the Concord Pavilion- leaving not a single ticket available. The show filled all 8500 seats at the ticket price of $6.50.
The 18-time World Champion Blue Devils Drum and Bugle Corps proudly calls Concord home. The corps is made up of talented musicians from around the world.
The Concord Blue Devils are the most decorated drum and bugle corps in the history of Drum Corps International.
May 5th is officially "Concord High School Choirs Day" in honor of the student's commitment to excellence and their service to the community.
Academy Award-winning actor Tom Hanks was born in Concord on July 9, 1956.
Other local attractions included the Hurricane Harbor water park located minutes away from the Hilton Concord where I stayed.  The water park just opened for the season and it was a beautiful day to enjoy the exhilarating slides, the wave pool and lazy river.  They had some of the craziest water slides I have ever been on including one where the floor bottom opens and you just drop down.    www.sixflags.com/hurricaneharborconcord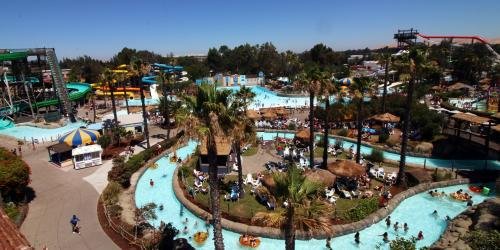 The Hilton was very nice and the room was comfortable and spacious. They provide a buffet breakfast at their fabulous restaurant (Plate & Vine- pictured below) among other amenities ( pool, jacuzzi, fitness center and business center). The location was super convenient especially close to the new outdoor mall, hurricane harbor and airport.   I highly suggest the Hilton on your next visit to Concord.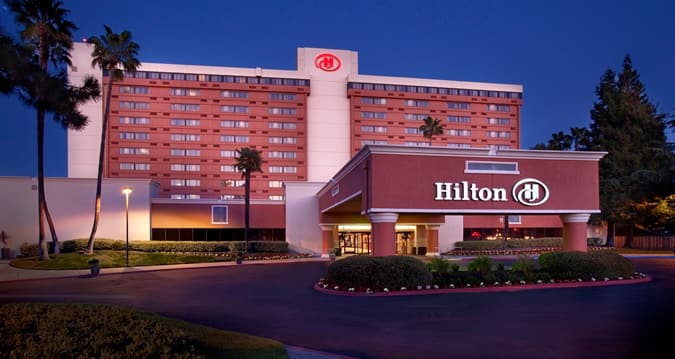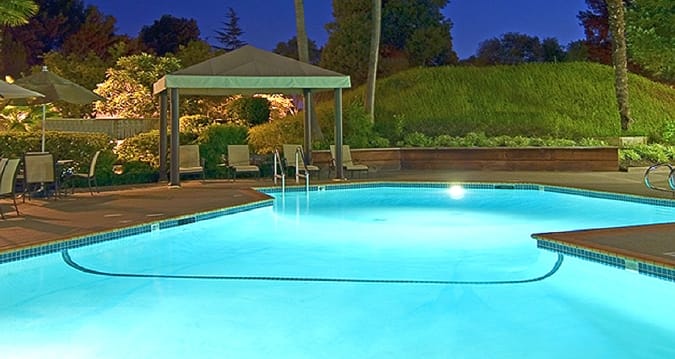 More at www.hilton.com/search/hi/us/ca/concord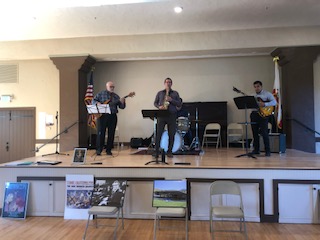 I toured the Concord Historical Society at the Masonic temple.  They will be opening a museum on the second floor in the near future.  I did a city tour where they expanding building more housing to increase more jobs coming into the city.  Across the street from the Hilton hotel was a beautiful modern outside mall called the Veranda with lots of shops, restaurants, movies and more.  They had a big grass area , sitting areas, ping pong tables and a motion water fountain orchestrated to piped music.
The best attraction may have been the Rachel and Michael Dunn chocolate and wine class pairing.  This couple has become super popular and by the taste of their chocolates and how fun and interesting the class was, I can see why.  www.racheldunnchocolates.com
Dining: 
Lima – This Peruvian establishment located in downtown near the park where the Thursday night  concert was playing was an absolute delight.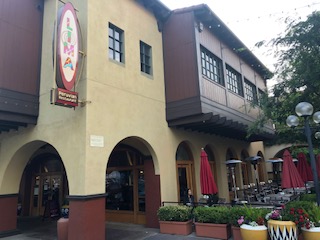 They have an array of unique specialties from the ceviche to their seafood paella- my 2 favorites.  Other dishes included the tender filet and side of veggies including the big corn.  www.limaconcord.com/
Mona's Burgers was a very enjoyable and casual restaurant not far away as everything is relatively close in the city.  Start with one of their signature healthy salads before you endulge in one of their tasty burgers ( I went for the Turkey burger Cali style with avocado, sprouts, onions and melted cheese accompanied by reg or sweet potato fries.  They have a full bar so choose a cocktail, glass of wine or beer to accompany your meal.  www.monasburgersconcord.business.site
Last stop across the street was Out the Dough- if you like cookie dough, this is the place for you. They have a variety of flavors with toppings if you prefer.  It is served like ice cream and get ready for a delicious sugar high using natural ingredients and pasteurized eggs to avoid getting sick. www.outthedough.com/menu
CULINARY
Concord now features Global Cuisine representing over 30 countries. For those craving a savory Salvadoran Pupusa or the buzzed about Indian cuisine at Momo n' Curry, Concord is the place to satisfy your palate while still remaining affordable. Local restaurants are cooking up delicious American, Afghan, Peruvian and Korean cuisine as well as many others. And since everybody loves a good burger, Concord even has its own burger trail!
Concord celebrates Comfort Food Restaurant Week each year. Locals and visitors enjoy indulging in modern and classic comfort cuisine.
There's nothing better than selecting vegetables and fruits from amazingly fresh produce at the Concord's Farmers Market. But it does get even better when you add live music to the mix. Located in the historic downtown Todos Santos Plaza, the Farmer's Market is appropriately named Music and Market and features a weekly live band series. A great outing for anyone living or visiting Concord, shopping here serves farmers and the community by building financial and cultural sustainability. Music and Market is open Tuesdays year-round, 10am to 2pm and Thursdays, May – September, 4pm to 8pm.
TODAY AND  LOOKING FORWARD
Concord is the largest city in Contra Costa County, and is proud to be home to a diverse population approaching 129,000. At the Grant Street entrance of Todos Santos Plaza is a statue of Don Salvio Pacheco a founding father of Concord. Created by internationally recognized master sculptor, Paula Slater, M.A., the bronze statue stands a powerful 7 feet tall. His left hand holds a scroll of his land grant and the right rests upon a map with the marked boundary of his land.
Concord's excellent Bay Area location continues to make the city a top choice for business ventures. BevMo is headquartered here with an eye on the future, Honda chose Concord as the site to test its self-driving cars and Whole Foods opened the first East Bay Area 365 store in Concord.
Today several cutting edge Biomedical Technology companies  are based in Concord including John Muir Health | Concord Medical Center (Ranked #2 Best Regional Hospital by U.S. News & World Report), John Muir Health | Behavioral Health Center, and Akesis Inc. a High-Tech Radiation Medicine company. Also located in Concord are Cerus Corporation and Fresenius Medical Care – both are achieving innovative breakthroughs in the Health Care Industry. Innovative Technology Companies include Starship Technologies – a network of autonomous robots, GoMentum Station where autonomous vehicle testing is conducted and Marble Robotics a business developing intelligent courier robots.
Concord schools offer diverse and innovative curriculums to advance student's academic and personal development. At the elementary level, Mount Diablo Unified School District includes three magnet schools that have a focused theme and aligned curricula. Wren Elementary specializes in Visual and Performing Arts, Holbrook Elementary in Language and Sun Terrace in STEM.
High Schools in Concord also provide a range of opportunities for students. From award winning Performing Arts programs at Concord High School, to plans for a STEM Innovation Center at Carondelet High School, to Mount Diablo High's Sustainable Hospitality Pathway – a Career Technical Education program for students in the International Hospitality & Tourism Academy that includes their student run restaurant and bakery, Serendipity – these programs stretch student's minds and builds their ingenuity and creativity.  Mount Diablo Unified School District enlists the support of students in their Homeless Outreach Program for Education HOPE that helps homeless students and their families by providing food, clothing, shelter, and assistance.
VISITOR INFORMATION
Contact Visit Concord at (925) 478-5802 or info@visitconcordca.com for information. Even more information is available at www.visitconcordca.com