"Fiddler on the Roof in Yiddish" Recording Celebration in NYC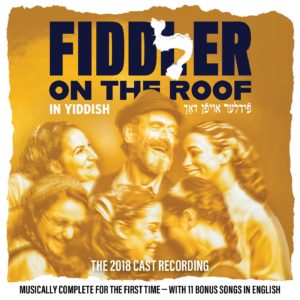 (Barbara Furth-Kline)  It was cause for celebration this week on at New York's Upper East Side's 86th Street Barnes & Noble as director Joel Grey and stars from the critically acclaimed, award-winning and groundbreaking production of "Fiddler on the Roof in Yiddish" marked the success of their original cast recording.  Released on August 23 via Time Life, "Fiddler on the Roof In Yiddish: The 2018 Cast Recording" debuted at #10 on Billboard magazine's Cast Albums chart and rose to #5 shortly after.  The album is the first musically-complete cast recording of "Fiddler on the Roof" in the production's 55-year history and includes 11 songs in English that were cut from the original Broadway production in 1964.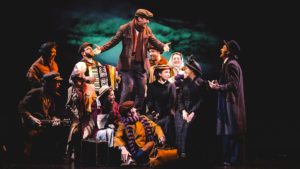 From the Ukranian "shtetle" to Broadway, Sholem Aleichem's, (ne Sholem Rabinowitz) Yiddish story of "Tevye and his Daughters" emigrated to America's Broadway musical stage and then spread throughout the world. Casts of all ages, nationalities, and ethnicities continue to play the characters. Now it has returned to New York in Yiddish!
This afternoon, Director Broadway icon Joel Gray was host to cast members Steven Skybell (Tevye), Jennifer Babiak (Golde) along with Stephanie Lynn Mason (Hodl), Rosie Jo Neddy (Khave), Rachel Zatcoff (Tsaytl), Raquel Nobile (Shprintze) and Samantha Hahn (Beylke) performed three numbers from the show, accompanied by Andrew Wheeler (Associate Music Director/Conductor) on piano.  They also signed CDs of the cast recording.   The small events room was filled with fans and press, approximately 70% raising their hands to signify they had seen this production.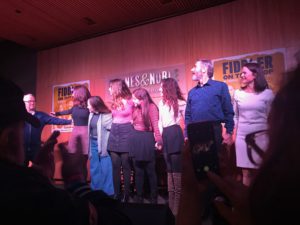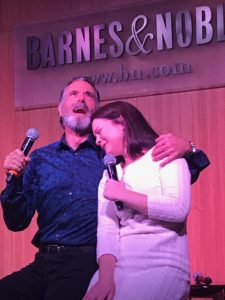 Gray, lithe, charming as always, explained that his knowledge of Yiddish was minimal. He proceeded to sing a ditty in what we used to refer to as "Yinglish," as to how he started life as Yossel and became Joel and then introduced each musical number.
I learned that only three cast members know Yiddish and I dare you to identify them. The audition called for memorizing a song in 24 hours from a recording in Yiddish. That whittled down the number of those actors from 2,500 to 26, only about 40% of whom are Jewish. Then the intensive work began: saying the lines in English to gain a full understanding and then learning the character's lines and the song lyrics from a recording, plus addition private language coaching.
My knowledge of Yiddish is minimal, but to rif on a classic, "you don't have to be Jewish to enjoy Levy's rye bread," the same goes for the Yiddish "Fidler afn Dakh."