Olio Pizzeria & Olio E Limone Restaurant superb dining in Santa Barbara-November 2019
Olio Pizzeria is a very unique place. The Italian decor and pizza oven along with the great food make this more of a great dining experience. It is casual with higher end food at affordable pricing. Start with their baked eggplant Parmesan and black squid ink calamari as there are not many places that do both of those. We also tried the burrata cheese appetizer and all three starters were out of this world.
The pizza was delicious along with the meat lasagna and Idaho trout for entrees. What a wide selection for a pizzeria. Enjoy a glass of wine or specialty drink with your meal.
Don't miss the canolis and peaches with cream for dessert. https://www.oliopizzeria.com/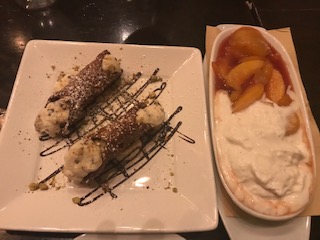 Olio E Limone (oil and lemon in Italian) is an authentic Italian restaurant opened in 1999 by the husband-wife team of Alberto and Elaine Morello. It is located at 11 West Victoria Street in heart of downtown Santa Barbara. It was a beautiful afternoon when we entered the restaurant which serves authentic Italian food and Chef Alberto Morello brings particular passion to Sicilian dishes. The menu is especially creative and relies on its fresh ingredients. The dining room is inviting, adorned with ivory and sage colored wall. It is tasteful in its simplicity with white table clothes. This particular day for lunch we started with the Zuppa del Giorno (soup of the day) which was Minestrone. The vegetables were fresh, the broth flavorful and served hot. The server who was extremely attentive throughout the meal  stressed that it was a Vegan dish. Next he brought out the Insalata Mille Saprori (Butter Lettuce, grilled chicken breast, mozzarella cheese, tomato, crispy bacon with gorgonzola dressing) The ingredients were tossed together, the portion was generous  and the mix of flavors complemented the home made dressing perfectly.
For the main courses, we tried the nero risotto with seafood (calamari, shrimp and scallops) in black squid ink as well as the fresh Chilean Sea Bass, cooked to perfection.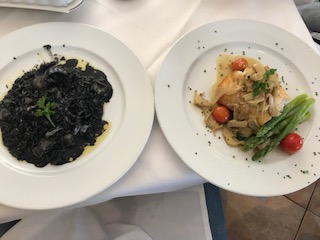 All in all the experience at Olio E Limone from the atmosphere, location, service and food quality was superior and we look forward to experiencing it again and again in the future. Next time we will try their dinners with perfectly matched wines from their extensive wine list that garnered the prestigious Wine Spectator Award of Excellent since 2002 and are visible through a glass wall in the wine cellar providing guests with over 230 selections.  Assisted writing by Nolan Mayer