The Astonishing New Dog Show World of "Well Groomed" Opens Dec 17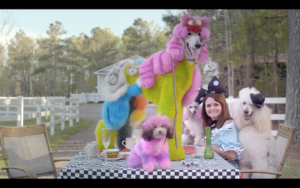 (Gerry Furth-Sides) The revealing HBO Sports Network documentary WELL GROOMED goes behind the stage to explore the world of competitive and creative world of extreme dog grooming.  The dedicated groomers are as passionate as any breeder in a kennel club show, and spend as many, if not more, hours as the  groomers getting the dogs ready for their moment in the spotlight.  In fact, WELL GROOMED shows the groomers themselves, actually dressing up to match their dogs and perform on stage alongside them.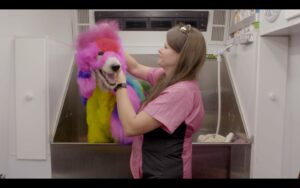 WELL GROOMED is novel,  and eye-opening.  It is a cross between the Kennel Club shows and a hair dresser convention competition. Judging from the everyday street looks now on both men and women, wild hair color and decoration is becoming more and more usual.
All the dogs are selected for their enthusiasm for competition, and they seem to love the attention.  It was emphasized that nothing is harmful in the dyes used on their fur. In one media interview, the groomer was besieged with negative questions, which merely proved to show how sensational and petty the interview could be.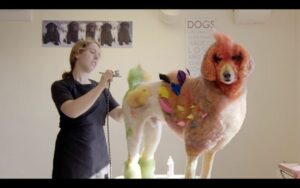 Director Rebecca Stern, chronicles a year in the visually stunning world of competitive and creative dog grooming and follows the lives of a group of dog lovers whose dedication to transforming their beloved poodles into living sculptures.  This colorful and glittery subculture of Americana tells an extraordinary tale of pets, families, friendships and the glory of a very different kind of creativity through a bright prism of color.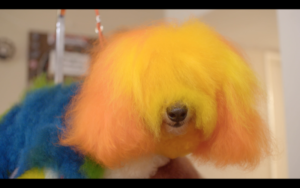 The WELL GROOMED crew follows a group of champion groomers, with one up and coming challengers, and their vibrant dogs for one year on the technicolor competition circuit which is possibly explored for the first time here in one film.  From South Caroline to California, New York to Arkansas, the groomers travel from their homes to large-scale door grooming competitions and showrooms, where their very individual communities meet, discuss and compete with exuberance.
Bill Simmons, founder of The Ringer, and an HBO executive producer on the project describes the goal of "Well Groomed," as taking viewers into the imaginative and obsessive world of competitive dog grooming. Director Rebecca Stern and her team's documentary introduce many memorable characters — both human and canine."
Add director Rebecca Stern, "The film explores a world where competition, art and animals combine in the most vivid color."
The film is available on HBO On Demand, HBO NOW, HBO GO and partners' streaming platforms.
The HBO Sports presentation of WELL GROOMED is from Cattle Rat Productions in association with Spacestation; directed and written by Rebecca Stern; produced by  Rebecca Stern, Justin Levy and Matthew C. Mills, executive produced by Chris Vivion, Annie Roney, Sue Turley; co-executive produced by Meryl Goldsmith; cinematography, Alexander W. Lewis; edited by  Katharina Stroh; original music by Dan Deacon. For HBO, executive producers, Bill Simmons and Peter Nelson. Annie Roney of ro*co Films negotiated the deal on the behalf of the filmmakers.