"Samba" Brazilian Steakhouse and Lounge worth the visit at the Universal City Walk- November 2019
Wow- What an incredible feast at Samba Brazilian Steakhouse located at the Universal City Walk.
 

This is the place to go especially if you are hungry with the all you can eat salad bar and continuous carvers coming out with a variety of kabobs, meats, chicken and seafood.

 

After a full day at Universal Studios, we walked over to the restaurant not really knowing what to expect.

 

I visited Brazil about 15 years ago and remember dining at one of these types of places but Samba blew me away.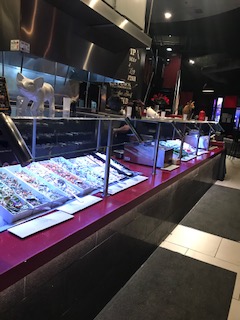 Not only was the food delicious but it the entrees come out juicy and steaming hot where servers carve what they are bringing out right on your plate.
 

I think they have 13 different types of meats besides chicken, fish and huge shrimp (you get 5 enormous prawns for $20 and it is well worth it).

 

Don't miss one of their exciting samba dance shows during the weekend , which enhances your dinner experience.

 

You may even get pulled up by one of the beautiful girls dancing so be ready.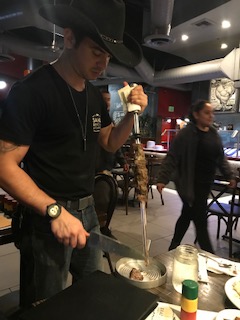 The menu is pretty simple as you can choose from one of their 4 dinner options of a half of chicken, shrimp, fish or rib-eye with 1-2 sides, the all you can eat salad bar which does have some hot dishes or the most popular all you can eat taste of Brazil which includes the salad bar and unlimited meats, poultry, pork, seafood and veggies brought out so much and so fast that it is hard to finish a bite before there is more food to be carved onto your plate.
 

What a treat this upscale restaurant so check it out on your next visit to Universal City or Redondo Beach and enjoy one of their popular Brazilian specialty cocktails to accompany your meal.