Skiing Squaw-Alpine, Lodging, Dining in N. Lake Tahoe- February 2020
The best places to ski in North Lake Tahoe are Squaw Valley & Alpine Meadows.  Squaw was host to the 1960 Winter Olympics and a very popular ski destination on the west coast.  Alpine Meadows is located about 15 minutes away and both share the same ski lift ticket.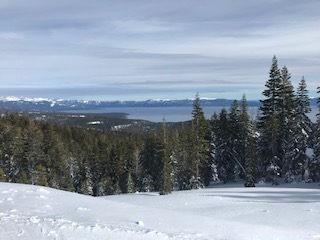 If you are looking for more extreme and diverse terrain, Squaw Valley is your place.  High speed chairs mixed with some older ones give a nice variety of slopes adhering to all levels.  Alpine provides more groomed blue runs with some beginner and some advanced too. If you are looking to cruise around while enjoying your runs, this is the place for you.  They have some great runs on the backside but slower lifts.   Both places have great customer service and some views of the lake from a few spots.  Come during the week and you most likely will have many trails all to yourself.
Some of my favorite lifts and runs were off Red Dog, Squaw Express, Gulf Express and Big Blue Express at Squaw and Roadhouse, Summit Express, Treeline and Scott Chairs at Alpine.
North Lake Tahoe is easy to get to as I flew from LAX to Reno and rented a car.  It takes about an hour to get the Squaw area with great views of the lake on your drive. They do offer a shuttle service in between mountains but I preferred to have more flexibility with a car without having to wait and check schedules.  It is great to have access to 2 fantastic ski resorts so close to each other.   You can see more at www.squawalpine.com
The Nugget Resort and Hotel is located in Sparks adjacent to Reno and I decided to stay one night there to get acclimated before heading up to ski the next day.   They have nice amenities such as a workout room and huge indoor heated pool and jacuzzi.   Rosie's cafe is a great place for breakfast. For dinner, don't miss Anthony's Chophouse as it is well acclaimed and very popular.  This classic modern looking steakhouse with nice booths is one of the best fine dining options in Reno. I started with the burrata and heirloom tomato salad.
For my entree, do not miss the Chilean Sea Bass with edamame succotash and a baked potato. Beautiful old time booths make it very comfortable to dine.  End with a nice piece of their cheesecake. More at www.nuggetcasinoresort.com
Six Peaks Gille – this fine dining restaurant at the Resort at Squaw Creek is phenomenal. Chef Chris Watkins truest unique and creativity brings astonishing results with his food.  Start with the carrot soup infused with coffee which is out of this world. Perhaps the best dish of the night was the smoked Hamachi in his signature tusk white soy sauce that is delectable and melts in your mouth.
For entrees, there is such a wide selection of great choices such as duck, steak, rack of lamb and seafood all locally sourced.  We tried the catch of the day skillet fish with creamy nettle (in between spinach and kale) with a Hawaiian prawn over juicy marinade sauce.  We also had the filet cooked to perfection with a side of root vegetable gratin (similar to potatoes as gratin but with carrots, parsnip and turnip).  Enjoy some wine with your meal and the Russian River Pinot Noir will enhance the meal.    Even their bread is incredible.
Our server Cliff was outstanding as was the rest of the service, atmosphere and staff. This is a must visit next time you are in Squaw Valley.  End with some matcha green tea ice cream and you will be completely satisfied. www.destinationhotels.com/squawcreek/dining/lake-tahoe-fine-dining
Plumpjack Cafe– Dont Let the word "cafe" fool you. The location is great right as you exit out of main lodge near the Funitel lift at squaw valley. The casual setting offers high end fine dining for a must visit.  They also do a nice happy hour with a different menu.  For starters, go for the dumplings in a soy ginger glaze with book choy, scallions, edamame and avocado purée as well as the seafood cones (albacore tuna that night as it changes) with seaweed, scallions and soy.  The farmers market salad was healthy and tasty with manchego cheese, cashews in a nice balsamic vinegar dressing.
For entrees, we had the catch if the day " monkfish" , a poorman's lobster and the highlight ciopinno filled with clams, mussels, scallops, calamari and fresh market fish.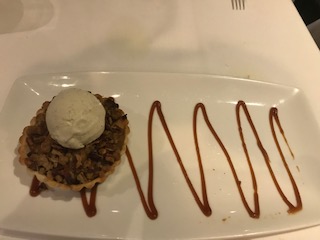 For dessert, the apple crisp with vanilla ice cream and a caramel drizzle was the perfect ending. More at https://plumpjackcafe.com/squaw-valley-restaurant-menus/dinner/
River Ranch Hotel & Restaurant
Starters include the ahi poke, beet salad and award winning (not to miss) wild mushroom bisque    For my entree, I had to go with the bison short ribs over mashed potatoes, balsamic Brussels sprouts and a wonderful soy-citrus glacé.
The cozy dining room was a bit louder on the Wednesday night due to their wild winter Wednesday's with dj music, raffle prizes,games and more supporting a different charity each week. The GM of the hotel, Danielle, does a great job organizing the night and always improving amenities, events and ideas fir the hotel.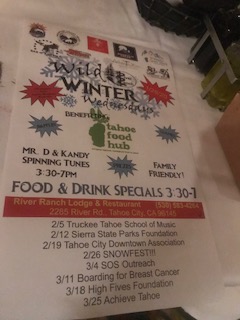 Situated at the base of alpine meadows, this hotel is the perfect location minutes away from alpine's ski resort and squaw valley.  The hotel has been around since the late 1800's and overlooks the river.   Great views and a relaxed setting make this the most convenient and affordable spot to stay for your ski trip or other vacation during the year.  They have bbqs on the patio often in the summer with live music and more.  Some visitors take rafts and make a stop there before continuing on their journey.   The accommodations were very comfortable with a patio, nice view & electric fire place heating unit.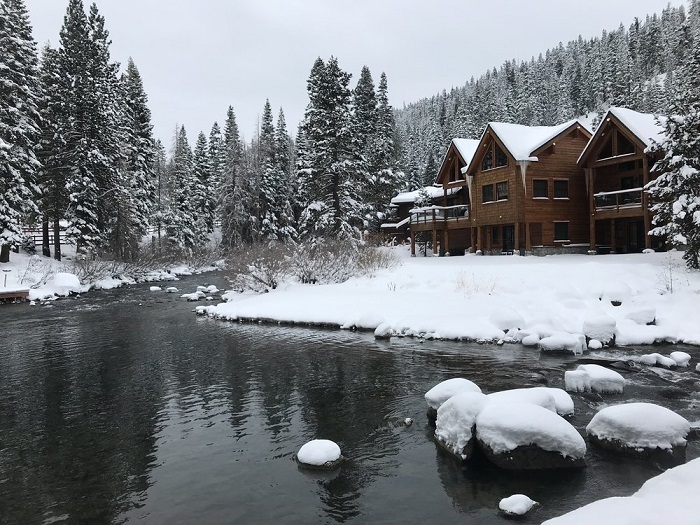 Dating back over 125 years, the River Ranch Lodge & Restaurant is perched along a celebrated bend in the historic Truckee River.
Initially completed in 1888, the River Ranch (originally called Deer Park Inn) grew into a fashionable watering hole; with a unique and picturesque location on the narrow gauge railway, the 'Ranch brought many visitors to its door. The Inn was always a featured and favored spot. It remained a popular resort until the Great Depression of the thirties, when tourism came to a standstill.
The Inn was abandoned and became dilapidated through disuse. In 1950, the old structure was cleared and a new building was erected. During the 1960 Olympic Games at nearby Squaw Valley, numerous foreign diplomats used the lodge as their headquarters.
New ownership purchased the property in 1972 and embarked on a major ongoing refurbishment. Continuous renovation has made the River Ranch into an iconic, cozy, wood-shingled lodge coveted by locals and visitors alike.   Also great for special events and weddings.
The restaurant used to consist of just one dining room, where family-style dinner was served; it has evolved into a California-style fine dining restaurant with the main dining room and central bar cantilevered over the rushing river, and private dining room situated around a river rock fireplace that provides a more intimate dining experience.
The spacious outdoor patio is nestled along the docks of a natural pool on the Truckee River, and hosts lunch and drinks for thousands of summertime visitors daily, who arrive by rafts, canoes, SUPs, inner-tubes, bikes, in-line skates, cars, motorcycles, public transit or on foot.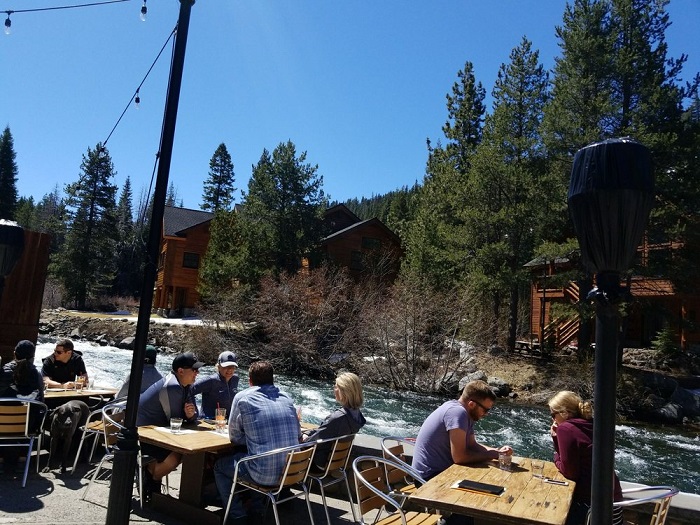 Over time, the 19 lodge rooms have evolved into charming, comfortable retreats with modern amenities to help you feel at home.  Each room has a private bath, flatscreen cable television, free wifi, and Keurig machine for in-room coffee or tea, plus basic hotel amenities such as a hairdryer, iron, and ironing board. Most rooms have a balcony overlooking the river, and the décor reflects the mountain charm with lodge pole pine furnishings or antiques.
The River Ranch Lodge & Restaurant is truly a landmark in North Lake Tahoe.  Whether blanketed in sparkling white snow or shaded by colorful umbrellas and towering Evergreen trees, whether bustling with activity or secluded and peaceful, you'll want to experience all that The River Ranch has to offer!
More at www.riverranchlodge.com
All in all, N Lake Tahoe and Reno are worth the visit.  Easy airport access and to get to, plenty of attractions and good food.