Portland- Mt Hood, Oregon Lodging, Dining, Skiing- March 2020
Visiting Portland first. A great place to stay is at The Hyatt Centric Hotel in downtown Portland -perfectly situated & centrally located in the city.  The rooms are very nice, clean and the bed was super comfortable.  The staff was very friendly and helpful.  Amenities include free WiFi and fitness center.   The modern multi colored decor and carpets are there style for this newly opened hotel to stay at on your next visit to Portland.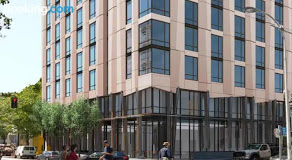 More at www.hyatt.com/en-US/hotel/oregon/hyatt-centric-downtown-portland/pdxct
Head up a few blocks and rent a bike from biketown to do a tour around the city. I headed up to Washington Park, which was a great workout and a lot of uphill. Or find other places to go in the city and drop the bike anywhere you finish. I made one other stop at the (OMSI) Oregon Museum of Science and Industry. A fun place for all ages- very educational and hands on interactive stuff. www.omsi.edu www.biketownpdx.com
Mothers Bistro
Located in the heart of downtown Portland, this popular dining spot was packed for breakfast when I went in on a Wednesday morning and I can see why. The food speaks for itself and the atmosphere and service were wonderful. The in house bakery can be seen through the windows as they make pastries fresh everyday.
With so many great options, it was very difficult to decide but I went for the Greek Frittata with egg whites, a side of delicious bacon and their fresh smoked salmon plate with cream cheese, tomatoes and choice if bagel.  I took one if there tasty pastries to go and i highly suggest a visit.
More at www.mothersbistro.com
Mt Hood Meadows is the top ski resort in the area with the most terrain, runs and lifts.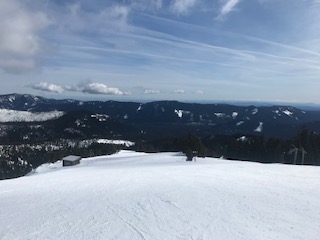 They have many high speed chairs and a variety of great trails.  Some of my favorite runs were off the Cascade lift (the highest altitude there and closes at 3pm) and Vista lift (closes at 3:30). One of the most important thing I learned was getting the right skis for the type of snow that day. It hasn't snowed in a while so I tried the Rossignol Smash performance skiis suggested by Tristin and Natalie in the rental shop.  They were both very helpful. Having those skiis made the experience much better.  I tried the other side of the mountain but it was too slushy and did not opt for double black runs off Heather Canyon since the conditions were not super as I heard it was a bit icy and hazardous.  At 3:30, the Stadium chair opens for some cool runs and they have night skiing with that one and the main Mt Hood Express chair.  Most all of the lift operators, staff and ski patrol were friendly and welcoming, which provides better energy and a fun mood.   Overall, it was a nice visit and about 90 minute drive from Portland. The skiing is affordable compared to other ski resorts with plenty of great terrain and a variety of runs and trails.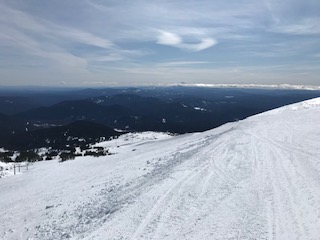 I visited the Glacier Public House one evening after a great day of skiing. Located in government camp, this former European pub was recently acquired in August 2019.
The owner Matt was very welcoming and is doing a great job redecorating.  Head chef Justin has some great creations on the menu.  There are a wide selection of salads, fresh angus burgers and home made pizza.  The burger with fries was fantastic and my favorite.   Don't miss their selection of beers, wines or cider to accompany your meal.   The restaurant should take off in the more popular summer months including an upcoming deck outside, live music and a bunch of great fun and food.  The pub closes at 7pm in the winter during the week but stays open later on the weekend.  Also open for lunch, make this a must stop on your next visit to the area. www.glacierpublichouse.com
Ski Bowl–  one of the more unique ski destinations I have ever visited.  During the week, they open from 3pm-11pm and they have day skiing as well only on the weekend.  I went to venture to check it out for a couple hours late afternoon one day and it is a bit surreal.
There are 3 chair lifts accessing a mass variety of terrain from the west to east chairs.  There are more runs at this night skiing resort than any other I have ever visited.  It was cool to see the moon and ski down semi lit runs with many of them groomed.  Check it out fir a fun adventure and visit the Glacier Public House before or after as it is minutes away.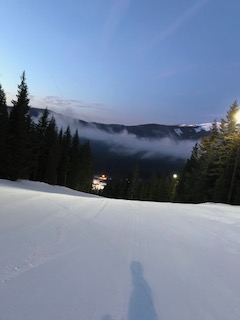 More at http://www.skibowl.com/winter/
A great place to stay is Cooper Spur Mountain Resort, approx 15 min drive from the ski resort.
The room is spacious, comfortable and cozy.  Hang out watching tv with their turn on real fireplace.  Enjoy use of the full kitchen, top burners, microwave and refrigerator.  The sturdy bed provided a great nights sleep.  Parking is easy right near your room and you will enjoy the wood decor and most hospitable staff of Barbara and Heather with any of your needs.  The ski resort owns this quaint, rustic and very cool place full of condos, a jacuzzi spa and nice restaurant called the Crooked Tree.
They serve a continental breakfast (oatmeal, yogurt,cereal, pastries, coffee) everyday and do not miss their dinner on your stay. For dinner, don't miss the shrimp scampi off the happy hour menu, the grilled Caesar Salad and try the fresh fish if they have it as the salmon was amazing. End with the berry cobbler and you will be completely satisfied.
More at www.cooperspur.com
On the way back, I stopped at the Al forno ferruzza– the best fresh pizza around. Just incredible.
The staff was very friendly and you will not find any better home made pizza cooking in their great pizza oven.  The chefs are Italian,  Great portions and try one of their chaga mushroom non alcoholic drinks to go along with the pizza.  The superfood kale salad was healthy and tasty.  This place is not to miss on your way from Portland towards Mt Hood.   Just fantastic!!
www.facebook.com/alfornoferruzza/
We rarely post negative reviews as we are very diplomatic and try to help all restaurants and businesses. I had to include Koya Kitchen in our review unfortuneatly as we were driving from Portland to Mt Hood and decided to stop in as it looked quaint and interesting.  The service was not good at all and when we asked about some of the menu items, the staff was rude and seemed not to care.  We almost left but were hungry so decided to stay and try the yaki noodles which were so creamy and we did not enjoy them.  The soup was cold and The sushi did not taste fresh as there was a lot more rice and barely any fish. Overall, the place is not recommended.