Visiting Mammoth in the Summer- Lodging at Sierra Nevada Resort, Dining at Old NY Bagel, Petras Bistro
Lodging:
We stayed at The Sierra Nevada Resort & Spa right off Main Street. It was clean, convenient and the beds were very comfortable.   They usually have a breakfast but that was closed due to the pandemic.  The pool was open and staff was very friendly and helpful on our few requests. are located in Downtown Mammoth Lakes on Old Mammoth Road, within walking distance of fine dining, shopping, alpine lakes and a short drive to Mammoth Mountain Ski Area. Surrounded by some of the most spectacular scenery in North America, the Sierra Nevada Resort & Spa is only minutes from Devils Postpile National Monument, Convict Lake, Crowley Lake, Mono Lake and Yosemite National Park.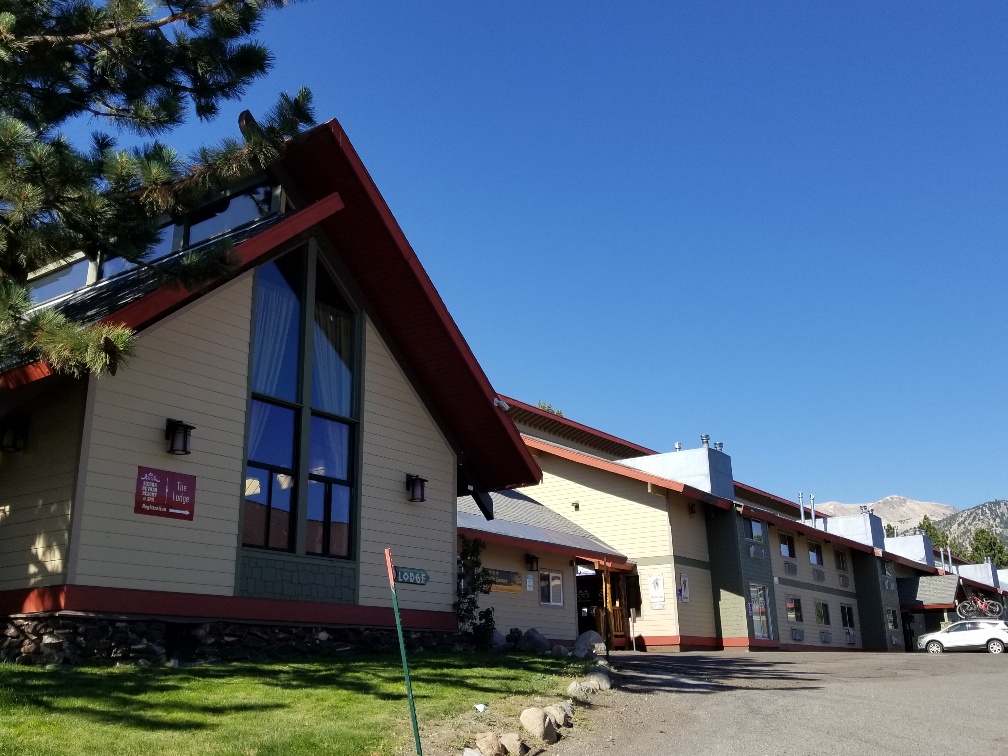 We are a family owned, 148-room hotel, located in the beautiful Sierra Nevada, only 40 miles from the Tioga Pass, entrance to Yosemite National Park. The hotel was originally built in 1967 by Jerry Buss, a major real estate developer and owner of the Los Angeles Lakers basketball team. It quickly became the place to stay and a favorite getaway for many Hollywood stars. Every day we learn more stories of the history held in these walls, like stories of John Wayne, the "Rat Pack" and Jerry Lewis hanging out in Duke's Bar, cracking jokes and drinking scotch until the wee hours of the morning.
The Sierra Nevada Resort & Spa has had several owners over the years. Over time, it became rundown and eventually became a Rodeway Inn, until the Demetriades Family acquired it. They fell in love with Mammoth and its wonderful community. The hotel and three restaurants, on the six-acre property, were slated to be torn down, until the couple decided to preserve its history.  With a completion date of December, 2014, the Demetriades family's multi-million dollar renovation project spans throughout the property, inside and out, including our new Day Spa, Cub Club, Red Lantern Chinese Restaurant, Rafters and award-winning seafood restaurant, Jimmy's Taverna.   Jim Demetriades, its current owner, invented a computer industry standard for software integration. His software is used by many of the largest companies and hospitals around the world. He sold his public company in 2004 to concentrate on raising five children with his wife, Nancy.  Nancy was a working actress in the 80's. She starred in several feature films, television films, and guest starred in many television shows. Her more recent experience in interior design came in handy as she and Jim were solely responsible for every detail of the hotel and restaurant renovation. More at www.thesierranevadaresort.com
Dining Options for Breakfast and Dinner.
Old New York Bagel & Deli in Mammoth.  This was the place to go on our first morning.
The variety of items at this popular hot spot was evident on the great food and bagels.  We had the healthy and delicious Greek egg white omelette with a potato pancake along with the lox board dish to compliment the bagels.  They have an assortment of sandwiches, salads, soups & coffee's, teas & beverages. 
We had a corned beef sandwich to go, which made for a great little lunch later that day.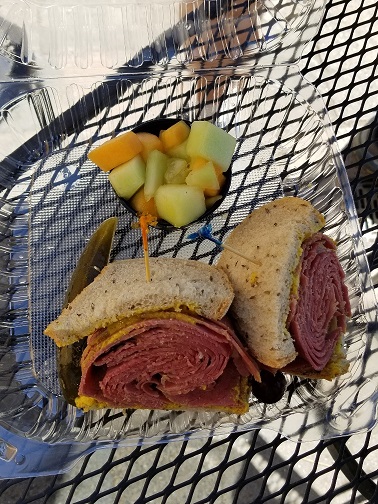 This is a definite must stop but don't be in a hurry as it can get crowded but it is worth it.  The manager Miguel was super hospitable & friendly time everyone.  More at www.oldnewyork.com
Petras Bistro locates on Main Street in mammoth was the best dinner we have ever experienced in the area as I have been quite a few times to mammoth in the winter. Their makeshift outdoor patio was creative and genius as it was their converted parking lot.  The staff, led by manager Tiffany and our server Kat, were awesome. The head chef (Name started with an R to Call and ask ) came out to make the rounds & offered a variety of incredible choices at this Austrian/German establishment.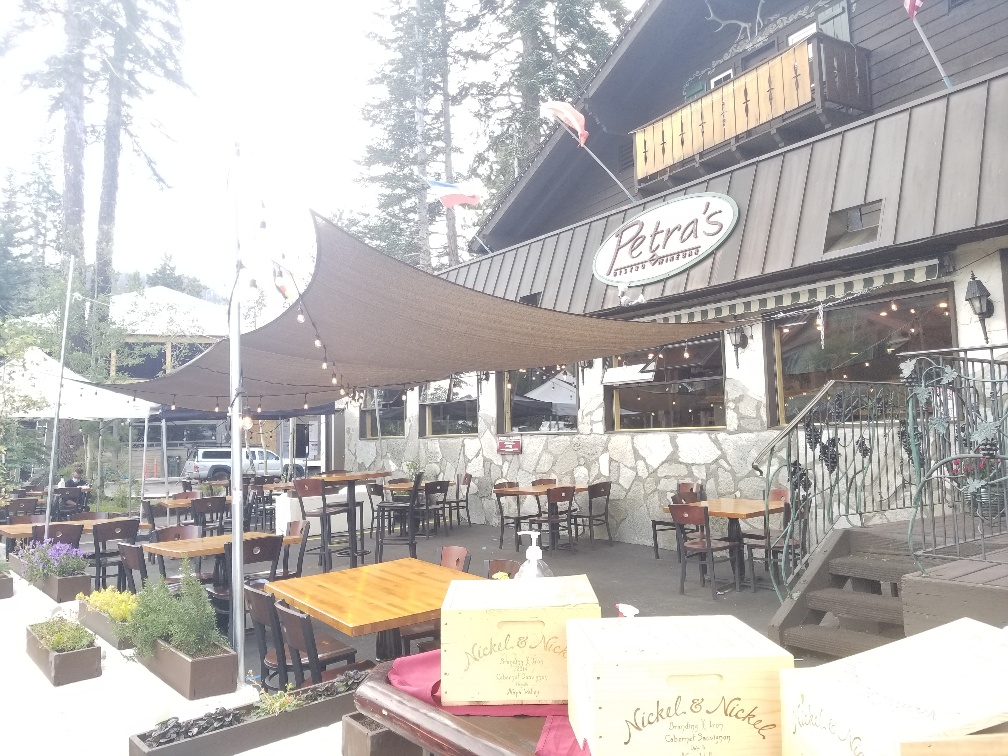 Their menu changes very often and you can go wrong. We highly recommend the seared diver scallops as an appetizer if they are available, the green salad with tomatoes & candied walnuts and the wild mushrooms dish to start. 
For entrees, the halibut was cooked to perfection with a mixture of veggies & tasty sauce.  The rack of lamb was another great choice with fingerling potatoes and side of spinach.  Start with their blueberry vodka martini, rum fruit punch or sangria and enhance your dinner with one of their big selections of wine.  Fully amazing & satisfying.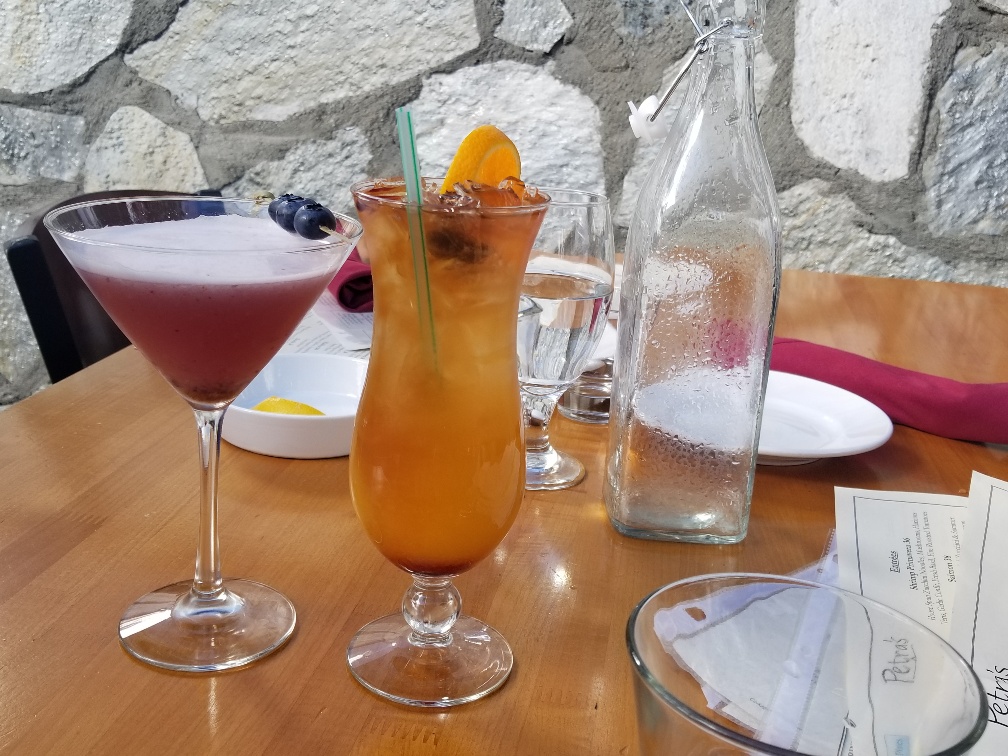 More at www.petrasbistro.com
A big shout out to Lucas with his tour and transportation company (Maws Transportation) offering cool destinations, airport pickups and rides around town.
Check his company out at www.mawshuttle.com
Visit Mammoth was super helpful and awesome.  You can check out most everything to do, see, eat and stay at www.visitmammoth.com