Visiting Lake Tahoe-Heavenly, Squaw Valley in the Summer-Lodging, Dining, Activities- 8/2020
LODGING:
Fireside Lodge, a quaint Bed and Breakfast, was a fantastic place to stay in South Lake Tahoe.  Built in the 1930's the Fireside has had a recent extensive remodel from a converted motel with new ownership, creating the feel of a log cabin styled lodge.  The cozy feel with lots of beautiful wood decor including all the doors to the rooms, outside patio, complimentary cruiser bikes, game room plus the breakfast & happy hour additions make this Lodge a must stay. The vintage game room includes old arcade games, ski ball and air hockey.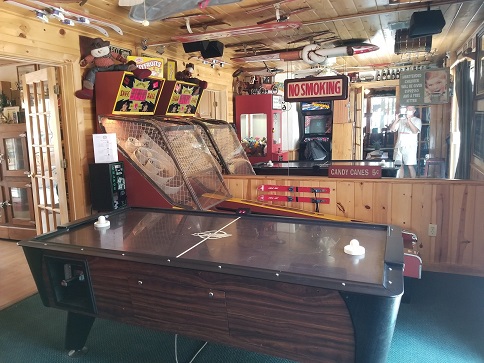 The safe bike path is one minute away and the courtyard patio includes nice comfy tables with pillows, a hammock, bean bag toss and a water rock vertical stream display that makes you feel relaxed.  The hibernation & relaxation room is a nice touch. The friendly and helpful staff includes owners Steve and Tracy, their son Nick, and his girlfriend Tamara. Steve and Trace purchased the Fireside in December 2016. They searched for the perfect bed and breakfast for over three years before landing on the Fireside Lodge, never intending to go father west than West Virginia. The lodge has earned TripAdvisor's prestigious Certificate of Excellence for years.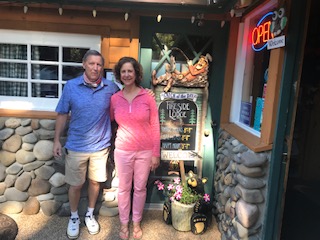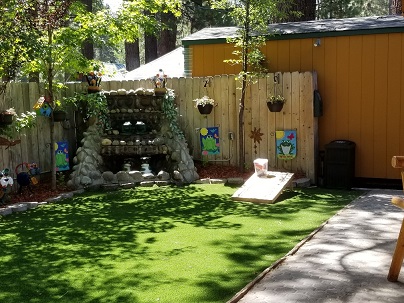 The ten rooms are intimate yet full of neat decor, pictures, a fireplace, small kitchenette and a television. It combined the comforts of an upscale hotel with the coziness of a log cabin.
Each of the ten rooms has a different theme name & is decorated with antiques, pillows and other cozy touches. Rooms feature names like Mountain Retreat, The Big Blue and Bears Den; we stayed in the Field & Stream room and thoroughly enjoyed it.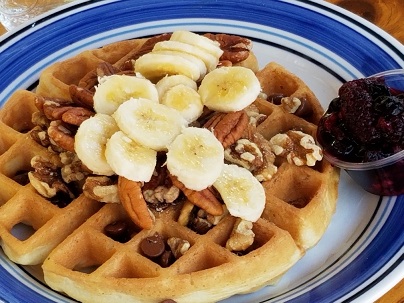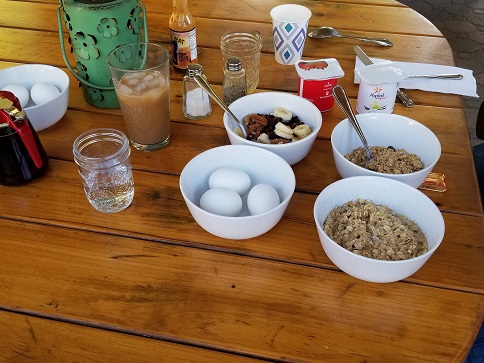 The complimentary breakfast is usually self-serve, but with pandemic they have switched to an all you can eat order style that the staff serves to you, in a beautiful outdoor setting.  The breakfast menu includes their popular waffles with fresh toppings, hard boiled eggs, oatmeal, cereals, yogurt, fruit, coffee, teas and orange juice.  For happy hour, they have a selection of wines, cheese, crackers and dried fruit.  Nick, actually likes the staff serving better he told us, as it provides more personal interaction with their guests.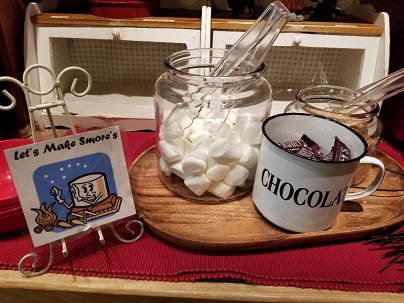 They also provide s'mores making, around an outdoor fire pit under the starlit sky. As guests come from all over the U.S., this provides for great conversations around the fire pit.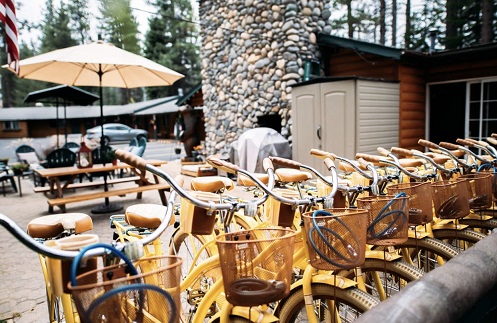 We used their complimentary bicycles to ride the local bicycle path that took us thru the beautiful Tahoe forest and to the local Lake Tahoe beaches. The lodge is located minutes away from hiking, beaches & restaurants as the Fireside backs up to the National Forest, providing miles of hiking, biking trails and public beach access.  The lodge is also very dog and pet friendly. More info, rates and availability at www.tahoefiresidelodge.com
River Ranch Lodge: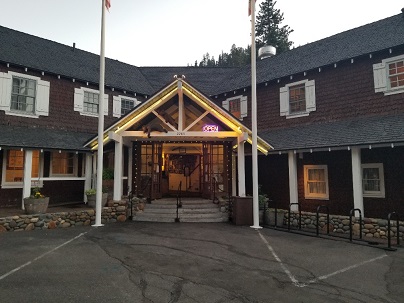 Wow, falling asleep and waking up to the sight & sound of the river rushing by our bedroom window was a trip highlight. The River Ranch Lodge is located on the historic and scenic banks of the Truckee River between Truckee and Tahoe City in North Lake Tahoe. The lodge dates back to the 1800's, and is a recognized landmark. It's rich history of guests includes numerous foreign diplomats and the who's who of San Francisco elite. It has also been named one of Time Magazine's top 10 resorts. The Lodge's staff were extremely friendly and attentive to our every need.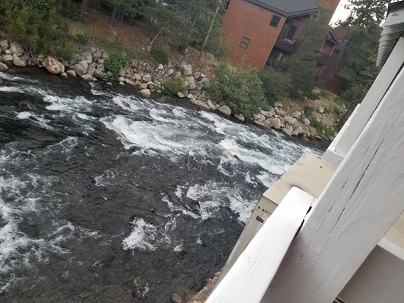 The lodge also houses a picturesque spacious outdoor riverfront patio, dining room and bar cantilevered over the rushing river; along with an indoor dining room with a warm stone fireplace. Highly recommended is having a meal on the outdoor patio which overlooks the Truckee River, we had a delicious lunch on the spacious patio after river rafting.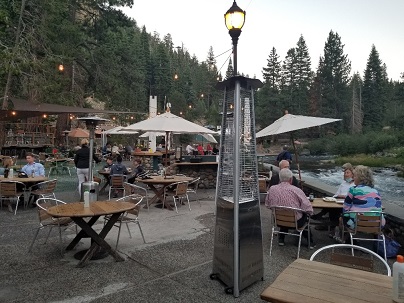 In 1950 the original lodge was cleared and a new building was erected.  In 1972 new ownership purchased the property and embarked on a major ongoing refurbishment.  Over time, each of the charming 19 lodge boutique rooms have become fitted with basic modern amenities like a private bath, cable television, free wifi and a décor that reflects the mountain charm with lodge pole pine furnishings and antiques. We suggest booking a room with a balcony overlooking the river with great views and sounds.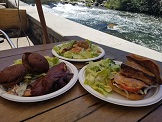 We highly recommend on your next Tahoe visit to spend a night & enjoy a meal at the River Ranch Lodge & Restaurant. Come visit anytime during the year; Homewood Mountain Resort and Alpine Meadows Ski Resort are worth checking out during your wintertime visit, while river rafting, hiking and cycling are available during the summer. The lodge is also dog-friendly.  After a morning of river rafting, which ends at the River Ranch Lodge, we decided to stay for lunch. We had a great meal on the outdoor patio, which has amazing views of the scenic Truckee River. Our awesome table overlooked the river rushing just below us. You need to grab a table upon arrival, and then walk over to the counter to order your meal & drinks.  A server will bring the food to your table.  The restaurant specializes in American cuisine with an emphasis in locality, sustainability, and organic ingredients.
We started off with a Caesar salad and a seared yellow fin tuna sandwich for the entree. It was cooked to perfection and delicious.  Also ordered was the tasty barbecued brisket which is served with french fries or a side salad.   Details at: www.riverranchlodge.com
DINING:
Sunnyside Restaurant was at the top of our dining choices. Located right in South Lake Tahoe, 5 miles south of Tahoe City, Sunnyside's views are incredible and the staff are very warm.  We stopped for lunch taking a break on a beautiful bicycle ride. The food was excellent and we recommend a visit here. Sunnyside specializes on premium seafood and steaks. Our top choices were to start with their signature fried zucchini, which is out of this world. Tasty also was the Ali Poke Tower with avocado and the Summer Strawberry Salad topped with fresh salmon.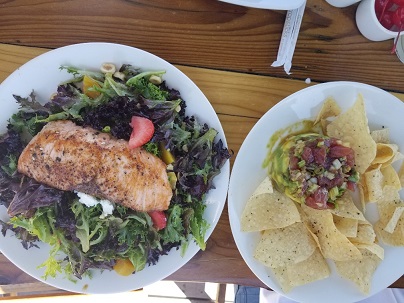 We split the Panko Crusted Halibut and it was absolutely delicious. You must end with the famous Hula Pie which is divine and big enough to split for 2 to 4 people. Sunnyside's manager Courtney and our server Ashley were fantastic and checked often on us.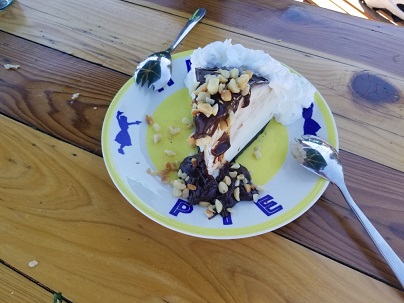 Details at  http://www.sunnysidelodge.com.
Dinner at The Loft Restaurant in South Lake Tahoe was a true delight with very tasty food served by extremely friendly staff in a beautiful outdoor setting. The Loft specializes in American Tapas type food and handcrafted cuisine from culinary expert Frank Trotta, who was on hand to greet each guest throughout the evening.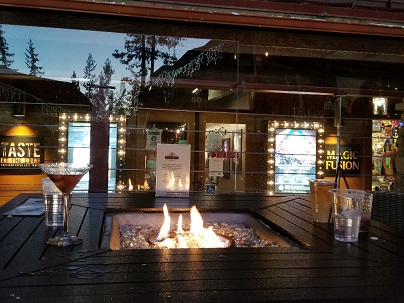 The Loft also offers live performances in their beautiful indoor theater which has been put on hold due to the pandemic.   We started off with the tasty humus trio plate which included beet ricotta, traditional and avocado lime humus served with toasted pita.  The summer salad was a refreshing delight which included tomatoes, spinach, arugula and goat cheese wantons. For the main meal we had the delicious tuna tempura which was served with lemon pepper ricotta and an assorted of vegetables.
Another wonderful choice was the Grilled Lemon Dill Salmon plate which came along with lime ricotta and an assorted of vegetables.   Mackenzie was our hospitable, knowledgeable and friendly server.
The Loft is located in Heavenly Village which has outdoor lively live entertainment throughout the day & evening. More information can be found at www.thelofttahoe.com/
If you like meat & comfort food, Sonney's BBQ Shack located in South Lake Tahoe is the place to go.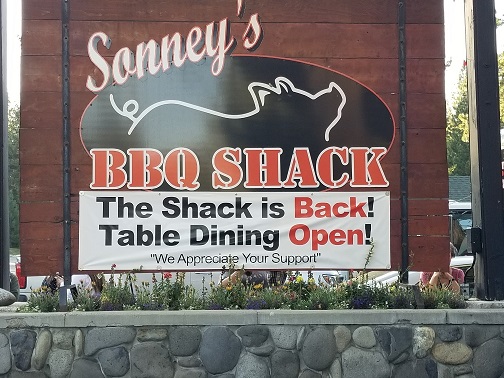 The manager Kyle loves his job and is on the ball, and so is all of his employees.  Our server Matt was very friendly and accommodating. We started with the signature pig wings which is a huge favorite, people come from all over for them.
The shrimp and grits appetizer were incredible as well. Also ordered was the beef ribs, barbecue chicken, and brisket combo's entrees with sides of potatoes, cole slaw, sweet potato fries and baked beans. The outdoor patio is huge with plenty of room, a fire pit and spaced out tables and chairs.
They have been voted best BBQ in the area for many years in row, and we can see why.  Check them out at www.sonneysbbqshack.com
Hacienda del Lago Mexican Restaurant is located in Tahoe City with scenic lakefront seating overlooking the marina.  They have a variety of traditional and specialty Mexican dishes from burritos, tacos and more. You also don't want to miss their signature cocktails & specialty margaritas.  We stopped for dinner and was seated immediately at an outdoor table with beautiful views of the lake and mountains. Hacienda's manager Rhonda was very helpful and accommodating to our dinner needs.
We started off our meal with both the Caesar salad with Salmon and the Fajita salad. Both salads come with an option to add grilled salmon, grilled chicken or grilled shrimp.  We definitely recommend both the guacamole and the fajitas dishes.
If you don't like your meal spicy please ask for the red Chile dressing on the side. For good Mexican food you don't want to miss Hacienda on you next Tahoe visit. Further details can be found at www.hacdellago.com/
Activities in Lake Tahoe:
We visited Tahoe Sports in South Lake Tahoe to go kayaking one day. They are a family-owned, all-seasons sports provider, from ski and snowboard to powerboat and personal watercraft rentals. They rent Powerboats, Pontoon Boats, Jet Skis, Paddle Boards, Kayaks and more. Kayaking on the calm lake, with a clear blue sky above and beautiful surroundings around us made this a memorable afternoon. The staff were very friendly and the check-in process did not take that long.  More information can be found at www.tahoesports.com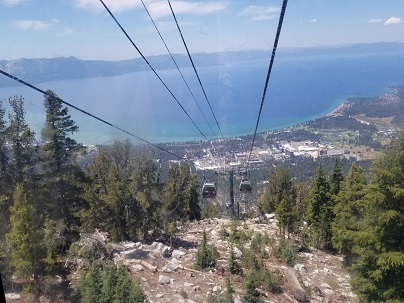 An enjoyable morning was spent taking a scenic ride up the South Lake Tahoe Heavenly Ski Resort Gondola and the Tamarack Express Chairlift. We rode them both to the top of the mountain to visit Heavenly's scenic overlooks and explore their various hiking trails.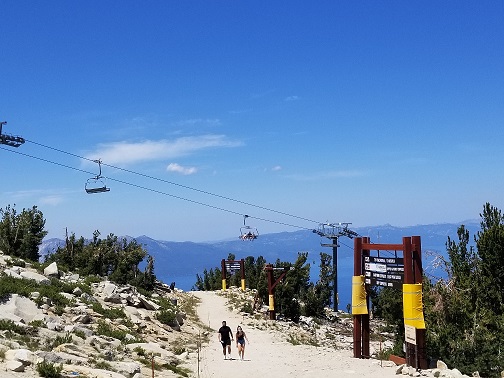 The breathtaking views of aqua-blue Lake Tahoe from 10,040 feet above sea level did not disappoint.  On your way up, take your camera and stop at The Observation Deck – a 14,000 square foot mid-station observation platform, located at 9,123 feet. Take in views of the Carson Valley, Desolation Wilderness and shore-to-shore views of Lake Tahoe. The Heavenly Mountain Gondola is family-friendly and departs from the Heavenly Village in South Lake Tahoe. For the adventurous types the Mountain Coaster is back and better than ever. What could be better than a rollercoaster set in the beautiful Lake Tahoe forest? The hike down from the Tamarack Chairlift to the Gondola is recommended with beautiful views of the Lake and the fresh smell of mountain air. Further details can be found at  www.skiheavenly.com
One of the highlights of our Lake Tahoe Trip was taking out a Waverunner thru Sunnyside Watersports in Tahoe City in North Lake Tahoe. This is the perfect adrenaline pumping way to enjoy being out on the Lake or to enjoy for casual touring. We cruised leisurely along the shoreline exploring its beautiful scenery while my friend was racing across the lake. We each received a safety briefing and lesson on how to operate the Waverunner before we started.  When you are ready you just hop on and set off either by yourself or with one passenger.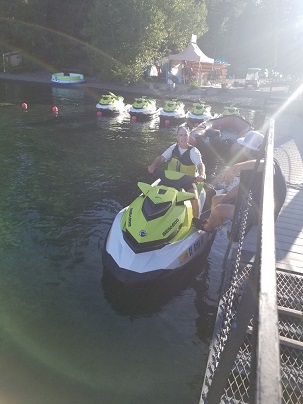 Details can be found at www.marinasunnyside.com
One must stop is at Squaw Bikes, formally Factory Bikes, on the corner of Highway 89 and Squaw Valley Road in Squaw Valley. They have a variety of cruisers and mountain bikes to take on the beautiful mountain bike trail that goes along the Truckee River & Lake Tahoe.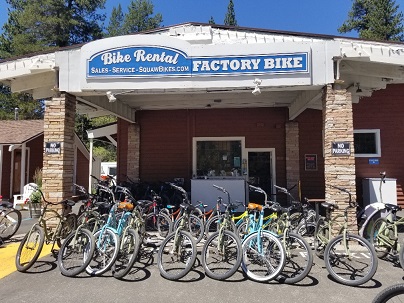 The manager Matt was very helpful in sizing us to the appropriate bicycles and instructing us on the bike routes. The bikes came with a lock and helmet.  The biking was awesome with incredible scenery of Lake Tahoe and the Truckee River. We took the route down to Tahoe City then stopped for lunch at The Sunnyside Restaurant.  Details at  www.squawbikes.com
A highlight of our trip was enjoying a leisurely morning river raft ride and amazing scenery thanks to the Truckee River Raft Company (home of the Orange Paddle) in North Lake Tahoe near Squaw Valley. Under a clear blue morning sky, we rafted 5 miles along the beautiful calm Truckee River. We started the morning at the registration area where we boarded a bus for a short ride to the river where we received safely instructions along with life vests, before we boarded our rafts.  The staff were both very friendly and informative. The self-guided ride lasts approximately 2 to 3 hours.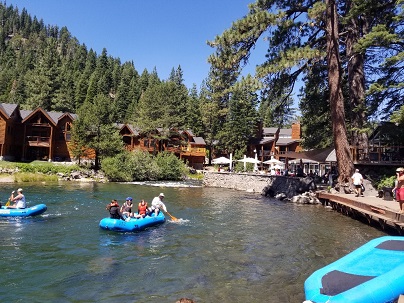 The ride is very safe and recommended for all ages. At various points during the ride, participants can jump in and enjoy the coolness of the river.  Truckee River Raft Company is the largest and longest running company providing rentals on the Truckee River. This is an adventure that you don't want to miss.  The bus picks you up at the River Ranch Lodge and takes you across the street to their office.  Then the bus takes you to the start point after you sign in.  Further details can be found at www.truckeeriverraft.com
Photos by Jeff Zimerman