Portos Bake at Home Frozen Products available to order- August 2020
We recently tried some of the fantastic Portos Bake at home items that were delivered in dry ice.  Their Chocolate Twist is incredible along with the sweet cheese rolls and guava and cheese strudel.   The savory Potato Balls and my personal favorite Chicken and rice balls were super tasty.  All came with postcards and easy baking instructions as you keep them frozen till you are ready to go.  They call come in the yellow boxes and enough to share for a group or your family.   They are addicting so go slow when eating them.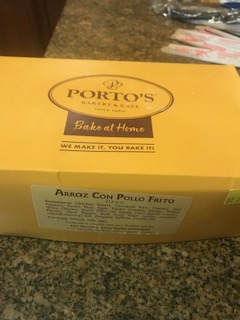 PORTO'S BAKE AT HOME IS BRINGING THEIR CROISSANTS ONLINE
The Chocolate Twist is the first croissant pastry that will be available to order in August
WHAT:  Porto's Bake at Home is excited to announce they are adding their signature croissants to customer's the Bake at Home lineup. The first croissant   that will be available starting in August is the Chocolate Twist. Porto's signature croissant dough is baked with vanilla custard and mini Belgium chocolate chips, garnished with rock sugar. Porto's fans have been enjoying this delicious pastry in their bakeries, and now they are able to enjoy them in the comfort of their homes. These pastries are prepared and shipped unbaked and frozen, ready for the oven. Following the launch of the Chocolate Twist, Porto's Bake at Home will begin to roll out the rest of their croissant line in the coming months. 
ABOUT PORTO'S BAKE AT HOME
Bake at Home takes Porto's back to its roots, baking savory pastries at home surrounded by family. The children of Rosa, the founder of Porto's, fondest family memories were of their mother baking their favorite treats and wanted to recreate that special moment for their guests with Bake at Home. Bake at Home allows friends and families the ability to make their own memories by baking their own favorite Porto's pastries in their own oven.  When ordering, you receive the pastries unbaked and frozen, all ready to go to the oven with detailed instructions on how to bake them and even the parchment paper to bake them on. The product line includes their popular sweets like the Cheese RollsÒ and RefugiadosÒ (guava and cheese strudel) to the savory Potato BallsÒ and American classics like chocolate chip cookies, plus more. 
https://www.portosbakery.com/bakeathome/
ABOUT PORTO'S BAKERY & CAFE
When Rosa and her family arrived in California from Cuba in the late 60's, they had only the clothes on their backs, Raul Sr.'s strong work ethic, Rosa's exceptional baking skills, and a dream for a better life. Soon after, Rosa began baking and selling cakes to friends and family that had heard of her fabulous cakes back in Cuba. Within a couple of years, it was not uncommon to see a line of customers picking up cakes from Rosa's small home. In 1976, Rosa opened her first official storefront, and the brand has gradually grown into today's five existing locations: Glendale, Burbank, Downey, Buena Park, and West Covina.  Rosa's three children, Beatriz, Raul Jr., and Margarita carry-on Rosa's legacy by adhering to her motto "quality is the number one ingredient in everything we do".  Porto's Bakeries have become a California institution, landing in Yelp's "Top 100 Places to Eat in the US."  
https://www.portosbakery.com