Traveling to beautiful Belize-Lodging, Dining, Jungle-Water Activities-Tours- January 2021
You have not lived a full life unless you have visited Jamaica (check out my August 2020 story on the travel page) & Belize for a least one week each.  Top reasons to visit Belize (In Central America but known more as a Caribbean destination)- Everyone speaks English;  It is affordable.; People are friendly; There is a variety of great activities to do from the jungle to the beautiful beaches and warm ocean water; Fresh fish & tasty food; Easy to get to with an international airport.
A great way to start your trip in Belize is to visit the Caribbean Shrimp farm & Captain Hooks restaurant.
What a great variety of adventures, relaxation & great food.  This family owned company is run by Heather, her dad Charlie and her husband Bob.  These friendly Canadians moved down to Ladyville (about 10-15 minutes from the Belize International Airport) and offer a must visit sensation.
Adventure options include the 1) Shrimp farm tour where you catch your own shrimp and then have it prepared by the chef 4 different ways; 2) paintball group game which is very intense and exciting; 3) riverboat tour & crocodile feeding tour.   You can do a combination too and do not miss their signature restaurant Captain Hooks to have a great shrimp meal. They do have other food on their menu if you don't eat shrimp.
All tours include a visit to their salt water pool and water slide both built by father Charlie. www.caribbeanshrimp.net
You can spend approx. 3-6 hours there.  The full staff is very professional and friendly.  Bob or Heather also can arrange pickup at the airport for your group and then drop you back in Belize City, the water taxi or what I did- spend a night nearby at the Bamboleo Inn.
It was close by, clean and they serve a nice breakfast.  It was very safe with gates around the lodging so you feel secure.   This was a nice break after the flight and great way to check out more at the shrimp farm the next morning. www.bamboleoinn.com
From there, I met up with tour guide extraordinaire Bret Wolfenbarger from Glassbox Management (A Gold Sponsor Company).  He has a variety of packages, vacation rentals and tours depending on your timing and desire.  A fun stop on the way to the Cayo district was the Belize Zoo.
From there, I spent one night at the marvelous Grey Fox large estate- great for families or a small-medium group.
His hospitality was unmatched as I also visited his day spa in Belize City called Oltsil Day Spa.  (Instagram is oltsildayspa).  He does cave tubing, zip lining and arranges all the transportation.  I also did a tour with him to Altun Ha (famous and closest Mayan ruins to Belize City).  He set up an incredible boat/snorkel tour from Caye Caulker to Ambergris Caye.  The staff of Cali and Fabian showed me a fantastic day and the highlight of the whole trip.  I got to snorkel and swim with sting rays, a turtle, manatee and sharks at Shark Ray Alley after making stops in Hol Chan Marine Reserve and other nearby locations to find the manatee.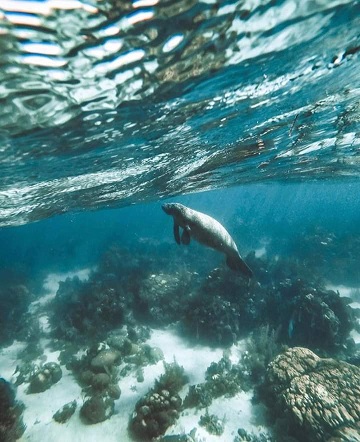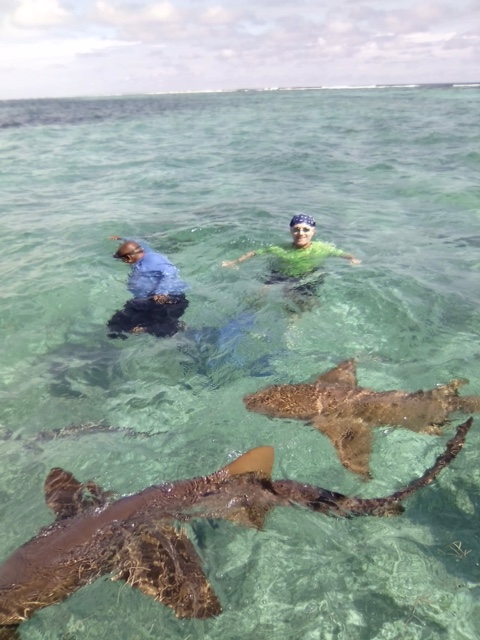 The weather & ocean water was perfect.  These spots are very popular and must visits.  Bret also has a huge sailboat for over-night excursions and day tours from Caye Caulker with some great options and professional service.   There are many tour operators in Belize but I was lucky to find Bret.  He was prompt, reliable, professional and had a variety of ideas and backup plan tours & options depending on what I wanted to do and what was open due to the virus and weather.   His email is [email protected]      He will exceed your expectations.  His tour and vacation rental site will be live soon. It is www.glassboxmanagement.com     Bret also has a concierge named Dennis (pictured below) who does customer service orientations in San Pedeo town on Ambergris Caye island if you are in need to get around via golf cart or need suggestions/help.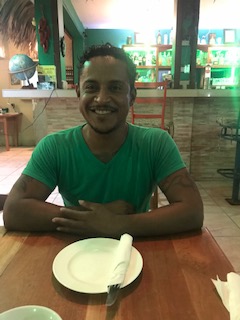 The next morning, Bret dropped me at Ian Anderson's Cave Branch Jungle Lodge in San Ignacio for a short stay.
They have many option tours with packages that include breakfast, lunch and dinner. With adventure options as the black hole drop & 7 mile cave tubing (I will have to come back to experience those), I went for the cave waterfall hike adventure.  Little did I know I would be climbing, crawling, bending, jumping and swimming through the caves and through/in waterfalls with guides.  It was extreme adventure, thrilling and a must.
This tour is exclusive to Ian Anderson's Cave Branch.  You leave about 9am after breakfast and return approx. 2:30-3pm.  It is a full day and great workout including a lunch in the caves the guides prepare.  My guides were Ivan and Pablo and were super friendly, professional and helpful.  You get a better deal if you are staying at the Jungle Lodge.
The dinner was excellent.  I had their delicious creamy hummus with chips, vegetable soup and short rib/chicken breast entree with potatoes and veggies.   Love the 70's classic old style yacht rock music all the time in their dining room.  That is the only place to get Wi-Fi.  Then it is back to your room to enjoy the peacefulness and jungle views.  There are no TVs at the lodge.
Upon your return , take a walk around the grounds in the botanical garden, check out the countries flower ( the black orchid), take a dip in the pool or just relax in your room till dinner.  I had a long walk up the many stairs to my tree top room but it was well worth it.  It was so unique including an outdoor shower & great views of the jungle including the top floor outside bathtub.
This is a not to miss experience and Ian himself will chat with you and trades dining with his guests.  His wife, Ella, is his true side kick who is in charge of the jungle, plants and spices.   Min is 3 nights but I only stayed one night due to my tight schedule.  Ian is quite the character and speaks his mind while ensuring safety & fun adventures.  He is super personable and tries to meet & chat with all guests during their stay His place is for anyone and everyone but from our chat, families are the main calling.  Kids and even grandparents will accomplish things they had no idea they could coming out with more self-confidence from this unparalleled & raising self-esteem experience.   Overall, the highlight of the mainland trip. Just don't forget your bug spray.  More at www.cavesbranch.com
A definite must when coming to Belize is to visit their islands. The 2 most popular are Caye Caulker and Ambergris Caye.  Caye Caulker is the smaller and much quieter of the two with a small town with vendors, shops and restaurants.
Then it was onto a water taxi to Caye Caulker about 45 minutes from Belize City about $10 US.   This is the second most popular island with a little town.  I stayed at the Caye Reef Condos which is 8 blocks from the water taxi.  These beautiful condos are fun by Brenda (aka Bobbi) are a perfect location across the street from the beach.
The condo was spacious with a full kitchen and ocean view 2 blocks from The Split – the best place to swim in the ocean water. www.cayereef.com
For dinner, do not miss Hibisca, right in town.

Don't let the humble looking establishment fool you as they had a nice menu and tasty food.  Bret and I shared the appetizer trip of sautéed cauliflower, fried rice cakes and shrimp/seafood ceviche.
For the main course, we took Joy's suggestions for the Lobster and fish filet entree as well as the seafood and crab claw in the coconut sauce & shell.  This meal was fantastic. www.facebook.com/hibiscacayecaulker/
Darren is the owner of this great restaurant "Lotus" at the boutique hotel Blu Zen on the north part of Caye Caulker island across the from the Split that we went to check out and have some breakfast. They have rental units, a restaurant and beach.  Not much else around there but it is up and coming as they are building more.  (The Split is the break in between the north and south of Caye Caulker).
Ambergris Caye is the number one place people go to in Belize.  The town of San Pedro is right on the Caribbean 80 degree water with many shops, restaurants and lodging.   You can take a 15 minute plane ride straight from the international airport or approx. a 75 minute water taxi  at a fraction of the price if you are not in a hurry.
I stayed at Ramons Village about 6 blocks from the water taxi.  Just loved it there. The staff was very friendly and would call me by name each day.  Here is the view from my room and the location is perfect.  I had a little balcony with a great view of the beach and ocean.  Just make sure to bring your mosquito spray.   The convenience into town and around the main areas was fantastic. The Caribbean/jungle atmosphere gives it its authentic feel.  They have their own scuba, fishing and snorkeling tours right from their pier.
Pineapples restaurant serves meals all day.  The dinner was fabulous as I had some great seafood (shrimp with angel hair pasta and fresh snapper) while enjoying the ocean view and sounds.  Enjoy a glass of wine or beer with your meal as they do not serve hard alcohol here.  Finish with their chocolate cake or cheesecake for dessert.    Need a healthy snack or start to the day, head to Tropical AL's tasty smoothie bar adjacent to Pineapples restaurant.  They have a wide selection of smoothies, coffees and drinks.  Overall, just a wonderful place to stay and I highly recommend it.  Walk right out to the beach and ocean. My room was 50' from the water and had a nice little balcony.   Free lounge chairs right on the beach.
Ramons provides great fishing, scuba and snorkeling tours.  I went out with Andy one day for an incredible 2 hr. snorkeling tour to Mexico Rocks.  Also did an amazing kayak ride as they have kayaks to use at the dive shop as well.  This place is worth the visit. Less crowded usually than the previous two I went to but plenty of fish, coral and reef.  Rick is the head of the dive shop and takes great care of you with his friendly staff.   More on the whole resort at www.ramons.com/
One local tour company that can help with scuba (even over-night scuba tours on one of their bigger sleeping boats) or snorkeling/sailing adventures is Xsite Belize.   They are opening a bed and breakfast a few blocks from the San Pedro Water Taxi called the Flip Flop Inn.   Owners Tammy and Nef were very hospitable.
Breakfast will be at Gill-E's Pour House right next door.  They also serve lunch and dinner right on the beach.  Head over for drinks or fresh fish/ and lobster during their season.  Try the lobster tacos with rice and beans.  More at www.xsitebelizesailing.com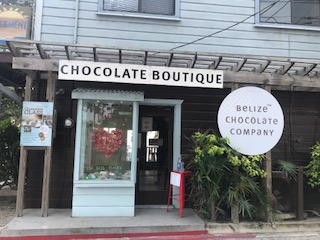 A couple blocks away is the Belize Chocolate Factory.  Stop in to get high quality chocolates in different varieties and flavors.  They even have classes on certain days with a video to learn more about it.  Say hi to Chris, the owner, and tell him you found them through us.   www.belizechocolatecompany.com
Iguana Juan's is about a 10 minute walk from Ramons on back street ( the last of the 3 major streets in town-front and middle being the other two.   The new owner is Chris from Los Angeles
He came over and bought the place recently.  It's a great location with fine food and drinks.   We started with the sample 3 appetizer  which was black bean along with the pico de Gallo and cheese.  The chicken breast tamale was a great choice as was the blackened snapper with a side salad and mashed potatoes.  Super tasty.  www.facebook.com/IguanaJuans/
My favorite meal was my last night at El Fogon.
Just full authentic Belizean from the decor/atmosphere, people/staff and best food I had on the whole trip.  The service by waiter Johnny, bartender Ebby and owner Luis.  Watermelon vodka and dirty banana drinks were perfect. Try the conch fritters or ceviche to start as they are famous for those or one of their popular stews or  chicken salbutas (soft corneal taco out of this world).  Both are made over their unique fire pit from mangrove wood each morning.  A definite must to try.
The conch and crab entrees were out of this world for dinner. Entrees served with coconut white rice or rice & beans both with veggies.   Do not miss this place in Ambergris Caye Island.  www.elfogonbelize.com
These are my top suggestions.  I will give the benefit of the doubt to the Belize Tourism Board due to covid and switching of the governments parties in late 2020, but they were very unorganized and impossible to reach. I had to fill out approx. 6-8 forms on their travel app which took a few hours and nobody even asked for them upon arrival at the airport.  All they asked for was my negative covid test (you can also get one there when you arrive worst case and pay $50 but hope you come out negative or you have to quarantine at this time).  Things will change as the pandemic calms down.   It's a shame about the Tourism Board but don't let that deter you from visiting this great, magical, underrated country with so much to do, friendly people, affordable about half the price of the US Dollar and only a 4+ hour direct flight from Los Angeles.