Roly Chinese Fusion Restaurant in Palm Springs serves up a delicious variety- January 2021
While the restaurants are closed, we decided to get some take out from Roly China Fusion on a recent visit.  Wow, it was just incredible.  They have a wide assortment of tasty Chinese food with some fusion- hence the name.  Start with some dim sum (Their chicken or shrimp dumplings are fantastic).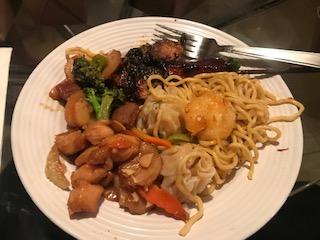 For appetizers, we tried the sea bass satay and chicken won ton soup- both definite musts.   The sea bass melted in your mouth.  We had to go for the staples of Beef & Broccoli and the Almond Chicken.  Both got devoured.   There were 4 of use so we tried a few other dishes as you cannot go wrong.  The veggie tofu stir fry and veggie sides of bok choy with mushrooms as well as the spicy brussel sprouts accompanied the other dishes.  They have a variety of fried rices and noodle dishes including my favorite dish (the lobster and tiger shrimp egg noodles with a tasty ginger sauce.   The meal was complete and we were all satisfied.  We cannot wait to come back when things are open to dine in.   This is a must visit on your next stop in Palm Springs as it is located right in the heart of downtown.  The owner Chad is very hospitable and we highly recommend dining here.
More at www.rolychinafusion.com