Visiting Half Moon Bay- Lodging at the Beach House, Dining, Attractions- November 2020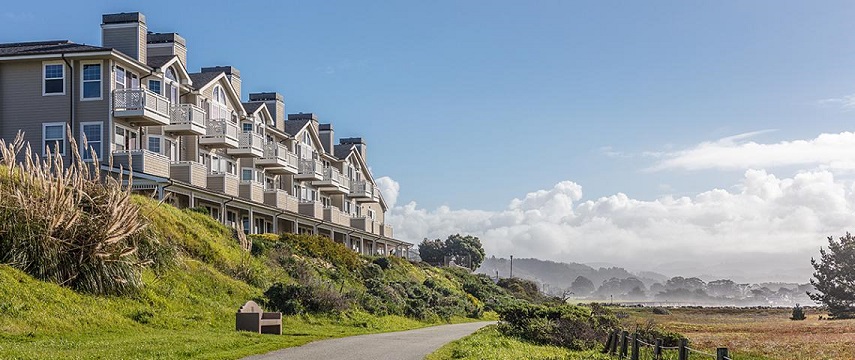 The Beach House in Half Moon bay was perfectly located with views of the ocean and sunset.   The immaculate setting overlooking the whole harbor with the unique fog horn sounding in the background made this place special. The room was comfortable and the balcony gave us some nice fresh air and awesome setting. Beach was right below as you walk out the back door. They have a swimming pool and spa which are heated and you just need to make reservations. A complementary breakfast was also included.  You just need to fill out the breakfast sheet and put it on your door before 11 PM and the food is served to you at your door at the time you request. The staff were very friendly and helpful. Free parking, wifi and fireplaces in all the rooms.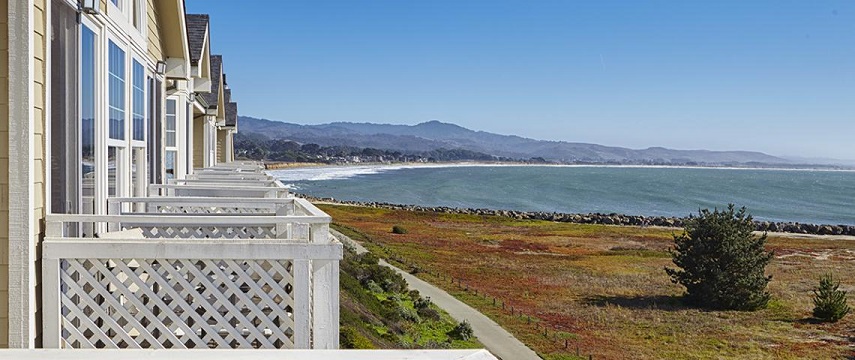 Half Moon Bay doesn't get much better than this oceanfront New England-style boutique luxury, the Beach House Hotel. The Beach House at Half Moon Bay is one of the premier California hotels on the beach.
Perched on a bluff overlooking a crescent-shaped beach and Pillar Point Harbor, the Beach House Half Moon Bay's refined yet relaxed property covers all the necessary bases with roomy, bright junior suites boasting a patio or balcony (75% have ocean views!), fireplace, refrigerator, microwave, CD system, and Aveda bath products.
The beach is literally steps from the rooms, and unlike many other beach oceanfront hotels, this facility offers equal relaxation that can be found through in-room massage, while business-oriented travelers can benefit from extensive conference facilities. Guests are also treated to complimentary newspapers, evening wine on weekends, and a friendly staff eager to help organize your stay.
https://www.beach-house.com/half-moon-bay/
About the Half Moon Bay Coastside 
The Half Moon Bay Coastside is a charming seaside respite located 45 minutes south of San Francisco. Nestled between the Santa Cruz Mountains and the Pacific Ocean, this breathtaking region consists of four distinct areas – the North Coast, Half Moon Bay, the South Coast and the Redwood Region. Featuring the best of Northern California all in one place, visitors will enjoy miles of white sandy beaches, redwood forests, a historic downtown filled with local artisan shops, beautiful state parks, fields of wildflowers, and trails along ocean bluffs and mountain ridges as far as the eye can see. A sampling of activities includes horseback riding on the beach, farm fresh dining, shopping, biking, hiking and world-class golfing and surfing.  The Half Moon Bay Coastside has reopened for tourism, welcoming leisure travelers to this magnificent ocean escape located just 45 minutes south of San Francisco. Visitors are permitted to safely enjoy hotels, restaurants, shops, and outside recreation. All businesses have health and safety protocols in place according to the guidelines of the San Mateo County Health Department.
"We are so happy to welcome back visitors to the Half Moon Bay Coastside," says Krystlyn Giedt, President & CEO of the Half Moon Bay Coastside Chamber of Commerce & Visitors' Bureau. "Our businesses are very excited to serve and are committed to protecting the health and welfare of guests and our local community. We look forward to everyone being able to enjoy our beaches, farm fresh food, and array of outdoor adventure."
Filled with nearly 25 miles of beaches, a plethora of outside activities, and a wide range of accommodations, this is the ideal place for a serene summer vacation. "The ocean is known to have the power to improve physical, mental, and emotional well-being, which is what people desperately need at this time," says Dana Dahl, President of the Half Moon Bay Business Improvement District. "We look forward to providing the safe and tranquil escape that travelers are craving."   Much more info at www.visithalfmoonbay.org
Local activities included half moon bay kayak and bike rental or you could pick up a bike to ride around the trail or kayak in the harbor. There are also a number of nice hiking trails that we found at overlook the beautiful views nearby.   Book a horseback riding beach ride with Seahorse Ranch. It's a fun 90 minute easy guided ride waking to and at the beach
On our last day we had a special treat to visit LA Nebbia Winery and have a nice tasting but we brought him some food. Lauren who we met was a sommelier and helped us with specialty wines and information about them during our tasting.
Adjacent we visited the Half Moon Bay Art Glass where you blow and make your own design from Doug.  He provides classes and fun interactive art glass.  Here are some pics.
https://www.hmbartglass.com/ and http://www.lanebbiawinery.com/
Sam's Chowder House was a perfect spot to have lunch on our arrival day.
It's located right next to the beach house and offers a great menu with dishes featuring seafood soups salads and sandwiches. We went for the Cesar salad with a side of shrimp, ahi poke and their famous clam chowder to start. It was hard to choose from other selection but we went with the steamed clams, fish and chips and signature lobster roll for entrées.
It was a great lunch overlooking the ocean and we highly recommend it. https://www.samschowderhouse.com/
Another great stop with the Half Moon Bay Brewery.
They had outside seating so make sure to sit near a heater. There's a nice variety of food and we chose the grilled artichoke pretzel bread fish tacos and chicken sandwich to enjoy our meal.   https://www.hmbbrewingco.com/
One place not to miss in half Moon Bay is It's Italia Restaurant. 
It is  just a  South of the Beach House this place had it all and start with one of their signature cocktails (photos at the bottom include their hibiscus infused vodka cocktail with passion fruit liquor and grapefruit juice called the Countess and the Sofia Loren made with Baileys, Kahlua, Vanilla Vodka and an espresso shot.  No fooling around here as this place goes all our for their customers.
They are famous for their pizzas but only allowing takeout right now while serving the flat-bread for dine in only. They were a variety of toppings and different types of pizzas that you can order.
Start with appetizers such as the flat-bread pizza style with pesto,  Caesar salad and char grilled octopus. For entrées the short ribs on top of their polenta was fantastic and tasty. The grilled calamari steak and pesto pasta were delicious as we have a great selection of some of their popular dishes.  You will not leave hungry.
For dessert definitely go for the avocado which is ice cream with whip cream on top chocolate sauce an espresso shot you pour on top
https://www.itsitaliarestaurant.com/
Photos by Lisa Rosas