Aspen-Snowmass Skiing, Lodging at the Annabelle Inn, Dining and Actitivity Options- 3/2021
Skiing- All 4 Mountains:
Buttermilk was my first stop on day one to warmup as they had some great beginner/intermediate runs there. Only 3-4 lifts but groomed runs and beautiful views at the top of Pyramid Peak. Fantastic mountain for lessons and families/kids to learn without big crowds.
Aspen Mountain (AJAX)- Definitely a more advanced ski mountain with some cool terrain. The runs are more narrow and there are some expert only places to go as well. Since I recommend to stay in the town of Aspen, you will need to visit Aspen mountain while you are here. Start with the gondola to take you to the top and ride some nice blue runs along Ajax Express or Ruthies. Shadow and Gent's Lifts are on each end of the mountain and you can access black and double black off of most any run.
Snowmass- The most diverse and largest of the four mountains with a huge amount of space and acreage. This was my favorite overall resort as the runs are so wide, long and many groomed. Start at the base and head up the Elk Camp Gondola which leads you to Elks Camp or the other side off of the Village Express lift. They had an awesome amount of blue groomed runs along with some steeper groomed black runs. Just loved the terrain off Village Express and Sam's Knob. If you want a bit more extreme skiing, head to the following lifts- Campground, High Alpine or Sheer Bliss.
Aspen Highlands– This is the sleeper underrated mountain as many people think it is just for total advance skiers. However, after checking out the killer amount of steep groomed blues, it was incredible. Many of the blue runs are more towards black runs being a bit steeper but all groomed. Great place without big crowds to get some speed to ski on more advanced blues than most any other places you will find. If you are an expert, there are many double black diamond runs on this mountain that I did not venture too but I did see and read about them on the map.
About Aspen Snowmass:
Mountains: Aspen Mountain, Aspen Highlands, Snowmass and Buttermilk
One lift ticket. Four unique mountains with their own distinctive personalities. All within nine miles of each other.
·        5,527—total acreage across all four of Aspen Snowmass's mountains
·        5.3—the longest run at Snowmass in miles
·        362—number of trails across all four Aspen Snowmass mountains
·        100—the average number of features in the Snowmass Terrain Parks
·        45—the average time in minutes it takes skiers/riders to hike to the top of Highland Bowl
·        4,406—vertical feet of skiing/riding at Snowmass making the resort home to the most lift-served vertical in the United States
·        1—the number of 22-foot Olympic size super pipes
·        3—gondolas across the Aspen Snowmass mountains
·        360—degree view of the Maroon Bells and the surrounding area on top of Aspen Highlands
·        1946—the year the world's longest chairlift at the time was completed on Aspen Mountain
·        42—number of chairlifts across Aspen Snowmass's four peaks
·        320—approximate miles of trails across all four mountains at Aspen Snowmass
·        6—terrain parks spread across Buttermilk and Snowmass ranging from the X Games slopestyle course and pipe to the Lowdown beginner park at Snowmass
·        2.7—average number of people on Aspen Snowmass' slopes per acre
·        60,562 —total lift capacity per hour across the four mountains
Established in 1946, Aspen Snowmass owns and operates four mountains – Snowmass, Aspen Mountain, Aspen Highlands and Buttermilk – creating premium, sustainable and transformative experiences in recreation, culture and nature. In addition, the company runs the award-winning Ski & Snowboard Schools of Aspen Snowmass, Four Mountain Sports rental and retail shops, and a collection of sustainably-sourced on-mountain food & beverage outlets. Aspen Snowmass works to drive positive social change through climate, community, and minority group advocacy and investment. For more information about Aspen/Snowmass, visit www.aspensnowmass.com Follow @aspensnowmass on Twitter, Instagram or Facebook.
Lodging:
Annabelle Inn– What a cozy, affordable and convenient place to stay located about 3-4 blocks from the main part of downtown aspen.  The staff led by GM Danny, David and Tracy take great care of the Inn while accommodating guests. The lobby is warm and welcoming.  There is a cool Koi fish pond on the bottom level and jacuzzi on the top level with a great view.   The room was beautiful and welcoming.  The bed was very comfortable, 3 window views, nice TV and fireplace.  The Inn usually has a nice breakfast buffet spread but with the pandemic, it is now grab and go as you place your order the night before or come down in the morning with your request and whoever is on staff will put it together for you.  
The Annabelle Inn was founded in 1948 as "The Westerner Motel" and has been a local favorite ever since. In the late 60's, it became known as "The Christmas Inn", and was subsequently reborn as "The Annabelle Inn" in 2005. As a family-owned inn, we take pride in maintaining a comfortable home away from home in beautiful Aspen, Colorado.   The Inn has 35 guest rooms and each room is uniquely decorated with specially chosen furniture and tiles that give the feel of luxury. Every room has a flat-screen television with cable, and free WiFi.  The majority of the rooms have tub/shower configurations in the bathroom.  Two of our three Standard rooms are ADA handicapped accessible.
All of the rooms in the premium category have a fireplace and/or a terrace.  The in-room amenities are of a better quality…robes, slippers and personal toiletries, etc. The majority of the Deluxe category rooms are on the second floor and face the interior courtyard, so they are generally quiet.  About seven of them face Main Street and have lovely views of Aspen Mountain.  One of two hot tubs is located on the second level, with great views of both Aspen Mountain and Red Mountain.  The third room category, the Standard rooms, all face the front of the property, that is to say Main Street.  There can be expected street noise, especially in winter if there are snow plows going by.  They do have white-noise machines in those rooms that help immensely. They are priced accordingly, in what we would call economy/value pricing.
In the best and optimal of times, they do offer a sumptuous European-style breakfast buffet with cold meats, cheeses, bagels, toast, fresh fruit, yogurt, hard-boiled eggs, juices, and hot beverages, etc.  Also know that in non-covid times, they have an apres-style reception in the lobby three times a week with wine, beer and charcuterie.  It's a nice way to unwind and meet fellow hotel guests.  They hope to get back to that just as soon as we can. 
The Inn has a conference room on the garden level…its size is perfect for small meetings and events and can easily accommodate about 50 people.  The courtyard provides additional space as well.  They do not have a commercial kitchen onsite but have frequently had catering come onto the property for those type of needs.
They are renovating the cabin across the street, and anticipate it will serve as an alternative to those looking for more luxurious accommodation and longer holiday rental than the hotel might offer…especially nice for large families, groups of friends, etc.  The beautiful yard could also lend itself to a cocktail reception or dinner, again with private catering or bar service available. More at www.annabelleinn.com
Dining Suggestions: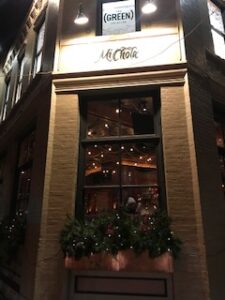 Mi Chola– located on popular Main Street, this Mexican establishment offers a wide variety of options with a twist.  It is not your basic Mexican place. Start with their delicious chips and salsa but be careful as they are addicting.  
They serve unique dishes like the shrimp ceviche with avocado in a tasty sauce and the kale Caesar salad with roasted tomatoes, spicy croutons (add grilled shrimp to enhance the great dish).  The side of homey brussel sprouts with jalapenos was a nice addition.  The queso fundido with pepidas served with warm tortillas was fantastic and filled us up. 
Those 4 dishes filled us up.  Try one of their signature margaritas or drinks to enhance your meal.  The head man Adam was super hospitable as was manager Jordan.  Our sever Johan did a great job checking on us and explaining the food.   All in all, the dinner experience was just tremendous and highly suggested.    More at http://www.aspenchola.com/
Acquolina–
One of the top Italian restaurants I have dined at in a long time. Fully authentic, modern feel and beautiful decor and bar.  The menu was extreme and diverse and Jason , the manager, told us it used to be twice as large.  Jason was very hospitable despite it being very busy.  We started with the grilled calamari and burrata cheese appetizers. 
Just super tasty.   Try one of their signature infused fruit vodka cocktails to start.  Amazing.  We had to try some pasta of course so we went with the hard to fine chitarra with tomatoes and shrimp in a white wine sauce.  For the main course, we split the eggplant parmesan and the Colorado lamb chops.  Enjoy some red wine to enhance your meal. The whole experience was out if this world and fully satisfying.   We had to finish with the homemade tiramisu and vanilla ice cream.  This place was a 10 and not to miss.  
More at www.acquolinaaspen.com
The Aspen Brewing Company (Aspen Tap is the official name of the restaurant) located downtown is a great, affordable option to dining with a casual atmosphere.  Also known as Aspen Tap, this place serves up some tasty dishes including the rosemary hummus with veggies, salads and pizzas. 
I went with the Caesar salad with chicken and the Caprese pizza on their crunchy sourdough crust.  The staff is very friendly including head of operations "Duncan".  He also is in charge of the distillery located near the Aspen airport. It is the only beer distillery in Aspen. 
They have tables spread out fir social distancing and some cool outside seating on top of beer keg tables. There are not many places you can also go to watch a big sporting event as they have two large TVs.  Definitely a must stop for a bite to eat with plenty of crafted beers on tap and a fun happy hour.   More at http://aspenbrewingcompany.com/
The Living Room at The W Hotel Aspen.
The chic dining area called "The Living Room" is very modern, romantic and decorative.  You check in downstairs at the host stand and then are seated upstairs either inside, outside next to the fireplace or in the private pre-reserved dome that seats about 6-8 at $150pp.   We chose the inside booth in the back room. Our server, Teddy, was super polite and friendly.  We started with the tuna tartar with avocado and a big light chip.
Their special was a grilled calamari appetizer so we went with that and our favorite dish of the night was the J Bowl- A mix of shrimp tempura, ahi tuna, seaweed, avocado, spicy mayo, edamame sand rice. Just delicious and not to miss.  For entrees, we went with the lemon pepper salmon with leek fried rice and tender squash & green beans.  The other entree suggestion is the ravioli with a nice cream sauce and hen if the woods mushrooms.   Enjoy a glass of wine or one of their signature drinks by bartender/manager Drew, who was very accommodating.  You need a reservation to come in and it is worth the visit and great dining experience.   Finish with the Greek yogurt panna cotta with a side of gelato ice cream and you will be completely satisfied. 
The Living Room is on the second floor of the W Hotel and serves as the central point of the Escape experience and showcasing grid-pattern display on the bar -a nod to traditional millwork structures used to create mine tunnels in Aspen during the silver boom. Seating in The Living Room features brass and polished rods that surround plush, velvety cushions synonymous with Aspen's bohemian counterculture of the early '70s. Along the side, stadium seating leads to an iconic suspended DJ booth that takes its cue from the largest silver nugget discovered in Aspen at the turn of the century. Continuing to honor Aspen's role in the Colorado Silver Boom, light fixtures are informed by the look of a miner's headlamp and floors are swept with curving patterns that echo the soil found at the bottom of a smuggler's cove. At sundown, The Living Room's outdoor fire pit acts as a beacon at the base of the mountain -signaling to the skiers above it is time to après.
More at https://www.marriott.com/hotels/hotel-information/restaurant/details/asewh-w-aspen/6540104
Duemani (same owner as Acquolina), is Italian based but features more of a seafood/European flavor. 
If you are looking for pizza or pasta, Acquolina is your place. Duemani has a nice variety of crude, ceviche and carpaccio. 
We had the yellowtail and toro to start which melted on our mouths. The pan seared lump crab cake is not to miss and super tasty without any breading. The heirloom tomato and avocado salad with burrata cheese on top was unique & tasty.
So many great dinner options and since their specialty was seafood, we went with The Whole Branzino and Chilean Sea Bass- two awesome choices and do t miss the side of brussel sprouts with a cheese and sweet seasoning.  The pear saketini special was the top cocktail to pair with our dishes unless you prefer a wine from their nice selection.  We were so full, we didn't have room for dessert but they had some nice options. More at www.duemaniaspen.com
The French Alpine Bistro is perhaps the most unique/creative restaurant in Aspen.
Their indoor downstairs area in quaint and intimate but we were able to dine in their outside enclosed, fun & romantic structure like we were in the mountains in France.  They start you off with a small cup of chestnut soup. 
They have a nice cocktail menu but our friendly and knowledgeable server Elisa recommended the Pink Panther French vodka drink.  There is a 4 course meal with a strict time limit if they are full. The French onion soup, the goat cheese & pear salad and the grain bowl are all great choices.  
Their house specialty is the cheese fondue with a side of  read.  Add veggies and/or potatoes. The beef bourignion over fettuccine was very good as it reminded me of beef goulash.
For dessert, the crepe Suzette was our choice with the rum/coffee bean/Kahlua after dinner drink.  Such a different dining experience in the middle of downtown Aspen that I recommend.  More at www.frenchalpinebistro.com
Activities and Rentals:
TLazy 7-
Snowmobiling tour located about 10 minutes from Aspen near Aspen Highlands is a great tour option from skiing.  They have a huge area with snowmobile trails.  The most popular tours are the regular 2 hour ride or 2 and 1/2 tour that includes a great lunch at the top of a Klondike with fabulous views and home grown burgers off the grill. 
The lunch tour is the way to go. There are sections where you can go faster but for the most part it is single riders in front and back if one another. Whether you have tried it or not, this is a must visit for a whole lot of fun. The staff are so nice and welcoming helping you anytime you need.
More info at  www.tlazy7.com
The Aspen Nordic Center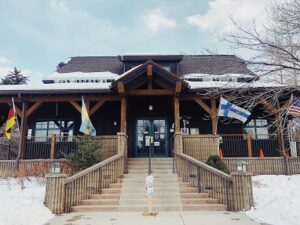 The center at the golf course offers rentals for skate and cross country skiing.  There is no ticket needed at the biggest public free course in the country ( open 24 hrs) with so many trails and areas. 
This an incredible workout but also fun using your core and full body.  It wasn't that crowded but super enjoyable.  They also rent fat tire bikes which also have their own trails on the course.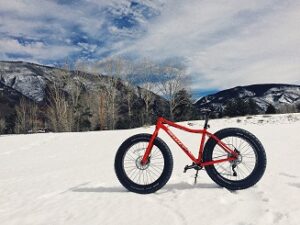 Another great workout. www.aspennordic.com
Incline Ski Rental- located at Main St right after you get off or on the gondola so a prime spot. They have a wide variety and assortment of skis to choose from. Ask for Tim as he had some great stories and the whole staff is very helpful. The staff was super welcoming and friendly as I went in a few times to change my boots/skis for more comfort and the change in snow. They had a wide assortment and options. Tim, the manager, was great and I highly recommend renting from them as they have another location in Snowmass right in the mall as you enter besides along with their Aspen location down the street from the Gondola.
Shout out to Todd at Four Mountain Sports at the Snowmass Mall. My rental boot was rubbing against my ankle bone and Todd was so helpful to provide some ankle donut pads that saved my ski trip. Without them, I would not have been able to ski. He also does custom insoles for boots so a great find and super accommodating. https://www.gosnowmass.com/service-retail/four-mountain-sports-on-the-snowmass-village-mall/
Overall, Aspen/Snowmass is a definite must for any future ski trip when it comes to overall quality, convenience, dining and variety of ski mountains & activities.
For a full list of ski info for all of the resorts, visit www.aspensnowmass.com