Aspen, Colorado has some great Dining Options- March 2021
Dining Suggestions in Aspen: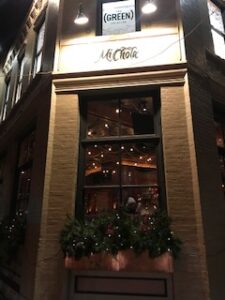 Mi Chola– located on popular Main Street, this Mexican establishment offers a wide variety of options with a twist.  It is not your basic Mexican place. Start with their delicious chips and salsa but be careful as they are addicting.
They serve unique dishes like the shrimp ceviche with avocado in a tasty sauce and the kale Caesar salad with roasted tomatoes, spicy croutons (add grilled shrimp to enhance the great dish).  The side of homey brussel sprouts with jalapenos was a nice addition.  The queso fundido with pepidas served with warm tortillas was fantastic and filled us up.
Those 4 dishes filled us up.  Try one of their signature margaritas or drinks to enhance your meal.  The head man Adam was super hospitable as was manager Jordan.  Our sever Johan did a great job checking on us and explaining the food.   All in all, the dinner experience was just tremendous and highly suggested.    More at http://www.aspenchola.com/
Acquolina–
One of the top Italian restaurants I have dined at in a long time. Fully authentic, modern feel and beautiful decor and bar.  The menu was extreme and diverse and Jason , the manager, told us it used to be twice as large.  Jason was very hospitable despite it being very busy.  We started with the grilled calamari and burrata cheese appetizers.
Just super tasty.   Try one of their signature infused fruit vodka cocktails to start.  Amazing.  We had to try some pasta of course so we went with the hard to fine chitarra with tomatoes and shrimp in a white wine sauce.  For the main course, we split the eggplant parmesan and the Colorado lamb chops.  Enjoy some red wine to enhance your meal. The whole experience was out if this world and fully satisfying.   We had to finish with the homemade tiramisu and vanilla ice cream.  This place was a 10 and not to miss.
More at www.acquolinaaspen.com
The Aspen Brewing Company (Aspen Tap is the official name of the restaurant) located downtown is a great, affordable option to dining with a casual atmosphere.  Also known as Aspen Tap, this place serves up some tasty dishes including the rosemary hummus with veggies, salads and pizzas.
I went with the Caesar salad with chicken and the Caprese pizza on their crunchy sourdough crust.  The staff is very friendly including head of operations "Duncan".  He also is in charge of the distillery located near the Aspen airport. It is the only beer distillery in Aspen.
They have tables spread out fir social distancing and some cool outside seating on top of beer keg tables. There are not many places you can also go to watch a big sporting event as they have two large TVs.  Definitely a must stop for a bite to eat with plenty of crafted beers on tap and a fun happy hour.   More at http://aspenbrewingcompany.com/
The Living Room at The W Hotel Aspen.
The chic dining area called "The Living Room" is very modern, romantic and decorative.  You check in downstairs at the host stand and then are seated upstairs either inside, outside next to the fireplace or in the private pre-reserved dome that seats about 6-8 at $150pp.   We chose the inside booth in the back room. Our server, Teddy, was super polite and friendly.  We started with the tuna tartar with avocado and a big light chip.
Their special was a grilled calamari appetizer so we went with that and our favorite dish of the night was the J Bowl- A mix of shrimp tempura, ahi tuna, seaweed, avocado, spicy mayo, edamame sand rice. Just delicious and not to miss.  For entrees, we went with the lemon pepper salmon with leek fried rice and tender squash & green beans.  The other entree suggestion is the ravioli with a nice cream sauce and hen if the woods mushrooms.   Enjoy a glass of wine or one of their signature drinks by bartender/manager Drew, who was very accommodating.  You need a reservation to come in and it is worth the visit and great dining experience.   Finish with the Greek yogurt panna cotta with a side of gelato ice cream and you will be completely satisfied.
The Living Room is on the second floor of the W Hotel and serves as the central point of the Escape experience and showcasing grid-pattern display on the bar -a nod to traditional millwork structures used to create mine tunnels in Aspen during the silver boom. Seating in The Living Room features brass and polished rods that surround plush, velvety cushions synonymous with Aspen's bohemian counterculture of the early '70s. Along the side, stadium seating leads to an iconic suspended DJ booth that takes its cue from the largest silver nugget discovered in Aspen at the turn of the century. Continuing to honor Aspen's role in the Colorado Silver Boom, light fixtures are informed by the look of a miner's headlamp and floors are swept with curving patterns that echo the soil found at the bottom of a smuggler's cove. At sundown, The Living Room's outdoor fire pit acts as a beacon at the base of the mountain -signaling to the skiers above it is time to après.
More at https://www.marriott.com/hotels/hotel-information/restaurant/details/asewh-w-aspen/6540104
Duemani (same owner as Acquolina), is Italian based but features more of a seafood/European flavor.
If you are looking for pizza or pasta, Acquolina is your place. Duemani has a nice variety of crude, ceviche and carpaccio.
We had the yellowtail and toro to start which melted on our mouths. The pan seared lump crab cake is not to miss and super tasty without any breading. The heirloom tomato and avocado salad with burrata cheese on top was unique & tasty.
So many great dinner options and since their specialty was seafood, we went with The Whole Branzino and Chilean Sea Bass- two awesome choices and do t miss the side of brussel sprouts with a cheese and sweet seasoning.  The pear saketini special was the top cocktail to pair with our dishes unless you prefer a wine from their nice selection.  We were so full, we didn't have room for dessert but they had some nice options. More at www.duemaniaspen.com
The French Alpine Bistro is perhaps the most unique/creative restaurant in Aspen.
Their indoor downstairs area in quaint and intimate but we were able to dine in their outside enclosed, fun & romantic structure like we were in the mountains in France.  They start you off with a small cup of chestnut soup.
They have a nice cocktail menu but our friendly and knowledgeable server Elisa recommended the Pink Panther French vodka drink.  There is a 4 course meal with a strict time limit if they are full. The French onion soup, the goat cheese & pear salad and the grain bowl are all great choices.
Their house specialty is the cheese fondue with a side of  read.  Add veggies and/or potatoes. The beef bourignion over fettuccine was very good as it reminded me of beef goulash.
For dessert, the crepe Suzette was our choice with the rum/coffee bean/Kahlua after dinner drink.  Such a different dining experience in the middle of downtown Aspen that I recommend.  More at www.frenchalpinebistro.com