Mastros Steakhouse teams up with PlumpJack Wines for a fantastic one night dinner- August, 2021
The PlumpJack Collection of Wineries Announces Nationwide Winemaker Dinner in Partnership with Mastro's Restaurants on August 24.
Exclusive Winemaker Event to Showcase PlumpJack Winery, CADE Estate, Odette Estate at Mastro's Restaurants Across the Country for One Night Only.
We enjoyed a fabulous evening with PlumpJack winemaker Jeff Owens and the Mastros team and head chef Walter.  They prepared an incredible tasting menu with a variety of their white and red wines.  All around delicious and intimate.  Jeff was very informative and down to earth sharing his expertise while we enjoyed the 5 course dinner.  The wines were top notch to pair with each dish.  We were educated with a 10 minute video presentation during the dinner and continued with some great laughs while learning about the wines and devouring the fantastic food.
The PlumpJack Collection of Wineries and Mastro's Restaurant
NAPA, Calif. (July 19, 2021) – The PlumpJack Collection of Wineries and Mastro's Restaurants today announced a nationwide winemaker dinner event showcasing the legendary wine portfolio, including PlumpJack Winery, CADE Estate and Odette Estate, alongside Mastro's Restaurants' acclaimed cuisine.  The nationwide winemaker dinner event will take place on Tuesday, August 24 beginning at 7:00 PM at Mastro's Restaurants across the U.S. including Houston, New York, Las Vegas, Newport, Scottsdale, Boston, Beverly Hills and Chicago.  The experience will be an unparalleled opportunity for wine lovers to sample the very best from The PlumpJack Collection of Wineries at an iconic restaurant known for its exquisite cuisine, exceptional hospitality and energic atmosphere.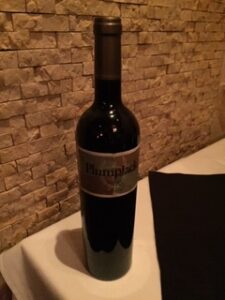 "Mastro's Restaurants emulates our wineries' commitment to craftsmanship and hospitality, so we're thrilled to be partnering with them for this nationwide winemaker dinner," said John Conover, managing partner and general manager of The PlumpJack Collection of Wineries.  "We couldn't be more excited to connect in-person over these expertly-paired dinners and continue to build relationships with new audiences as well as our most loyal fans around the country."
The multi-city dinner will feature a delectable five-course menu curated by the Mastro's Restaurants team, including dishes like Bone Marrow topped with Alaska King Crab paired with the 2019 PlumpJack Reserve Chardonnay and a Ribeye Steak with creamed spinach and mashed potatoes paired with a trio of 2018 PlumpJack Estate Cabernet Sauvignon, 2017 CADE Estate Cabernet Sauvignon and 2018 Odette Estate Cabernet Sauvignon.  The PlumpJack Collection of Wineries will have a winemaker or wine ambassador at each restaurant across the U.S. to engage with guests and spend time describing the nuances of the featured wines.  Managing partner and general manager of the PlumpJack Collection of Wineries, John Conover, will be the featured ambassador at the Mastro's dinner in New York; CADE Estate winemaker, Danielle Cyrot, will head up the Mastro's event in San Francisco; Odette Estate winemaker, Jeff Owens, will lead the Mastro's dinner in Beverly Hills; and PlumpJack Winery winemaker, Aaron Miller, will present at the Mastro's event in Houston.   More at https://www.mastrosrestaurants.com/location/mastros-steakhouse-beverly-hills/   and   https://plumpjackwinery.com/
Photos by Sheldon Small