Los Angeles Clippers: Power Rankings, Shaq on Leonard, Bledsoe Trade- August 2021
Los Angeles Clippers: Power Rankings, Shaq on Leonard, More
The Los Angeles Clippers are coming off the deepest postseason run in franchise history. But that was only a partial celebration for a team in championship-or-bust mode.
Even without superstar Kawhi Leonard for Games 5 and 6, the Clippers managed to upset the top-seeded Utah Jazz in the Western Conference Semifinals
Leonard was unable to play in the Conference Finals against the Phoenix Suns as he recovered from a partially torn ACL. The Clippers' season ended with a 130-103 blowout loss in Game 6.
Leonard underwent surgery on the knee, and it's unknown when he'll return next season. After opting out of his contract, Leonard signed a four-year extension worth $176.3 million. That ensures that the Clippers' title window will remain open for the foreseeable future.
Clippers Are No. 1 in ESPN's Power Rankings
ESPN released their latest NBA power rankings, and the Clippers placed 10th on the list. For what it's worth, the Brooklyn Nets took the top spot.
Four teams in the West were ranked ahead of the Clippers: The Los Angeles Lakers (third), Suns (fourth), Jazz (five) and Denver Nuggets (seven).
The Clippers' championship hopes greatly rely on the health of Leonard. He'll miss the team's season opener against the Golden State Warriors at the Chase Center on Oct. 1. Right now, the consensus betting line for that game is the Clippers at +3.5, per Fan Duel sportsbooks.
Shaquille O'Neal Claims Kawhi Leonard Has "Nothing Left To Prove"
In a recent Instagram story, Basketball Hall of Famer Shaquille O'Neal included Leonard in his choices for NBA players who have "nothing left to prove". (h/t Mason Bissada of Sports Illustrated).
The four-time NBA Champion and three-time NBA Finals MVP had Leonard, LeBron James, Giannis Antetokounmpo and Stephen Curry on his list.
All four of these men have NBA championship rings. James leads the way with four, followed by Curry (three) Leonard (two) and Antetokounmpo (one).
James, Antetokounmpo and Curry have combined for eight MVP awards. Antetokounmpo won the honors in 2019 and 2020, becoming the first player to repeat as MVP since Curry (2015 and 2016).
If Leonard retired today, he would unquestionably enter the Hall of Fame in his first year of eligibility. He won NBA championship rings and Finals MVP honors with two franchises — the San Antonio Spurs (2014) and Toronto Raptors (2019).
The 30-year-old also has five All-Star, three All-NBA First Team and two All-NBA SecondTeam selections on his resume. Renowned for his elite two-way play, Leonard also took home Defensive Player of the Year honors in 2015 and 2016.
Leonard may be a lock for the Hall of Fame, but his career is far from over. He can further cement his status as one of the all-time greats by leading the Clippers to another championship or two.
C.J. McCollum Praises New Clipper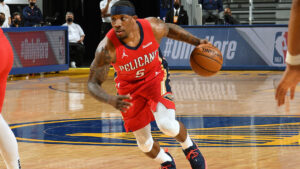 Last week, the Clippers made a blockbuster move to address the need for a playmaking point guard. They acquired Eric Bledsoe from the Memphis Grizzlies in exchange for Rajon Rondo, Patrick Beverley and Daniel Oturu.
Bledsoe will fill the point guard void left by Rondo. Now, the Clippers have a third star to complete the "big three".
The new Clipper recently received some strong praise from Portland Trail Blazers guard CJ McCollum, who compared Bledsoe to one of the NBA's elite stars.
On his Pull up with CJ McCollum podcast (h/t Beth Mishler-Elmore of Heavy.com), the 29-year-old McCollum explained why he sees a little bit of LeBron James in Bledsoe:
"I'm a big fan of Eric Bledsoe," McCollum said. "He's like a mini LeBron. Super athletic, explosive, can lead a team, can run a team. Has had some great years of basketball, especially with the Phoenix Suns. Most notably has played well with the Bucks and other teams…I'm not sure who will start between Bledsoe and Reggie Jackson, but in any event I like both of those guards."
Bledsoe, 31, comes to Los Angeles following a three-year stint with the Bucks. Bledsoe spent his first four NBA seasons with the Clippers (2010-11 to 2012-13) before he was traded to the Suns in the 2013 offseason.
Widely regarded as one of the NBA's most underrated players, Bledsoe has averaged 14 points and 4.7 assists per game in his career with a field goal percentage of 45.3.