Exquisite Dining in Vegas at Water Grill, Milos and Rivea- April 2023
We had an absolutely amazing dining experience at Water Grill, owned by King's Seafood Company, located in the Forum Shops at Caesars in Las Vegas. To start, we savored the Spot Prawns from Santa Barbara, which were cooked to perfection and served with a delightful olive tapenade. The Bluefin Toro Tartare, which was served with warm rice, seaweed, wraps, ginger, and soy sauce, was another dish that should not be missed.  It was interactive and fun to build and eat our own special bite-sized creation.
For our main course, we opted for the Chilean Seabass, which was both mouthwatering and deservedly the top-selling dishes. Water Grill offers a wide variety of fresh seafood, including crustaceans, but we decided to also try the Wild New Zealand Pink Bream, which is a rare find and was served as a whole fish, à la carte. As a side, we tried the braised kale with Greek yogurt and hazelnuts, which was a perfect complement to our main courses.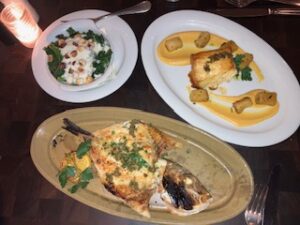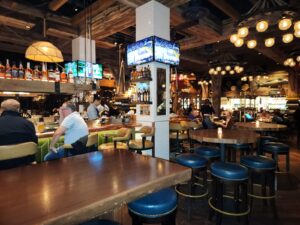 The atmosphere of the restaurant was decadent and dimly lit, with beautiful booths, decor, and wine bottles adding to the ambiance. Our server, Jeff, was extremely knowledgeable and provided great suggestions, while the manager, Crystal, warmly welcomed us and ensured our dining experience was exceptional. Overall, we highly recommend Water Grill for your next trip to Las Vegas, as it is truly an unforgettable dining destination. They also have 2 locations in Downtown LA and Santa Monica where we live so more options to get some of the best seafood around. https://www.watergrill.com/vegas
If you're planning a trip to Las Vegas, make sure to visit Estiatorio Milos at The Venetian Hotel. This fresh Mediterranean seafood restaurant serves up some of the most unique and incredible dishes you'll find. We started with the lightly fried zucchini and eggplant chips, which were paired with a delicious Tzatziki spread and Saganaki cheese blended in the middle. The combination was just fantastic. The charcoal broiled octopus was cooked to perfection and very tender, making it a must-have dish at Milos.
The traditional Greek Salad was out of this world, with fresh vine-ripened tomatoes, feta cheese, cucumbers, and onions. It was refreshing and a delicious option that should not be missed. For the main course, we tried the fresh Dorade Royale, which was a whole Mediterranean grilled sea bream served butterfly style and deliciously tasty. Another standout dish was the lobster pasta (Astako-Makaronada) with a lite tomato sauce, which was also included in their $38 lunch 3-course prix fixe menu.
The desserts were simply out of this world, with options like pistachio, almond and walnut baklava,  Greek yogurt with cherries, and their new flavor-full baklava cheesecake that melted in our mouths. The atmosphere at Milos was incredibly beautiful, with guitar music in the background while we feasted like we were in the Greek Islands. We enhanced our meal with a signature cocktail and some wine, and it made the experience even more enjoyable.

Overall, we highly recommend Milos for anyone looking for a unique and unforgettable dining experience in Las Vegas. The combination of Mediterranean, seafood, and Greek cuisine, combined with their amazing atmosphere and outstanding service, make this restaurant a must-visit destination. https://www.venetianlasvegas.com/restaurants/estiatorio-milos.html
We had an exceptional dining experience at Rivea.  It was an incredibly artistic dining extravaganza located on the top floor of the Delano Hotel with breathtaking views of the Las Vegas Strip.  The cuisine is French and Italian from the internationally celebrated Chef Alain Ducasse.  The service was outstanding, and the decor was beautiful, highlighted by an impressive chandelier. Whether you prefer à la carte or tasting menus, Rivea has something for everyone.  We tried both, starting with the gluten-free and vegan panisse which were chickpea fries and surprisingly delightful.The burrata and heritage tomato salad was a definite must-experience, as was the marinated citrus raw seabass from the tasting menu. Another standout appetizer was the sautéed calamari and shrimp in an indulgent olive oil, garlic, and butter sauce, accompanied by baby artichokes, radish, fennel, and crushed red chilies. The chef's inspiration, the lobster risotto, was delightfully rich, and the flavors were well-balanced.
For our entrées, we had the Alaskan halibut from the regular menu and the sea scallops with rainbow cauliflower and hazelnut truffle vinaigrette, both of which were extraordinary. The tasting menu's filet mignon with duck foie gras with a black truffle sauce was yet another superb dish. To end the meal, we savored the lemoncello Baba, a sponge cake with Chantilly cream, and the new spring dessert, strawberry rhubarb with strawberry sorbet, created by the pastry chef Karina.
The staff, including Tori, who expertly refilled our drinks and cleared the table, and our server/sommelier Chris, who was incredibly knowledgeable about the dishes and drinks and showed a genuine passion for his work, were all fantastic. The manager, Christina, was welcoming, warm, thoughtful and accommodating, and we even had the chance to meet the head chef, Alex, who impressed us with his culinary creations and preparations. Overall, Rivea is a must-visit destination for anyone seeking an unforgettable dining experience.
https://delanolasvegas.mgmresorts.com/en/restaurants/rivea.html
Photos and assisted by Lisa Koff