New Orleans Dining Tips in the French Quarter & around the City- May 2023
Tujaques– This iconic place has been around a long time and we can see why. Even though they moved locations a couple years ago and now are on Decatur Street, the place is still top notch. Start with their shrimp remoulade, which was very tasty and the spicy pork belly, which was crispy and tender.  Not to miss is the crabcake seared and loaded with crab unlike many other places that put a lot of breading on it.
My assistant Kevin had a Sazerac and said it was one of the best around and I had a glass of rosé to accompany the meal. For entrees, I went with the seared Drum fish that was delicate and serve with a tasty sauce made of oysters, shrimp & veggies serve with new potatoes. Kevin had the duck breast which he said was very cooked perfectly. We ended with the bananas foster bread pudding and crème brûlée.
We split a grasshopper after dinner drink. You'll be fully satisfied after this excellent dining experience. https://tujaguesrestaurant.com/
The Bower-This is the sister restaurant to Tujaques, located on Magazine in the lower Garden District & very exquisite. The manager Dray, was very hospitable and helpful from her suggestions to welcoming people in. There are a few different areas to dine. Inside in front is where we sat right near the open air kitchen or the outside covered patio or back indoor bar area. We enjoyed our half booth while having a fantastic meal.
Our server Shay was warm, prompt and knowledgeable. She gave us some great recommendations for appetizers, and we took them all from the whipped feta that I've never seen on any menu but very tasty, the crispy, yet spicy cauliflower and the tuna tartare with avocado that was my favorite. She suggested the cedar sake to pair.
We tried some more recommendations from her & Dre's selections. Dre's go to was the basil spaghetti with burrata. We also had the Gulf fish with basmati rice in a delectable sauce. The softshell crab over cold noodles was also fantastic and my favorite was the crawfish with tiny pasta shells cooked al dente in a spicy red sauce.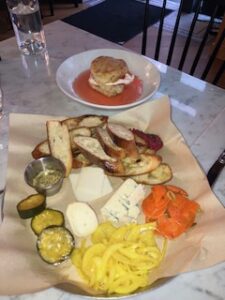 Overall,  just fantastic and we were too full for dessert so we just ordered the popular cheese plate to help digest but they had to bring out their popular strawberry shortcake to finish us off. They have a wine and cocktail menu to enhance your meal and you'll leave fully satisfied. https://www.thebowernola.com/
We dined at Third Block Depot Kitchen & Bar (The old Sobu restaurant) , located in the French Quarter.  This cool establishment has some neat decorations and atmosphere. Surrounded by assortment of little glasses and a neat bar in the adjacent room, we sat in the front area. Tyreek (he goes by T), was our friendly server and very professional. We were also greeted by the head chef, Nick, pictured below, to create some great dishes for us on his menu that changes every so often. For starters, we have the seared scallops with lionmane mushrooms, as well as the delectable crawfish dip with bread.
They had a variety of entrees but we were in the mood for seafood so we went with the local drum fish. I had mine served on top of tasty grits as the other preparation had bell peppers which I don't eat. We had a side of crispy brussels sprouts, which went well with the dinner.
Not to miss where the beignets- the best we had in the city and you'll go crazy for as "T" told us as it came with a side of caramel sauce and cinnamon sugar that you dip them into.
The manager, Molly,  came and checked on us as we had a great dining experience that we highly recommend. https://www.3rdblockdepot.com/
1000 Figs– this quaint Mediterranean establishment is located a couple blocks away from the Jazzfest fairgrounds and definitely worth a visit anytime. I was greeted by Gavin, the owner.  The menu is not super big, but you can guarantee a delicious meal as I loved the falafel's most.
They also have a marinated dark meat, chicken platter, and the meals come with a slaw salad, homemade bread, and one of their awesome dips. I recommend getting a few other size dips. do not miss the creamy hummus. The whip, feta, tzatziki & baba ghanouj we're all just fantastic as well. https://www.1000figs.com
Superior Seafood & Oyster Bar
This place is amazing and is my favorite restaurant in New Orleans with no disrespect to any of the others I went to and covered.  There is a reason it's always packed in there. The atmosphere is electric and the service is top notch. My server, Charlie, was on top of it checking in often and replenishing my water while providing some great dining tips. The managers, Derek and Patrick were very welcoming and hospitable to everyone as I noticed them going around to most tables, checking in, which shows the effort and customer contact. Now I will get to the food. I'm not a raw oyster fan but had to try the cooked Oysters recommended by Patrick.  I must say these are the best charbroiled oysters I've ever had. If there's any dish not to mess, this is the one.
For the other dishes, I had the shrimp risotto with pesto and added some crawfish.  The blackened red fish was the best I had in New Orleans. It was served with fingerling, potatoes and vegetables. Try one of their signature drinks to enhance the meal.
I started with the run rum cane cocktail & Derek brought out a nice glass of white wine to pair with the fish. End with one of their signature desserts and if you like carrot cake, it's a must here.  There are TVs around the restaurant and in the bar but don't let that fool you as the cuisine is top notch or should I say "superior".   https://www.superiorseafoodnola.com/
Antoine's 
Antoine's is one of the most iconic and longest running restaurants in the city.  The French theme delivers some exquisite and great food. I went there for the jazz brunch and the jazz was mostly in the front room. I tried some of their popular dishes, including two types of charbroiled oysters. You can split them with a variety of ways they make it so I tried three of their Rockefeller with secret sauce and three with butter and cheese, which is the most popular way they're cooked out here. Both very divine and I highly recommend them.
They have a variety of brunch dishes, but I went with the fresh pompano grilled fish served with asparagus and onion and rice with a side of cream spinach. Don't miss a side of their pomme souffle, the French take of a puffed up french fry served with a tasty sauce.
Take a look around to see other photos, rooms & the history of this place before or after a meal. The atmosphere is upscale and very nice while the service is top-notch. Whether you are coming for brunch, lunch or dinner, you are guaranteed to have a great dining experience.  https://antoines.com/
Curio–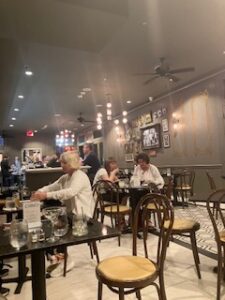 Located in the French quarter on Royal Street, this establishment has some great food and ambiance. I was greeted by Chad, the manager, as I walked in and sat in their front room in a booth. There's also bar seating with sports playing on the TVs. It was raining so I was a mood for something hot and had the French onion soup which was delicious.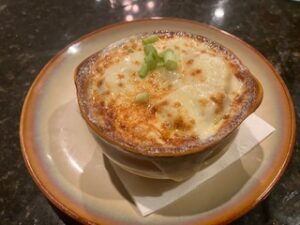 I was by myself so I could only get so much food to try but go for the gulf shrimp caprice salad with greens, tomatoes, and mozzarella cheese & balsamic dressing. The highlight of the night was the blackened red fish served with mustard greens and topped with crab meat. This dish is not to miss and one of the better fish I had a New Orleans during my stay.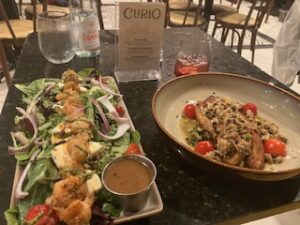 Try one of their signature cocktails to enhance the meal. Overall, I would recommend Curio on your next visit to the big easy. https://curionola.com/
Always fun is the Hard Rock Cafe-
Their New Orleans restaurant is in the French Quarter. An array of finger food, appetizers, signature burgers, salads and more.
We had the Cedar Plank Salmon which was fantastic and their healthy salad with chicken and other greens. https://www.hardrockcafe.com/location/new-orleans/
Kingfish Kitchen & Bar–
This restaurant has been in business over 20 years and is the sister restaurant of Curio. It's a nice intimate vibe with a cool atmosphere. The bar sits in the middle with TV showing sporting events but they serve us some delicious food. We started with the crawfish bread and super tasty fried green tomatoes with gulf shrimp on top and delicious sauce.
You can't go wrong with the fresh fish of the day which was swordfish served with brussels sprouts, or the blackened catfish with your choice of side.  The salad went well with that and we had the seafood au gratin to accompany the meal which was a cheesy casserole with crab, crawfish & shrimp.
Enhance your meal with one of their tasty signature cocktails, wines or beer. To end we try the cheesecake and my favorite the bourbon pecan pie with vanilla ice cream. Overall a fantastic dining experience and not to be missed on your next visit to New Orleans.  https://kingfishneworleans.com/