Biryani Based Banana Leaf in Culver City
(Todd Elliot) Indian restaurant featuring authentic regional cooking are rare.  This makes owner-chef Sri Sambangi's South Indian Cuisine of Banana Leaf Restaurant more than welcome.  And Sri is so passionate about sharing, he has created a tempting menu that changes often and highlights regional specialties. There is even a map and photos on the wall!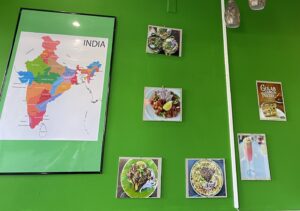 And he is so happy to not only answer questions about the food but explain how it is made.  He even brought out  whole spices he uses to cook the moist, tender rice from the kitchen.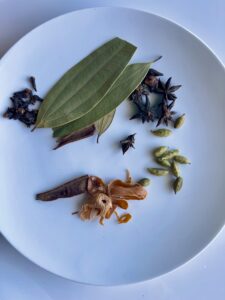 On hot days, cool drinks are so welcome.  Mango lassi's are the usual drink.  Sri instead prepared a Fresh lime soda made with lime juice, salt, Perrier and ice.  He also served Ginger lime cocktail made with fresh ginger, lime juice and celery!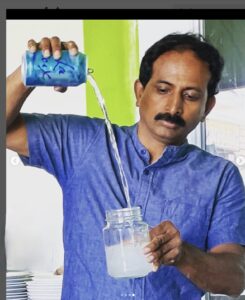 The plant-based dishes of a  tasting-menu lunch start with the novel Stuffed Okra topped with chopped peanuts and cashews  is flavored with turmeric, coriander, cumin, red chili and salt.  Its  light and crunchy texture a surefire way to get anyone to eat this healthy vegetable with a reputation for being gluey if not cooked right.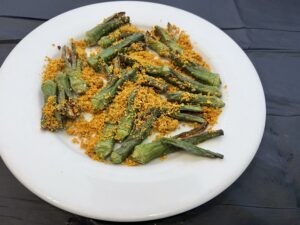 Tasty Mango dal is a favorite dish from Andhra Pradesh.  It is  made from green (unripe) mango cubes cooked with toor dal (yellow lentils) and served with rice.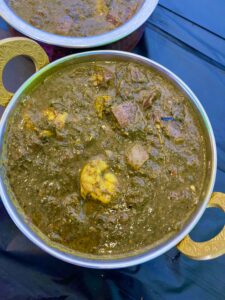 Kachumber salad is another cooling dish for the summer, especially because it is oil-free.  In it are chickpeas with finely diced cucumber, red onion, tomato, cilantro, lime juice and salt.
Indian rice is unique and aromatic rice.  Here Basmati rice is cooked with sautéd onion, ginger and garlic, along with star anise, green cardamom, mace, whole cloves and Indian bay leaves and topped with chicken.  The bay leaves are unique to India and not the general type.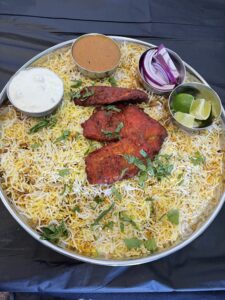 Banana Leaf now has 20 kinds of Hyderabadi Biryani, including the "mandi type" which originated in Persia, traveled the Persian gulf area to Arabia and circled back to southern India.   – In the signature "dum biryani,"  rice and ingredients are cooked separately and not in layered in one pot and cooked overnight.
There's a lunch menu too, and a late-night menu served until 1 am on the week-end. It includes appetizers, non veg curries, vegetarian curries, rice dishes, breads, desserts and drinks.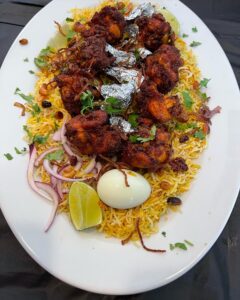 701 W. Cesar E. Chavez Ave., Suite 107, Los Angeles, CA 90012. (213) 372-5590.
10408 Venice Blvd., Culver City, CA 90232, (310) 838-2130.
2302 Artesia Blvd. Ste:A. Redondo Beach, CA 90278 · (310) 540-0777.