Visiting Nayarit, Mexico Travel Destination via JetBlue- July 2023
The JetBlue Experience
JetBlue is New York's Hometown Airline®, and a leading carrier in Boston, Fort Lauderdale-Hollywood, Los Angeles, Orlando and San Juan. JetBlue, known for its low fares and great service, carries customers to more than 100 destinations throughout the United States, Latin America, Caribbean, Canada, the United Kingdom and France. JetBlue will add Amsterdam this summer. For more information and the best fares, visit jetblue.com.
On your flight, you will get a taste of the JetBlue Experience, offering JetBlue's unique combination of low fares and award-winning service to customers.
JetBlue's Core experience features the most legroom in coach, live television and on-demand entertainment on every seatback, free and fast Fly-Fi broadband internet, complimentary snacks and soft drinks, and great customer service. Find high-res photos and a fact sheet in our media room.
Customers who book directly through jetblue.com are guaranteed to find our best and lowest fares, and enjoy additional benefits including access to all of JetBlue's fare options, as well as fare sales and promotions, some of which may not be available through other third-parties; the ability to earn 2x TrueBlue points and participate in Points Pooling; seamless seat selections and upgrades to Even More® Space; 24/7 direct access to JetBlue's customer service channels; and more.
JetBlue Social Handles
Instagram: @jetblue
Twitter @jetblue  
Facebook: jetblue
The direct flight on Jet blue from LAX to Puerta Vallarta was super convenient and only about 2.5 hrs total. Our trip had some delays and rain the first day but overall Nayarit was a very cool region to visit in Mexico. I hadn't heard much about it, but it is in the top five destinations places for tourists in Mexico. Our host, Christian drove us to Saululita, which is a popular beach in Surf town. We had lunch at Don Pedro's and enjoyed a variety of Mexican dishes. I had a tasty shrimp entree with a side of black beans. Their house favorite was the carne Asada.
Unfortunately, it started to rain so we could not walk around the town (however we did get to visit on our way back the from Composte when it was not raining).
We drove back to our hotel the enormous Grand Velas Riviera in Nayarit.  I've never seen a Hotel this big with the amount of land, beach and property.  The room was immaculate with a view of the beach and ocean with a great bathtub & comfortable bed.
The service is a little slow for how nice the hotel was but I made the best of it and went for a fantastic workout in the biggest gym I've ever seen in any hotel.
They have many restaurants onsite.  We all ate at La Catina the last evening and it was a gourmet Mexican feast.  In the morning I woke up and went straight to the beach to jump in the ocean. It was the warmest water temperature I've ever felt a proximately 82-84°, but I only suggest going in if you are a strong swimmer as we there are some medium waves to get by but well worth it if so. Before we headed out, it was time to enjoy their huge buffet brunch.  They had every dish you can think of including breakfast & lunch dishes including sushi but I stuck to the regular omelet station with bacon, side of fruit, & a bagel with lox and cream cheese.
It was time to check out and we drove to Compostela, a small town about 2+ hrs away.
We first visited the owners of Café Molote where they have their plants to make coffee before heading to eat lunch at an authentic Mexican restaurant.
The group shared quest fundido with homemade tortillas and I enjoyed some tasty fish with rice & refried beans (pictured above)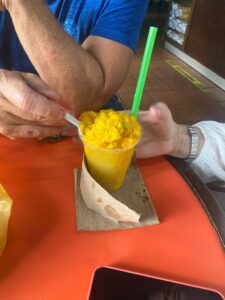 Before heading off, the group stopped at a dessert place that was famous for Respaldo (pictured above), the Mexican shaved ice dessert with fresh fruit and specialty toppings of your choice.
It is time to head to our next destination Jala where we checked in at the Nukari Boutique Hotel and took a little walk around this cute town with cobblestone roads. We visited their museum as they are famous for all types of corn.
We stayed at the hotel and enjoyed a delicious dinner on the rooftop with a surprise appearance by Miss Mexico stopping by for a short photo shoot. The staff brought out an array of dishes for us to share including another great entree of their fresh fish, a side of the famous corn and a couple octopus tacos.
NAYARIT
https://visitnayarit.travel/
https://www.instagram.com/visitnayaritmx/
https://www.facebook.com/visitnayaritmx
GRAN VELAS RIVIERA NAYARIT
https://vallarta.grandvelas.com/
https://www.instagram.com/grandvelasnay/
https://www.facebook.com/gvrivieranayarit/
QUINTA NUKARI BOUTIQUE
https://hotelnukari.com/
https://www.instagram.com/nukariquintaboutique/
https://www.facebook.com/nukariquintaboutique