Trio Restaurant in Palm Springs offers a new chef & menu- Just delectable- November 2023
Trio restaurant, situated in downtown Palm Springs, has recently undergone a transformation in its menu and overall concept. Tony, the owner, has brought in a new chef to introduce some remarkable culinary changes, resulting in an incredible dining experience. Their commitment to using farm-fresh, locally sourced ingredients shines through in both their appetizers and main courses.
To kick off our meal, we started with the ahi tuna Crudo, complemented by Yuzu vinaigrette, creamy avocado, and a delightful touch of sesame. We also ordered the Local Lettuces salad, featuring delectable ingredients such as Grande Burrata, baby beets, Hungarian peppers and pine nuts. Notably, Trio now offers homemade pasta, and our amiable server (pictured above), Josh, suggested the Gemelli with summer vegetables, pistachio pesto, and truffled pecorino. It was a cheesy and utterly delicious delight.
For our main courses, we relished the perfectly cooked Waygu New York strip steak, adorned with a flavorful green mole sauce, a side of corn succotash, and perfectly grilled onions. Equally enticing were the succulent diver scallops, artfully prepared with chanterelle mushrooms, artichoke, scallions, and arugula. Both dishes were exemplary choices, and we thoroughly enjoyed them. To complement your meal, don't miss out on one of their signature cocktails or a finely selected glass of wine.
And, when it comes to dessert, make sure not to skip the pistachio gelato, a delightful surprise we had never encountered before. It proved to be a superbly tasty conclusion to our meal.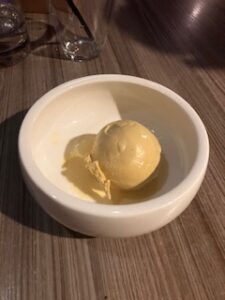 Whether you're looking to unwind during their daily happy hour at the bar area or prefer a cozy seat indoors or outdoors, Trio offers an exceptional dining experience that is sure to leave you completely satisfied and enamored with their culinary offerings.
Assisted by Lisa Koff