Dance Collective's LA premiere of Son of the Wind Features World's Leading Kathak Artists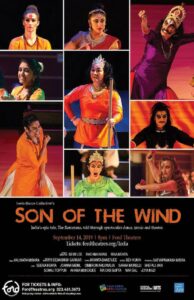 (Gerry Furth-Sides, photos and content courtesy of Leela Dance Collective) Leela Dance Collective's Los Angeles premiere of Son of the Wind brings together the world's leading powerful, all-female kathak dancer troupe to charter new and unprecedented directions as they play roles both male and female.   Saturday, September 14 at 8:00 p.m. at the outdoor  Ford Theatres.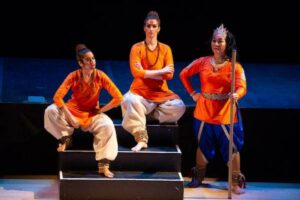 Kathak, from the word "katha," means story. The kathakas were storytellers in ancient India that travelled from village to village telling the stories of the great Hindu gods and goddesses.  Son of the Wind is a classic, tour-de-force kathak dance drama centered around the adventures of Hanuman, the infamous Hindu god who proves to be a central force in the timeless and universal battle between good and evil as told in the Indian epic, the Ramayana.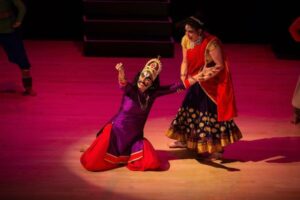 The show provides an opportunity for audience members to experience kathak in its full expression – as dance, music, theater, poetry, mime – integrated into one. The production is directed by Pandit Chitresh Das' senior disciples, Seibi Lee, Rachna Nivas and Rina Mehta. The show features an original score along with an ensemble featuring some of India's finest musical artists.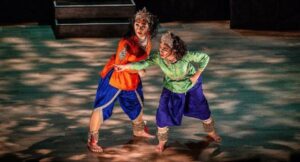 Says Seibi Lee of her experience directing Son of the Wind: "Here we find ourselves as kathak artists reaching, bending, pushing and pulling as we attempt to bring to life in a multi-dimensional manner the lovable, loyal, brave, compassionate, innocent, warrior that is Hanuman."  Co-director Rina Mehta adds, "With Son of the Wind. We have chosen to be warriors, vanaras, demons instead of pretty women in pretty costumes. We have chosen to be artists."
According to South Asian Studies scholar Philip Lutgendorf, who attended the world premiere of Son of the Wind in 2017, "As a Ramayana scholar who also enjoys dance, I was struck both by the production's sophisticated conception and by the professionalism of its execution by an all-female cast… Given that traditional lila performances of epic stories in India generally feature exclusively male casting, even in female roles, the gender reversal here was striking, especially given the predominant martial mood (vīra rasa)….. (which was) powerful and effective, the costuming and makeup so beguiling, that I forgot about gender during the show."
Son of the Wind takes place on Saturday, September 14 at 8:00 p.m. Ticket Prices start at $35 for adults; $25 for Children (12 and under); $25 for students, on-site. For individual and group reservations and information, call (323) 461-3673 or go to www.FordTheatres.org.   The park-like Ford Theatres are located at 2580 Cahuenga Blvd. East Hollywood, CA 90068 (just off the 101, between Hollywood and Universal Studios in the Cahuenga Pass). Onsite parking is limited and stacked. $12 per vehicle for evening shows.    For a complete season schedule, onsite dining options, directions,  location and additional parking, please see www.FordTheatres.org.
The critically acclaimed Leela Dance Collective was founded in 2016 by Rina Mehta, Rachna Nivas and Seibi Lee, senior disciples of legendary kathak master Pandit Chitresh Das, along with leading kathak performers Sarah Morelli and Shefali Jain. It is the only one of its kind Indian-American dance company that brings together leading kathak artists from around the world representing a multitude of voices to articulate a clairvoyant vision for kathak.    For more information about Leela Dance Collective visit theleelainstitute.org.