Sun Valley Ski Resort in Idaho incredible mountain options, Lodging, Dining- Feb. 2021
I just returned from a recent ski travel visit to Sun Valley, Idaho.  The conditions were great and the convenience, quality and lack of crowds were all bonuses as I came midweek. This resort is one of the better options Ski Resorts on the West Coast all around from skiing, dining and lodging with convenience and not needing a car.
Sun Valley Ski Resort. The main mountain is bald mountain at River Run.  Take the gondola up to start your day and choose from a variety of great runs and terrain. Warmup on college run and head to the Christmas chair.  From there, it's your choice between green, blue or black runs.  They groom many of the main runs but there are plenty of other snow and places to go check out.  Most all of the chairs are high speed and usually no lines at all midweek.  Warm Springs is the other popular place to go and the sun hits there in the afternoon on blue sky days.  My favorite runs were cozy and Hemingway all the way to the bottom.  Limelight black run is a bit more challenging but great if it is groomed.  Don't miss the long blue Broadway run which is exhilarating as you can breeze down with the wide mountain area.  Excellent long fun run. All the staff on the mountain were friendly and helpful.  
Sun Valley is underrated comparing to other top resorts and I highly suggest a ski trip here. Baldy is our big-time mountain. Boasting perfect-pitch vertical from peak to base, Bald Mountain has no flats, no plateaus and nothing but downhill. And with the barely-there lift lines, there's plenty of time to make as many turns as your legs will allow, usually under a sun that shines for 80 percent of the year. With runs ranging from expert to beginner, groomers to slalom challenges, Baldy is a mountain for people who like to go down, no matter how fast or what they strap to their feet.
If you want to try a less crowded and more beginner mountain with many groomed runs and great snow, head to Dollar mountain about 15 minutes away.  The runs are short but a great place for families or anyone wanting more space or lessons. They did have a few steep areas of ungroomed terrain but they all lead back to the main dollar chair.  Definitely a smaller place but worth the visit especially for kids or beginners. Dollar Mountain is where skiing learned to ski. The home of the world's very first chairlift, it now has 76 rails, along with beginner-friendly slopes, five lifts and 628 feet of vertical on a treeless, sun-kissed face. Every snow lover, no matter their skill level, will find something on this mountain that will put a grin on their face and some fresh tracks behind them in the snow.
To many, Sun Valley has special powers, but a lot of magical things do happen there. The slopes on Bald and Dollar mountains enjoy a nearly lift line–free existence all winter long, not to mention a nearly cloud-free one. Plus there's a 26,000-square-foot family center with everything from lessons to rentals to lockers. Their restaurants have menus loaded with fresh gourmet options from inexpensive to luxury. In summer you can hike, bike, fly-fish or golf in the morning, bowl a few frames in the afternoon, and still catch the sunset from 8,000 feet at the Roundhouse before catching a jazz show. We don't like to brag, but we do think there's something out of the ordinary going on in these hills.   More at www.sunvalley.com
The Nordic Center–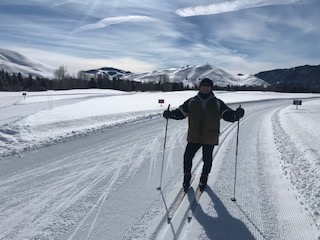 Looking for another activity besides down hill skiing that is easier on your legs if you want to take a break one day or try something new?  If you haven't tried snow shoeing, they provide the equipment and an affordable ticket to walk around the trails.  You can make it as easy or hard as you want to depending how fast you go.  Steve, in the pro shop was engaging & eager to talk about this activity and Nordic skiing.  They offer lessons or just rent a pair and check it out. You  get the hang of it if you have any coordination.  The classic style is easier than the skating style. Both were unique & incredible workouts.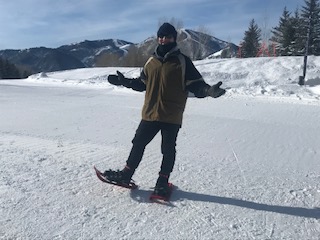 There are specific Nordic trails and I have a new found respect for this sport and these specific athletes. www.sunvalley.com/things-to-do/nordic-skiing
Lodging: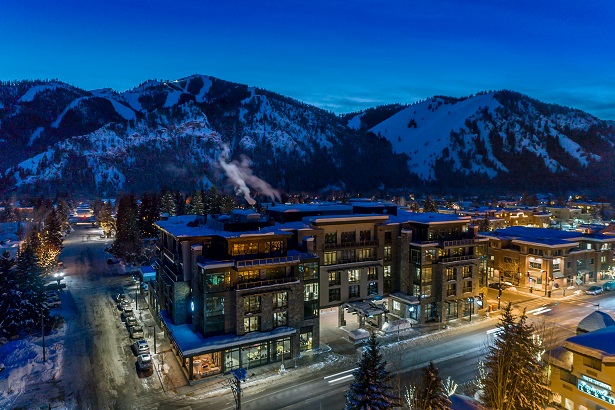 above photo by Margaret Gribbell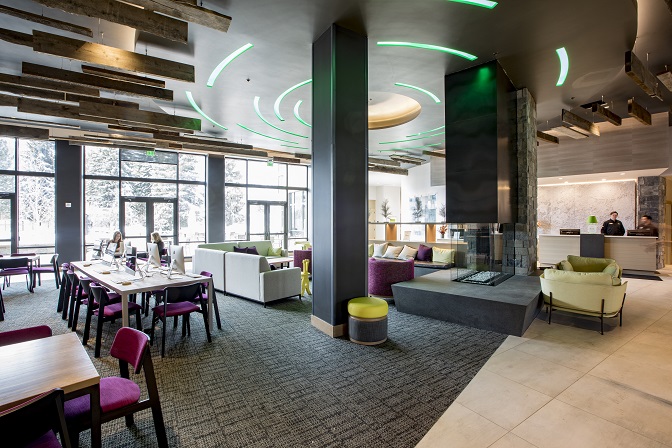 Above Photo by Tucker Vest Burton
My first stop was the beautiful Limelight Hotel after my direct flight from LAX to Sun Valley as I arrived in just over 90 minutes.  The Limelight shuttle picks you up and it is about 20 minutes to the hotel.  After checking in with the friendly and hospitable staff, I relaxed in the beautiful, spacious room.  I then headed for a little workout in their fitness center right near the lobby filled with cardio equipment, exercise equipment and free weights.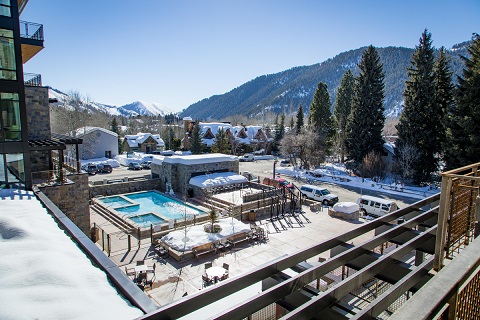 above photo by Tucker Vest Burton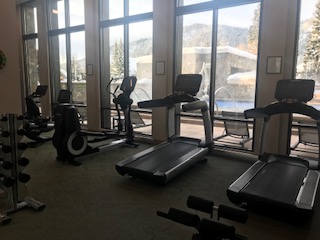 They have an adjacent heated pool and two jacuzzis right outside, which I visited the next day after skiing.  The bed was very comfortable and the modern design of the room and hotel were fantastic. Marketing manager Tim Johnson told me The Limelight brand hotels are popping up all around ski resort destinations as that is what they are known for.  I can see why as they cater to the ski travelers needs and experience.  They have a nice restaurant and bar in the lobby and the all inclusive breakfast is the best I have ever had at any ski resort or hotel.  They change some of the hot dishes daily but the eggs, potatoes, bacon and other dishes/pastries were off the charts. They believe in high quality and it shows even coming at a higher expense. 
More info below about the Limelight Hotel as I highly recommend your stay here.  Their free shuttle provides transportation around town and to the ski area.
Limelight Hotel Ketchum—The Limelight Hotel Ketchum features 99 hotel rooms, 14 residences with 12 lock-off units, plus a lobby lounge with bar and restaurant. Modeled after the company's existing property in Aspen, Colo., the hotel is in close proximity to downtown shops and restaurants as well as Sun Valley Ski Resort's River Run Base area. The hotel is consistent with the Limelight brand featuring amenities and extras such as an expanded continental breakfast, après ski deals in the Lounge, adventure activities for guests as well as pet-friendly rooms.
Hotel Facts
·Address: 151 S. Main St. Ketchum, Idaho
·5 minutes (1 mile) from Sun Valley Ski Resort/River Run Base Areas
·12 miles from the Friedman Memorial Airport—SUN in Hailey, Idaho
·99 hotel rooms including 6 suites (49 rooms with 1 King Bed and 50 rooms with 2 Queen Beds)
·14 residences with 12 lock-off units
Hotel Amenities
·Complimentary shuttle service to-and-from the Hailey Airport, Complimentary shuttle service to Sun Valley Ski Resort as well as around the town of Ketchum, Idaho, Expanded continental breakfast with a rotating hot dish, On-site fitness center with Peloton Bike, Complimentary lockers and self-service ski storage, Signature Lounge complete with a large bar, shuffle board, games and live music stage, Outdoor hot tubs and heated pool, Multiple patio spaces, Outdoor fire pits, Complimentary use of snowshoes, Complimentary fat bikes
Complimentary Activities
First Tracks
Offering guests the chance to ski/ride freshly groomed corduroy or powder before Sun Valley's Bald Mountain opens to the public. Taking place every Friday, guests participating in the First Tracks program depart the Limelight Hotel at 8:15 a.m. in order to load the River Run Gondola at 8:30 a.m. Complimentary and available to the first six guests who register with the front desk and limited to intermediate/advanced skiers or riders as well as participants 18 years of age or older.
Galena Lodge
Galena Lodge is a community owned day-lodge nestled in the Rocky Mountains 23 miles north of Sun Valley and Ketchum, Idaho. The lodge is located in the heart of the Boulder Mountains and is open daily in the winter and summer seasons serving lunch, specialty dinners, and operating as home base for cross-country skiers, snowshoes, mountain bikers, and hikers. On Fridays, Saturdays and Sundays in the winter season, guests can receive a free roundtrip bus pass on the Mountain Rides bus which departs adjacent to the hotel. Guests can use the complimentary snowshoes provided by the hotel or rent cross-country skis at the lodge. The Galena Lodge-bound Mountain Rides is limited and guests must sign up at the front desk.
Snowshoe Tours
The Limelight Hotel Ketchum is pleased to offer guests complimentary snowshoe tours in partnership with the Environmental Resource Center of the Wood River Valley. Tours will take place Wednesdays with guests departing the hotel at 10 a.m. and returning at noon. Guests can register at the front desk and space is limited.
Audi Ride and Drive
Not all adventures are created equal. Together with Audi of America, the Limelight Hotel offers its guests the opportunity to explore Ketchum in pure luxury. Guests can get behind the wheel of a new Audi and enjoy the quattro® all-wheel drive technology. These complimentary test drives are limited to one 2-hour reservation per stay.
Audi Snowshoe Adventure
Limelight Hotels have paired with Audi to bring guests a snowshoe adventure. Guests can check out the keys to an Audi vehicle stocked with snowshoes for up to 4 hours and head out on a self-guided snowshoe tour in the Wood River Valley. The adventure concierge at the Limelight can provide a map and the best suggestions for ability. Safety Precautions
Limelight Hotels will continue to meet (and even exceed) governmental guidelines where possible, and has implemented the following policies to increase the safety of guests during COVID:
·All staff wearing masks for the foreseeable future, Implementing social distancing in common areas, Offering public hand-sanitizer stations in prominent places, Pre-packaging our daily signature breakfast for safety, The use of rigorous protocols by housekeeping for guest-room cleaning (including the use of hospital-level disinfectants), And the use of electrostatic sprayers throughout the hotel to sanitize surfaces
More at www.limelighthotels.com/ketchum
The Knob Hill Inn is located in town and a nice place to stay.
The rooms are exquisite with plenty of space and the most comfortable bed for a great nights sleep. It is very quaint with a homey feel. Staff man Nick was very helpful from his shuttle driving to start & light your wood burning fireplace. High end TVs and nice décor in the rooms. They have a nice indoor heated pool and sauna. Get a ride to and from the mountain or around town in their shuttle by calling the front desk. The Grill at Knob Hill is located right inside but separately owned. More at www.knobhillinn.com
Wood River Inn & Suites – located in Hailey less than 10 minutes from the airport, this accommodation is a great place to stay when arriving or the day/night before you depart.  The rooms are very spacious and comfortable. 
Ask for a fireplace room  if they are available.  Other amenities include a small refrigerator, microwave, coffee maker, heated pool & jacuzzi, fitness room and complimentary breakfast.  They include free airport service to and from. The staff are very friendly and welcoming.  If you need to get to sun valley or any other destination, wood river taxi is nearby  (run by Mo who is very prompt and accommodating. 
Have a chat with him about his massage therapy days for Bob Hope & other celebs as he has some great stories) More at www.woodriverinn.com & www.woodrivertaxi.com. 
DINING:
Smokey Mountain Pizza is a great, casual place to dine and just a few blocks from the Limelight Hotel.   Their pizza is a must but also try their tasty chicken wings & one of their healthy salads. The manager John and his friendly servers and bartenders make this a nice place to dine and enjoy. 
They have a wide variety of pizzas and calzones and I suggest their new Parmesan baked crust you can add to any of them.  The atmosphere is relaxing and you can take in a sports game on one of their TVs while you are there. www.smokymountainpizza.com/locations/ketchum-sun-valley-road/  
A Taste of Thai is also a few blocks from the limelight and you are in for a treat.
The flavors and variety of dishes are mouth watering.  Some are a bit spicy so let your sever or the manager Matt know as he does it all from greeting, seating, serving and helping with the popular takeout orders.
My favorite dishes were the pad see ew drunken noodles with seafood the tom yum soup that is a bit spicy if you enjoy that and the not to miss shrimp in the clay pot over thin noodles with veggies and a special Thai sauce out if this world.  Some of the better Thai food I have had anywhere. 
More at  www.atasteofthaiketchum.net
Grill at Knob Hill– one of the all time best restaurants I have ever dined at.  
Chef Sara he created a unique and diverse menu for all types of diners.  From seafood to poultry, meats and vegan/vegetarian, they have it all. The quality is as good for any ski resort and I have been to deer valley, which is known to be the best.  It's no wonder why they have many repeat guests and celebs reserving.  
They start you off with their famous popovers, which are like savory donuts served with honey butter.  They are hard to stop asking for another one, trust me.  For starters, don't miss the lightly breaded but grilled calamari, which melts in your mouth.  They rotate their soups of the day but I tried the beet borscht and it was very tasty yet healthy.   You cannot go wrong with any of their entrees but I had to go for the fresh Idaho trout. It was the best I ever had.
Add a king crab leg and enhance your meal with one of their wines.  The berry crisp was a great way to finish the meal.  Just outstanding.  The service & fine dining atmosphere was perfect.  Do not miss this over the top dining experience on your next visit to sun valley.  The owners used to have a restaurant at warm springs at the ski resort but that closed and this one opened. More at www.knobhillinn.com/the-grill-at-knob-hill/
Also in town is Rickshaw (an Asian fusion influence). 
This establishment is only doing takeout at the moment but check their website to see when in person dining is back.  A definite stop to call in your order for pickup as you will be greatly satisfied.  The Asian greens full of bok choy, mushrooms and onions and the veggie udon noodles were my favorites.  The menu is diverse with many great options like the honey cashew nut shrimp, tofu with eggplant and other noodle, chicken and rice dishes.  More at www.eat-at-rickshaw.com
Photos by Todd Elliot unless noted above.