Palm Springs Attractions- Aerial Tram, Boomers Amusement Park, Art Museum- April 2022
Palm Springs Attractions:
Looking check out some fun attractions on your next visit to Palm Springs? Start with the Palm Springs Art Museum which has a variety of exhibits that change every so often. The pure,beautiful, simple glass forms exhibit with all types of blown glass structures into different objects. Also Leon Polk Smith exhibit with all of his demonstration art. There are three floors a lot of interesting art to check out. The current exhibits rotate every month or so and it is free entrance on Thursdays. The ongoing suspended in time upside down car and huge Marilyn Monroe statue are nearby to check out. https://www.psmuseum.org/
Looking for excitement, head over the Boomers in Cathedral City.
This amusement park has a ton of fun from go carts, mini golf, water bumper cars, batting cages, a rock climbing wall and inside arcade. They have options for two, four hours or all day passes. Bring your whole family and enjoy a great day. If it's hot, start with the go carts and mini golf and then heading to water bumper boats to cool off as you get drenched in there but it's very refreshing. Easy parking in the adjacent parking lot and the most fun in the desert.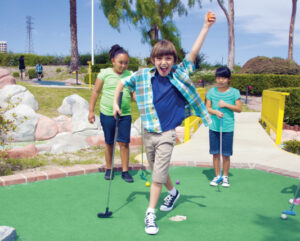 https://www.boomerspalmsprings.com/
One thing not to miss and a staple is the famous Palm Springs Aerial Tram you need reservations many times and you can make them online. The tram takes you from the bottom to the top in about 15 minutes and there's a crew member providing information on your ride up and back down. Once you're up there you can find many great hiking trails, beautiful views, and fantastic nature. Note that it will be about 20 to 30° cooler than it is in Palm Springs so be prepared. There is a dining room,  gift shop and green screen photos if desired. Overall it's a great adventure and definitely recommended.
The Palm Springs Aerial Tramway—the world's largest rotating tram car—travels over two-and-one-half miles along the breathtaking cliffs of Chino Canyon, transporting riders to the pristine wilderness of the Mt. San Jacinto State Park. During your approximately ten-minute journey, tram cars rotate slowly, offering picturesque and spectacular vistas of the valley floor below. Once you reach the Mountain Station—elevation 8,516 feet—enjoy two restaurants, observation decks, natural history museum, two documentary theaters, gift shop and over 50 miles of hiking trails. https://pstramway.com/