Mrs Krishnan's Party and Acrobuffos Air Play at the BroadStage Santa Monica- Preview, Review, Tickets- July 2022
Summer 2022 at BroadStage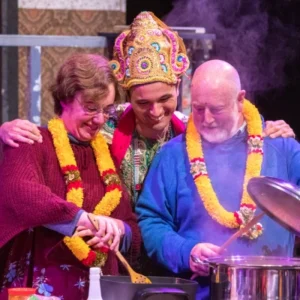 INDIAN INK THEATRE COMPANY
Mrs. Krishnan's Party
July 8 – 24, 2022 | The Edye at BroadStage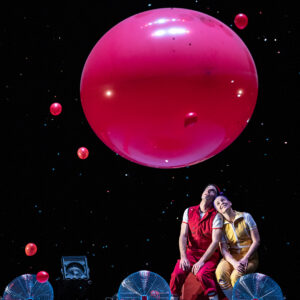 ACROBUFFOS  Air Play
July 21 – 31, 2022 | Mainstage, BroadStage
Tickets available at broadstage.org
Santa Monica, May 3, 2022 — BroadStage presents two theatre companies for Summer 2022 – Indian Ink Theatre Company production of Mrs. Krishnan's Party for seventeen performances July 8 to 24 and the Los Angeles premiere of Acrobuffos' acclaimed Air Play for 12 performances only July 21 to 31 on the BroadStage Mainstage.  Tickets for both are available at broadstage.org.
A circus-style adventure of two siblings journeying through a surreal land of air, Air Play transforms ordinary objects into uncommon beauty.  It is a visual poem, using no words, and brings to life the very air we breathe.
Great for ages 5 to 105,  Acrobuffos creates beauty and inspires laughter across cultures and continents.  Here umbrellas fly, fabrics soar over the audience, balloons swallow people, and snow swirls, filling the stage.  With stunning images and gales of laughter, Air Play bounces on the edge of definition: part comedy, part sculpture, part circus, part theater.
Created by circus performers Seth Bloom and Christina Gelsone in collaboration with kinetic sculptor Daniel Wurtzel, Air Play was devised through years of experimentation with simple materials, movement, and technology.  With no translation necessary, Air Play — touring the world since 2015 and been seen by 150,000 people and counting — has played from the southernmost opera house in the world in Chile, to London's Royal Festival Hall, Melbourne's State Theatre, Shanghai's Grand Theatre, and continues to tour.
Indian Ink has won multiple awards in New Zealand and two Fringe First Awards at Edinburgh; it blends western theatrical traditions with eastern flavors in pursuit of 'serious laughter.' Live music, heightened theatricality, humor, pathos and great storytelling are hallmarks of their work.
At Mrs. Krishnan's Party the audience is invited to step into the back room of Mrs. Krishnan's convenience store where garlands decorate the ceiling, music flows and Mrs. Krishnan is throwing a party like no other.  Food simmers on the stove (which the audience enjoys as the show's finale), laughter abounds and strangers become friends in this joyous celebration of life.
As the actors juggle music, guests, dancing and cooking, the audience becomes involved in an unfolding drama where no two nights are the same — at this show that has the critics raving, and audiences leaping to their feet.
The extraordinary artistic partnership of Jacob Rajan and Justin Lewis of Indian Ink is now comfortably in its second decade. Together, they have created a series of remarkable theatre productions of intimate scale, each one reminding us of the simple truths of life.
About Indian Ink Theatre Company
Indian Ink Theatre Company is one of New Zealand's most successful theatre companies with a reputation for "total theatre which offers humanity and psychological insight in a package of good plain laughs, luminous performances and brilliant staging" (Dominion Post, NZ).
For over two decades Jacob Rajan and Justin Lewis have pursued their idea of the 'Serious Laugh'- opening mouths with laughter in order to slip something serious in along with a love of mask and story. The company blends western theatrical traditions with eastern flavors and has been critically acclaimed for its use of live music, heightened theatricality, humor, pathos and great storytelling.
Together with a team of long term collaborators they have created an extraordinary series of plays that have won awards and delighted audiences throughout New Zealand and around the world. The company's international successes include tours throughout Australia and the USA, as well as sell out seasons in Singapore, Germany, India and the UK.
Indian Ink has won three Production of the Year awards, two Edinburgh Fringe First Awards, won Best Play, Best Composer and Best Actor at the Chapman Tripp Theatre Awards and broken box office records with tours throughout New Zealand, to Australia, Singapore and Edinburgh.
"We aim to make theatre that is beautiful, funny, sad and true. We go to the theatre to be transported by a great story and to enjoy characters who live large in our imaginations. We want the experience to leave an indelible imprint on your hearts. That's why we're called Indian Ink!"
About Air Play from Acrobuffos
Seth Bloom and Christina Gelsone​ are two clowns locked in a sibling-like dance of antagonism and affection. Their silent double act develops through playful physical comedy sequences, featuring balloons, that swell into shameless one-upmanship one moment, deflating into immature pranks the next. Spliced into the visual humor are Daniel Wurtzel​'s marvelous "air sculptures."
Seth and Christina said, "Audiences tell us that the wonder and discovery of Air Play are bold reminders of their own childhood and growing up, of friendship, sibling rivalry, loss, and memory, umbrellas and glitter, and the effect is pure delight."
Seth Bloom and Christina Gelsone met at a circus in Afghanistan, became engaged while street performing in Scotland, married in China, and occasionally go home to New York City. Since 2005, they have created seven shows together, competed in international circus festivals, performed in over 25 countries, headlined at the Big Apple Circus, and were featured on a postage stamp. Christina is a former ballerina who graduated from Princeton to become a clown; Seth is a former juggler who graduated from three clown schools, including an MFA in physical theater.
The New York Times – "Hardly your average clowns….making magic out of thin air."
Sydney Morning Herald — "★★★★ (Four stars) Fun for all ages!  From the minute the curtain goes up on this buoyant fusion of wordless clowning and aerial spectacle, you feel as if you have stepped into an enchanted world somewhere between childhood and what comes afterwards, where normal rules (gravity included) have been temporarily held at bay … A joy from start to finish, Air Play will entrance children, and will act as a great reset button for stressed adults."
Hartford Courant – "You feel you're witnessing divine natural occurrences rather than carefully devised circus stunts."
A Younger Theatre – "The curtains open and we see a man holding on to a huge piece of light fabric, dancing in the air, moved by a circle of fans. The wonder begins and I suddenly feel like a child again, receptive to every single magical moment in Air Play."
INDIAN INK THEATRE COMPANY
Mrs. Krishnan's Party
July 8 – 17, 2022 | The Edye at BroadStage
Review of Mrs Krishman's Party-   Ever think or want to be part of a theater show without taking acting classes.  This fun and entertaining performance incorporates the audience to interact with the 2 star actors with questions and answers.  This adds to the show and provides some great humor as you never know what will be said or what is going to happen.  There is a story line but a few twists and fun and crazy stuff that happens.  Besides the interaction, all guests will enjoy some tasty food (Tasty and a tad spice Rice and Lentils) after the show that is made by the actors as party of Mrs Krishman's party.  What a great idea and we can see why this traveling show is a big hit to all theaters wherever it is playing.
ACROBUFFOS Air Play
July 21 – 31, 2022 |Mainstage, BroadStage
Where:                BroadStage, 1310 11th St., Santa Monica CA 90401. Parking is free
Tickets:                Online — www.broadstage.org/
Phone — 310.434.3200
In Person — Box office at 1310 11th St. Santa Monica CA 90401
Review of Acrobuffos-  So, you are an artist yourself, a creator, an innovator who supports their peers by going to see their shows. The thing is, you have seen it all.
And then, you go see Acrobuffos who understand the concept of: "less is more", and so much more it is!
Less superfluous fillers and more, way, way more airspace used.
As a member of any given audience, the average spectator is used to keeping their eyes on the few cubic feet covering the floor of the stage.
When every last bit of airspace above that stage is filled with most unexpected objects, shadows and movement is used to tell a story, to which you add all the space above, and even in between the spectators that the performers are not shy to occupy in person, your involvement is exponentially experienced.
Despite this prevailing extravaganza, I cannot emphasize enough how well these two comedians perform for the audience on an emotional level. Their sensitivity and perfect sense of timing gets you engaged from the first second to the last.
Just like the greatest storytellers, the pace between pensive introspection to burst of laughter among children and adults alike, is mastered to perfection.
It is because of their performance that the manipulation of their props, the obvious engine of the show, turns to Magic.
BroadStage gathers artists, thinkers and audiences to celebrate our shared humanity and expand the role the arts play in the vitality of our diverse community. BroadStage is an industry-leading performing arts producer and presenter located on the Los Angeles' Westside, providing a platform for the world's most compelling artists working the theatre, dance and music, and multidisciplinary artforms. Building upon its first decade, the organization is rising to meet a rapidly evolving set of needs for artists, audiences, community and campus, with the aim to advance its role as an invaluable cultural resource and artistic ambassador for greater Los Angeles.
A beacon of Santa Monica College (SMC) – one of the country's most progressive, diverse and accessible educational institutions – BroadStage harnesses the transformative power of the performing arts as essential to well-being and society. Established in partnership with SMC in 2008, both organizations are aligned on core values of creativity, learning, and belonging. With the leadership of Artistic and Executive Director Rob Bailis, BroadStage is strengthening its impact through a new artistic vision, an expanded venue footprint, and enhanced community activation. These activities invite a deeper relationship to the artists on our stage and to the work they passionately share.
More about Indian Ink Theatre Company
The artistic partnership of Jacob Rajan and Justin Lewis is now comfortably in its second decade. Inspired by a love of mask and story they continue to pursue their idea of the 'Serious Laugh' – opening mouths with laughter to slip serious ideas in. With a series of remarkable productions of intimate scale that blend western theatrical traditions with eastern flavors Indian Ink has become one of New Zealand's most successful theatre companies – with 13 national and international awards, significant critical acclaim, standing ovations and sell out seasons in New Zealand and overseas. Since 1997 over 410,000 people have had their lives enriched by these original plays.
Regarding Mrs. Krishnan's Party  — Justin Lewis says, "Everyone loves a good party; endless laughter, catching up with friends, dancing on tables. But what if you don't know anyone and feel self-conscious about your dancing?  Do you stay home or fake it till you make it?  Onam is such a great celebration because it shows there is more to happiness than just a smile, that to know joy you must also feel sorrow, without death there can be no rebirth.  Maybe a party can change your life; you may meet someone who gives you the courage to set yourself free or shows you the resilience required to be truly happy.
Jacob Rajan said, "For the uninitiated Krishnan's Dairy was the name of our very first play.  A love story set in a corner shop, the power of which caught everyone by surprise – including us.  That shop has kept its doors open for 20 years, touring the length and breadth of New Zealand and throughout the world, becoming as loved and cherished as a child.  The story you're taking part in tonight is somewhat of a sequel, but don't worry, you don't have to have seen Krishnan's Dairy to enjoy the party.  All you need is here, in the strangers that surround you and the imagination that abounds within, and the wonder of what's going to happen next.  That moment of not knowing, of being lost and confused, excited and a little scared is really what tonight is about:  change.  Something has to die in order for something to be renewed.  It's a tough lesson but a constant, existing at every stage of life and extremely present for us in a world that seems to be spinning ever faster.  Rather than bemoan how hard it is to get to grips with all this shifting sand we want to celebrate the new castles we will build from it."
JACOB RAJAN (Writer) is a founding partner of Indian Ink and co-wrote all of Indian Ink's plays as well as performing in many of them. He is a graduate of Toi Whakaari: NZ Drama school, Otago University (B.Sc Microbiology) and Wellington Teacher's College. Jacob is an Arts Foundation Laureate and a Member of the New Zealand Order of Merit (MNZM) for services to theatre.
JUSTIN LEWIS (Writer and Director) is a founding partner of Indian Ink. He has co-written and directed all of Indian Ink's plays. He was one of the founders of Auckland's Q Theatre and received a Kaupapa Oranga Award for his services to theatre. Justin is a graduate of the John Bolton Theatre School and the University of Auckland.
More about Acrobuffos
Seth Bloom spent his childhood in Kenya, India, and Sri Lanka. His college years were interrupted multiple times with national tours as a juggler and silent comedian. He worked extensively in Afghanistan with the Mobile Mini Circus for Children. Seth received his MFA in London for Lecoq theatre technique, and co-founded Split Knuckle Theatre, a 5-star physical theater company. He is a graduate of Wesleyan University, Ringling Brothers Barnum & Bailey Clown College, Dell'Arte School of Physical Theatre, and LISPA (MFA). He has performed in 30 countries and 49 US States.
Christina Gelsone grew up in Texas and has worked in 40 countries as a non-verbal clown, stilt walker, mask performer, juggler, puppeteer and acrobat. Previously a ballet dancer, she majored in Shakespeare at Princeton University and studied corporeal mime at the Dell'Arte School of Physical Theatre. For many years, she worked with New York City-based Bond Street Theater in multiple post-war zones. Other professional adventures include starting a social circus program in Egypt, creating curriculum-based comedy and teaching at universities.
Forming a professional partnership in 2005, Christina and Seth have built a reputation for making original work that challenges genres and mines big laughs with no words.After minor back injuries in 2007, Christina and Seth were forced to make a new show without acrobatics.  The result was Waterbombs!, a ferociously hilarious water balloon gladiator show unlike any other performance played on the street.  Waterbombs! has now been seen in more than 25 countries.
Their first show, The Acrobuffos: Madame and Monsieur, a fast-paced, non-verbal mask comedy was developed on the street with the same conditions used centuries earlier by the original commedia dell'arte professionals. After performances around the world, the Madame and Monsieur eventually landed at the Big Apple Circus as the featured clowns in the 2012-2013 season.Other projects have included an oversized mask show, Cafe Goma, built in collaboration with Greg Webster of Split Knuckle Theatre, as well as piloting a circus program in Egypt with Plan International and Children's Cooperative, developing new comedic material for circus rings, and marriage.
Daniel Wurtzel is a Brooklyn-based artist best known for his kinetic sculptures and installations using air and lightweight materials that fly. He has shown his artworks at the Musée Rodin, the Grand Palais in Paris, the Tate Modern Turbine Hall, the Smithsonian National Portrait Gallery, the Cooper Hewitt Smithsonian Design Museum, the Museu Nacional d'Art de Catalunya, the Phillips Collection, Phaeno Science Center, and Kunsthall 3.14. Wurtzel's artworks are on permanent exhibition at Swiss Science Center Technorama, Copernicus Science Center, the World Expo in Astana, and the Museu do Amanhã in Rio de Janeiro. Wurtzel's work is featured on Broadway in Finding Neverland and with Cirque du Soleil in Amaluna. His paper tornado was center stage at the 2014 Sochi Winter Olympics Closing Ceremony in front of a worldwide audience.  Daniel has also worked with some of the world's most highly regarded theater directors including Julie Taymor, Diane Paulus, Robert Lepage, Zhang Yimou, and Michel Laprise.
Written by David Frison and Todd Elliot