Pilobolus Dance Co. at the Smothers Theater in Malibu on Jan. 25th, 2023- Preview, Tickets
Pilobolus Dance Company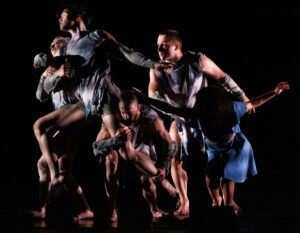 This Company began in 1971 by 4 men.  It began at Dartmouth College and is now based in the woods of Connecticut.  It is now comprised of 6 dancers: 4 men and 2 women, 2 artistic directors and 6 staff members.
I had the pleasure of interviewing Executive Director and Co-Artistic Director of Pilobolus: Renee Jaworski.  Renee was a dancer in the Company in 2000 and in 2011 was honored to be Artistic Director.  She facilitates workshops and programs for dancers and non-dancers. Rene holds the function of planning the Company's creative endeavors.
She and the company reside in Connecticut.  This was an intentional place for the company to be in due to its nature and non hustle of the city.  The dancers are attracted to the woodsy area.
As a young girl, Renee's mom put her in a dance class at 3 years old due to her being pigeon-toed.  She went on to dance in New York in modern, tap and also acting.
She auditioned  and was a dancer for Momix (an offshoot of Pilobolus). After 6 years and a baby, Renee took some time off and when she came back there was not a position at Momix.  She auditioned for Pilobolus as this was one of the top 2 Dance Companies' she wanted to work with.  She loved their work and studied it while at school.  What lights her up the most is having a community embraced in movement.  Dance is a communicative tool and the dancers come together to create things. People come together and work together collaboratively.
The dancers and directors focus on the human body as a communication tool: intellectually and physically.  The Directors allow the dancers to be creative and choreograph pieces. So, it is not always based on pure technique.  The dancers come from backgrounds that are physical but not your typical sports.  They are fencers, ski racers, ski jumpers, runners and hikers.  This brings a dimension into the dance pieces that is highly acrobatic with a flow.  This combined with  theatrical storytelling through movement gives Pilobolus a unique mark in the dance world. The humor, fun, athletic component brings a dimension that stands out.  Pilobolus has many friends in the Arts and collaborates with musicians, podcasts, graphic designers, writers and novelists.
Renee describes the most rewarding moment is when everyone is working towards the same direction to move towards the finish line: which is the completion of the dance piece.  While on this journey there is laughter, joy, beautiful moments, depth and connection.
The challenge is how the arts are valued in this country. They are questioned if needed in monetary value. The world is to realize art has value whether in art, clothes and Dance!
The audience after watching Pilobolus comes away with a new thinking and feeling: the Company moves in a way to aspire to telling human stories, human interactions and the audience feels the connection within their own life.
Alison Chase: their teacher gave them the freedom to explore, create and bring movement together into a piece.  They practice at least 5 days a week from 9am – 5pm minimally.  The Company employs dancers all year round which is not always common in the dance world. The pressure is to create something new 2 – 3 times per year.
Pilobolus has other aspects beyond their Company.
They began a Program: Connecting with Balance for seniors where they use their brains and eyes to connect.
They also have classes and workshops for dancers and non dancers.
They teach kids with mixed abilities physically and mentally.
Dance in the form of Art is a universal language.  Is it accessible and when one is in it they are present. One's mind lets go and their heart and soul shine through.  Dance is a connector.  We are in movement daily and combining this with music we are moved to and stories to be told is the key dynamic to inspire others.
The next show will be at the
Lisa Smith Wengler Center for the Arts at Pepperdine University
24255 Pacific Coast Highway. Malibu
January 25, 2023.
You can purchase tickets at