Lodging & Dining in Ogden, Salt Lake City, Utah, Skiing at 4 Resorts-Feb. 2023
Lodging: After flying into Salt Lake City, I rented a car and headed to Ogden, which was my first stop. I stayed at the Hampton Inn and Suites and it was consistent as usual. The room was very clean, and they had a full breakfast, fitness room, WI-Fi & nice decor. It is located in downtown Ogden and only 25 to 30 minutes drive to Snowbasin Ski resort and Powder Mountain ski resort.
They are connected to the Eccles Conference Center in the heart of downtown Ogden. Within a few blocks you'll find entertainment at The Junction, Peery's Egyptian Theater, and Ogden Amphitheater. Over a dozen unique local restaurants are nearby, while MarketStar, the IRS, US Forrest Service, and Weber State University are a quick walk away. https://www.hilton.com/en/hotels/ogduthx-hampton-suites-ogden/
The Townplace Suites by Marriott-
Located in downtown Salt Lake City is a great place to stay on your next visit in town. Theis Friendly staff, clean rooms & amenities make this place top-notch. The bed was super comfortable and I had a great workout in the fitness room. The free breakfast in the morning was fabulous. They had an assortment of egg dishes from egg white frittatas to an egg and cheese omelet on an English muffin & hard-boiled eggs. It was super fresh and hot. The breakfast also had oatmeal, cereal, yogurt, and a variety of muffins, bagels, and waffles. There's a fresh coffee station and you will be fully satisfied.  I'm highly recommend the hotel and special thanks to Jeff Whitaker, the manager for his hospitality.
Visiting for work or play? Settle into the TownPlace Suites by Marriott Salt Lake City Downtown. Stay productive by taking advantage of our central downtown location, within walking distance of the Salt Palace Convention Center, nearby businesses, malls, restaurants and endless entertainment options. At the TownePlace Suites, relax and work on your own terms with customizable living spaces that feature full kitchens, a workstation with adjustable shelving, ample living space, and the little "extras" you need to feel right at home, without the distractions. Take some time to unwind and then take in the sights and sounds of the vibrant city with the family or night out for two. It's a break well needed. The well-being and health of our guests and associates are our top priorities. Whatever the occasion, we're ready to make the best of your stay with us https://www.marriott.com/en-us/hotels/slctd-towneplace-suites-salt-lake-city-downtown/overview/
Centered City Yoga offers a range of classes but I popped in to their dimly lit Hot Yoga class not far from the center of downtown SLC. 
Ashley taught a nice flow and I would recommend stopping by for a class and membership if you are visiting or live there. https://www.centeredcityyoga.com/
Skiing:
My first day I drove up to Snowbasin from Ogden in about 30 minutes and it was a fabulous day of skiing. One of my favorite resorts I've been to as they have some of the longest runs around. I heard they perhaps have the longest run in Utah from the top of the Strawberry Express.   It's rare to see many black runs that are not full of moguls but this mountain had many. They also have a Needles gondola. It takes you to the top as well as a few other high-speed express chairs, including the John Paul, Middle Bowl (pictured above) & Wildcraft.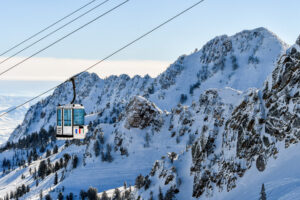 There's plenty of diverse terrian and skiing for all level types.  For the more experience skier, take the tram up all the way to the top and ski some advanced black and double black runs. Overall a great mountain that is rarely crowded and kind of a hidden gem special. Do NOT miss their high quality food for lunch.
There were a few great options but we went to the buffet and the meal was fabulous with an assortment of salads, carving station with turkey and stuffing and the turkey pot pie that was amazing. Thanks to the PR contact Kayla McFarland for her great hospitality and assistance.  https://www.snowbasin.com/
Powder Mountain–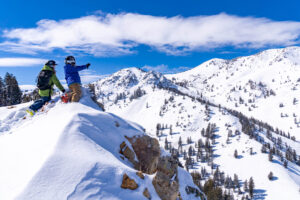 It's hard to give an overall assessment as the one day I visited, it was storming and pretty flat out with the light so quite hard to see. I understand why they call it powder mountain especially when there's snow coming in as the snow was fantastic. I would love to come back another time when I could see more. The Hidden Lake Express was my favorite as there are plenty of runs off the top. There's some great tree skiing and other express chairs but no gondola or tram at this resort.. Definitely worth a visit in the same general direction of Snowbasin so you can go to both resorts when staying in Ogden.  https://www.powdermountain.com/
Solitude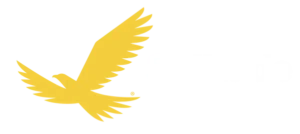 Solitude Mountain Resort is pure, authentic and untarnished Utah territory. Serene or extreme, there's nothing between you and the perfect mountain day. Located in Big Cottonwood Canyon, Utah, the resort offers eight chairlifts, 80 runs, three bowls, and 500 annual inches of snow. All of this is spread over 1,200 acres for skiing and snowboarding.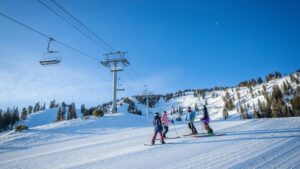 I started on the moonbeam chairlift, which got me up to the central part of the mountain but was a slow lift. From there, you can take Apex or Summit, which are higher to get to the top. Both of those lifts have some great terrain, trails & a variety of runs. this mountain is steeper than other mountains so the blue runs act more like mini black runs. They had so much snow from the storm and it made it even more challenging since I'm not that great in the powder but that's just my experience as pretty much everyone wants more snow.  
By the time they opened honeycomb, I didn't get there in time to check out the black diamond runs but heard that's a fantastic place to go if you're more advanced. The Eagle express is another great place to go for some awesome runs. The two other lifts are Powderhorn and Sunrise, which take you to some untouched snow but those are slower lifts. Everywhere is great and I highly recommend a visit to Solitude and I'll have to go back to check out more of the terrain that I didn't get to ski.  Special thanks to Travis in the marketing department for accommodating and taking me some cool runs on a mini tour. https://www.solitudemountain.com/
Brighton Ski Resort-

On my last day after the big snowstorm, I headed to Brighton and with the incredible conditions with all the new snowfall. The downside was it caused a big traffic jam and I got delayed close to three hours to get to the mountain. All in all, many great runs with a bunch of variety, trees, bowls, and a big amount of powder. I would recommend coming to Brighton and I'll have to come back to spend more time and explore the mountain even more as I didn't get to see that much of it. Started with the slower Majestic chair that brought me to other nice options including Snakecreek on the left side and Crest on the right. Great Western on the far left that you can get from the top of Snakecreek had some great runs. For the softer snow, head over to Milly Express with a variety of hills and smaller bowls.
Their site is https://brightonresort.com/
Dining:
The Union Grill–
located about two blocks away from the Hampton Inn, this popular establishment caters to everyone and is very family friendly. The menu was very diverse with a bunch of starters, salads & soups to start. Try the fresh mozzarella and tomatoes caprese salad as well as the tasty soups. Both were amazing and I got creative mixing the potato leek with the cream of spinach and it was fantastic.
The kitchen said they do that sometimes as well. For the main course, I went with the Atlantic salmon with lemon rice & a side of veggies wich included healthy broccoli, and carrots.  They have an array of sandwiches, burgers, pizza, pasta, and other specialty dishes from meat, chicken and more so you'll be able to choose from their great variety. The staff and service were outstanding & my server Becky was incredible and the manager David was very friendly and welcoming. Definitely a must visit on your next trip to Ogden. More at http://www.uniongrillogden.com/
Tona Sushi–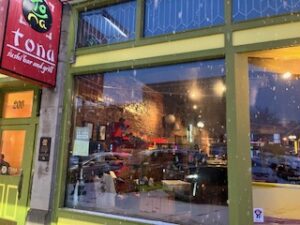 Wow what a spectacular dinner with unique dishes I haven't or rarely seen on any other sushi menu ever. Besides the quality being excellent and fresh, the variety and creations were off the charts. You can get your staple signature rolls, but try the orange roll, which is salmon with avocado, cucumber and tobiko. The softshell crab cut roll was also delicious as were the sushi rolls (escolar, yellowtail belly, toro, ebi & scorched black cod aka sablefish. 
The fried calamari was very tender and loved the seaweed salad.  The highlights of the night were the branzino crudo and the scorched scallop spoons with rice, spicy mayo, & tobiko. The cooked yellow tail collar was also very tasty.   Overall, the meal and atmosphere were amazing.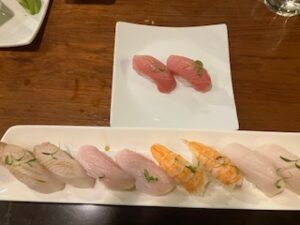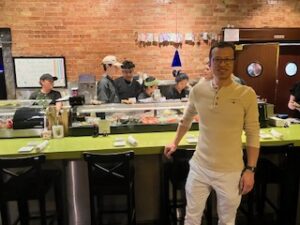 The Staff and service were outstanding and I chatted with the owner Tony, pictured below, as he was genuine and welcoming. If you are a fan of sushi, you cannot miss this place and you will not be disappointed, trust me. https://tonarestaurant.com/
Market Street Grill & Oyster bar– It I only had one meal left for my life, this could be the place to go. The relaxed comfortable setting and booth started the night off right. I was drooling looking at the menu with a wide variety of fresh fish choices. I started with the steam clams and a side of clam chowder, which comes with any entree meal. They paired great together.
They have a bunch of shellfish selections and it was shrimpfest with its own unique shrimp menu, but I chose the king crab legs, which were outstanding. The highlight dish by far was the Chilean Seabass, which melted in my mouth. It was served with a starch of either potatoes or brown rice & fresh vegetables. I'm sure the other fish is really good but I would highly suggest the Seabass as it's hard to find high-quality selections such as this one.  One of the best pieces of fish I have ever tasted.
If you like oysters, they have a full oyster bar as well as a great selection of other dishes but I would stick with one of their seafood selections. I was going to pass on dessert until I read that their cheesecake is from Eli's famous bakery in Chicago.  Super delicious.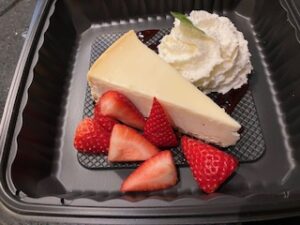 The Market St., Grill spares no expense to get the best ingredients & products for the customers. Check out their place and menu on the link below. My favorite restaurant in a long time and I noticed they had one at the Salt Lake City Airport too. https://www.marketstreetgrill.com/downtown
Photos by Todd Elliot except for those with credits above