NBA All Star Weekend in Utah-Slam Dunk Contest highlight- Feb. 2023
NBA All-Star weekend was held in Salt Lake City many festivities at the Vivint Arena and the crossover fan experience at the salt palace.  The All-Star game went as planned with a lot of offense, slam dunks, long, three-point shots, and no defense. Team Giannis beat team LeBron for the first time and take me home the prize, and the charity, which went to.
Team Giannis defeated Team LeBron 184-175 in the 2023 NBA All-Star Game.
By reaching the Final Target Score of 182 first, Team Giannis earned $150,000 for its organization (Raise the Future).
The highlight of the weekend was All star Saturday night with the home Utah Jazz group, capturing the skills competition; the three point shooting contest with Trailblazers guard Damian Lillard taking home his first victory & the best dunk contest in a long time. Two-way player of the G league, and Philadelphia 76ers Mac McClung put on a show. The 6'2 guard had some of the most creative dunks and long time without even missing one in capturing the title.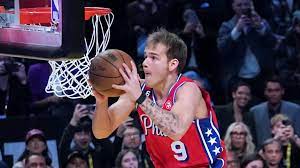 Despite the Sunday game on being a bit lackluster, due to the no defense, it was still exciting with many celebrities, musicians, former NBA players, and live music, including Post Malone
JAYSON TATUM NAMED 2023 KIA NBA ALL-STAR GAME MVP
SALT LAKE CITY, Feb. 19, 2023 – Boston Celtics forward Jayson Tatum is the recipient of The Kobe Bryant Trophy as the 2023 KIA NBA All-Star Game MVP.
Tatum scored 55 points and added 10 rebounds and six assists to lead Team Giannis past Team LeBron 184-175 in the 72nd NBA All-Star Game.  He set the NBA All-Star Game record for total points and points in a quarter (27 points in the third quarter).
In the MVP balloting, Tatum received 11 of the 12 votes.  Cleveland Cavaliers guard Donovan Mitchell (Team Giannis) received one vote.
Nine media members were part of the voting panel.  In addition, NBA fans counted for three votes by voting via the NBA App.
2023 NBA All-Star weekend (Feb. 17-19) delivers record social and digital engagement: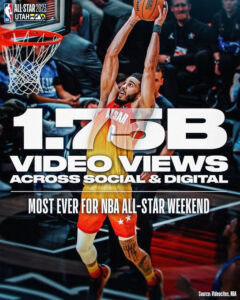 Most-viewed Instagram account
Most-viewed brand account on Twitter
Most-viewed EVER on NBA App
Most-viewed AT&T Slam Dunk EVER
Player photos by Todd Elliot. Other photos credit NBA