After tough playoff series losses the last two years to the Colorado Avalanche, the Kings are determ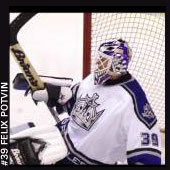 After tough playoff series losses the last two years to the Colorado Avalanche, the Kings are determined this year to an excting hockey season. Two wins to start the season against a couple of rival foes is a great sign of things to come. After beating the Phoenix Coyotes on opening night and an emotional ceremony honoring Wayne Gretzky and retiring his number, the Kings kept in going against the defending Stanley Cup Champ Detroit Red Wings by defeating them 3-2 with one of their stars, Jason Allison scoing 2 first period goals. Strong goaltending by Felix Potvin(pictured here) preserved the victory.
The Wings were playing without injured star(Steve Yzerman) and now-retired goalie Dominik Hasek but had plenty of firepower left. Curtis Joseph has replaced Hasek now in an offseason move from Toronto. However, the Kings showed why they have been so tough the last couple of years with highly motivated coach Andy Murray leading the way. They will need another big season from Ziggy Pallfy, Adam Deadmarsh, captain Mattias Nordstrom, Allison, and Potvin along with key role players such as forwards Ian Laperriere, Bryan Smolinski, Eric Belanger, and defensemen Mathieu Schneider, Jarslav Modry to name a few. Dave Taylor(GM) has kept his team in tact and has brought in some important newcomers in center Eric Rasmussen from Buffalo and rookie forwards Alexander Frolov and Derek Bekar. The Kings should make the playoffs again but need some more depth upfront for adding scoring past their great first line to make a run at the Stanley Cup Championship. Overall, they play as a team as well as any team in the league which will keep them competitive.
For more information, visit their own website at www.lakings.com for player bios, schedules, buying tickets, and other great stuff. You can also call the Staples Center Box office at (213)742-7340 or check out ticketmaster to reserve your tickets for future games. Don't miss the exciting action live!